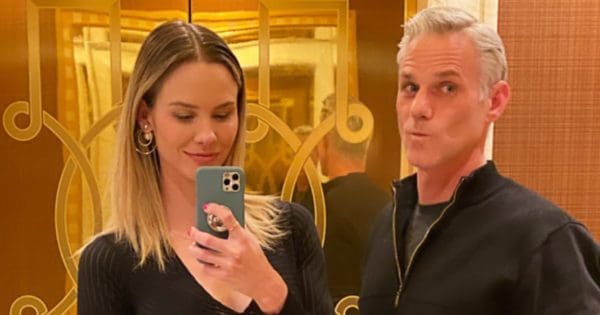 Being in a relationship with someone in the spotlight typically means that you're going to get some shine too. As a result, lots of well-known people like to keep their relationships under wraps for a while. Now that The Real Housewives of Orange County star, Meghan King has decided to go public with her new boyfriend, Will Roos, he's finding himself getting a lot more attention than he probably could've imagined. Not only do people want to know all about the couple, they're also interested in learning everything they can about will. Although he isn't a reality TV star, he's got a very interesting life none the less. Keep reading for 10 things you didn't know about Will Roos.
1. He Studied International Relations
As far as we can tell, Will Roos is originally from California. He attended the University of Southern California where he earned a bachelor's degree in international relations in 2000. Like many other USC alumni, he is very proud of his school and reps it whenever he gets the chance.
2. He Loves To Travel
Will is what many people would consider a man of the world. He loves to travel and has been fortunate to be in a position where it's something he's been able to do often. He has gotten the chance to visit countries all over the world including Costa Rica, France, Italy, and Greece.
3. He Enjoys Working Out
Staying in shape is something that is somewhere at the top of Will's priority list. He is a very active person and he enjoys getting the chance to get a good sweat in and burn some calories. In addition to traditional workouts, he also enjoys doing things like yoga and cycling.
4. He Has Had A Successful Career
Any time a reality TV star reveals that they're dating someone, people instantly start to wonder what that person's job is. All of the pocket watchers out there will be please to know that Will appears to have done very well for himself. He works for a property company called Element Residential and has been there for over a decade.
5. He Is A Proud Uncle
We don't know too much about Will's personal life at this time, but one thing he has made very clear is that he's a proud uncle. His nephew, Ethan, was born in 2018 and he appears to be Will's first and only nephew. Since Ethan is currently less than 2-years-old he has no idea that his uncle is currently the topic of lots of conversations due to his relationship with Meghan.
6. He Loves Going On Adventures
Will is the kind of person who is all about living life to the fullest, and for him that means taking advantage of every possible opportunity to try something new and have a good time. He never turns down a good adrenaline rush and he loves doing things like snowboarding, off-roading, and surfing.
7. He And Meghan Were Friends Before Dating
Will and Meghan's romantic relationship may be new, but they aren't new to being in each other's lives. In an Instagram post Meghan said, "We met as a love interest and that fizzled into friends. Obviously now that designation has shifted." She also shared that the two have been best friends for the last year.
8. He Doesn't Appear To Have Any Children
There's no information on any of Will's previous relationships so its unclear whether or not he's ever been married before. Something we do know though, is that he doesn't appear to have any children. This could end up being a good thing as long as he's ready to be a part of a blended family seeing as how Meghan has three children of her own.
9. He Loves Trying New Food
When you love to travel it's only right that you also be someone who likes to try new foods. After all, eating authentic foods from other countries is one of the best parts of the travel experience. Will enjoys a wide variety of food and drinks but it's unclear whether or not he also likes to cook.
10. He Hasn't Revealed His Plans For RHOC
Now that Will and Meghan are an item, lots of people are hoping to eventually see him in The Real Housewives of Orange County. Unfortunately, there's no information on whether or not he has any plans to do any filming for the show. If he and Meghan end up staying together for the long haul, there's a very good chance we'll end up seeing him.