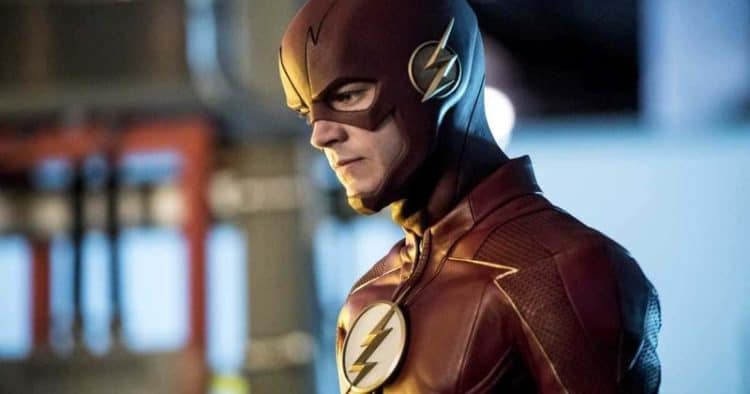 Some people don't mind being locked into a role for a long period of time, while others might want to get out eventually to experience something else and possibly take their career in another direction. Grant Gustin appears to want to do this since he's been wanting out of his role in The Flash for a while, but it sounds as though the CW doesn't want to let him leave. This is similar to what happened with Stephen Amell when he wanted out of Arrow, but whether or not Grant will be able to get out before a season 8 comes along is hard to say. It wasn't that long ago that he was heard to say that he wanted to stick around. But after becoming a father recently it might be that Grant wants to spend a bit of quality time with his family, as an actor's schedule can keep them busy quite often. The CW, if they're really going to push this issue, might suggest that it's because he's a new father that he might need to stick around, but that would be a very risky thing to do with anyone since the truth is that Grant has already made a pretty good giving and might want to simply get away from the role for a while.
Sticking with a single role for this long has to come with a lot of frustration at times from wondering if there's anything else that the actor could be doing, even if it is steady pay and a type of job security that a lot of people don't have. Variety in an acting career sounds ideal since trying to take on different roles and personas is something that might be exciting to a lot of people and give them the opportunity to show their range and what other kinds of things they can accomplish. But for some people that life might not be that appealing. It's all a matter of what each actor wants from their career, and it would appear that Grant wants something else at this point, since seven seasons in the same show might be wearing on him finally.
But it does sound as though the CW is going to do whatever they can to keep him around, though if they start resorting to anything shady it's fair to say that a lot of people might side with Grant in an effort to remind the CW that there are a lot of other stories that might be able to keep them happy. It was devastating to lose Arrow obviously, but it does feel as though fans would come down on the side of the actors if the network decided to pull any moves that might keep Grant from doing what he wanted to do versus what the CW thinks people want to see. Whatever his motivations are for wanting to step away from the role of The Flash for a while, it's fair to say that Gustin has done enough that he deserves a chance to see what else he can do. A lot of people were wanting to see him replace Ezra Miller in The Flash movie for a while, but that appears to have died down.
The idea that anyone might be stuck in their current position when it comes to one role or another is partially their own fault since when an actor enters into something it's easy to think that they understand what they're getting into and that their agent has explained it to them as much as possible. If Grant has an obligation to remain in this role for a while then he might be stuck, but if such a legal obligation doesn't exist then it's bound to happen that he should be allowed to do what he wants. If anyone wants to bring up something such as 'he owes it to the fans' they'd be barking up the wrong tree, since so far he's given the fans a great show to watch for the last seven seasons, almost. With only a few episodes to go, it looks like he might be trying to see if he can make an exit and go on to do something else, or perhaps just relax for a while. After all, he hasn't really talked about doing anything else yet.
Whatever he does it's easy to think that the CW should chill and start preparing for a contingency that has to do with what might happen if Grant does decide to leave. It's not a matter of telling them to give up on the guy, but to instead realize that he might want something else at this time and needs to figure out what it is. Grant has been a great asset for the CW, but he needs to be treated like a human being as well.
Tell us what's wrong with this post? How could we improve it? :)
Let us improve this post!