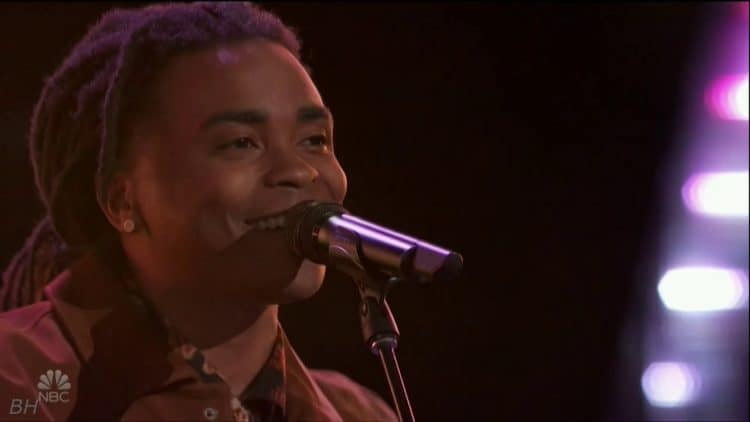 NBC's The Voice is one show that continuous to bring out talent to the stage year after year. There is a lot of singing competition shows out there, but The Voice is special in a way because it highlights a different aspect of a singer's life. We've met a few interesting personalities over the years, but this season introduced us to someone whom we think might be really making it big one day. His name is Royce Lovett, and he's just one among the many talents this year. Although Royce has been eliminated, we believe that he's worth following up on. Here are a few things about Royce that you should know about.
1. Tallahassee
Royce hails from the capital of sunny South Florida–Tallahassee. Aside from being the state capital, Tallahassee is mostly known for college, college football, and really not much else. Royce is incredibly proud of having come from a small town in Tallahassee, and he actively performs at local spots even to this day. Tallahassee is a great spot for live music; and if you happen to be someplace in Tallahassee, you might want to check out where Royce is performing locally.
2. Community
As mentioned previously, Royce is extremely proud of his hometown and his home city. He's passionate about his music, and he makes it a point to deliver change in his community through his passion. Royce has partnered with some local agencies and politicians in order to bring music to more people than before. It's an inspiring movement that Royce is working hard to commit to, and he's becoming quite successful at it.
3. Music background
Royce has always had music in his life. He grew up in a church, where his mother led the music. Although he grew up surrounded by music, Royce actually never got any formal training. Listening to him now, it's difficult to distinguish his lack of professional vocal training. His natural gift is so strong that he can stand toe-to-toe with any professional and be able to hold his own. It's something not everyone can boast of, but Royce certainly could.
4. Musical talents
He's an incredibly gifted singer–something most of us know already from having heard him perform during his stay on The Voice.However, singing is not the only talent that Royce has. Apart from his vocal agility, Royce is also an incredible songwriter. As a matter of fact, he's written quite a number of songs, and he's even performed them on The Voice.If that's not impressive enough, you should also know that Royce is a skilled guitarist. He actually picked up the guitar when he was 11 years old, taught himself how to play, and never turned back. Since then, he's been transforming himself to be the musician he is today.
5. TED
His charisma far outshines the boundaries of music. Royce has the ability to reach audiences through another medium, and he uses the same instrument he uses with music: his voice. Royce gave a TED talk titled, "Love, Purpose, & Security." In line with his other endeavors, he wishes to spread a message of love through his music. It's all positive vibes when it comes to Royce, and it's something you feel by just listening to his sound–whether he's singing or talking.
6. Family
The thirty-year old singer has had the support of his family throughout his journey. Royce has been married for ten years to the love of his life, and the couple is raising two lovely children. Royce often posts about his family on his social media accounts. He's incredibly proud to be a father, and everything he does with his music he does for his family. Still being young, there's no telling whether Royce is looking to expand his family further. For now, he's happy, successful, and looking brightly into the future.
7. Motown
Speaking of success, Royce has had his own fair share here and there. In fact, this talented musician is actually a Motown recording artist. Back when he first started to pursue music, he was discovered early on by a Motown executive. From there, he received a recording contract, and he produced some heavenly gospel music. It was true to his roots, but it wasn't exactly what he wanted to pursue. He kept on writing music and just kept on pursuing his dream since.
8. First gig
For any musician pursuing success in his craft, the first place that would ever offer a gig is something never to be forgotten. It's the first opportunity, a door to walk into. Royce's first gig wasn't glamorous. It wasn't big, and it certainly wasn't rock and roll. However for an 11th grader Royce, it was a dream come true. Royce's first gig was at a pizza place. It was simple, and it was all about the music. It would be the beginning to a career that would take Royce center stage.
9. Gospel
Interestingly enough, Royce didn't identify as Christian when he first signed with Motown. It's unclear whether he believed his music wasn't or shouldn't have been categorized as Christian, but that's certainly the category that his music was put into. He left the label eventually in order to pursue more independence with his music, and he does so to this day. He classifies his music now as lifestyle music, but he continues to share a good message no matter what song he's singing.
10. EPs
If you're ready to follow Royce on his journey, you'll be glad to know that he's actually got a number of releases, albums, singles, EPs, and the like that you can buy and download today. He continues to write and create new music; and given his track record on The Voice, we're sure they're all good. Even though he's been eliminated on the show, we expect he's got more hidden in his sleeves.