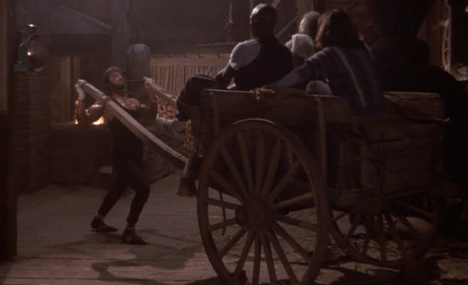 The other day I went to a high school basketball game here on Long Island. I distinctly remember not the quality of the game (which was horrible), but I was listening very closely to the warm up music they were playing pregame and at halftime. It was rap. And it wasn't 90s rap that got you pumped up like anything from House of Pain, Wutang Clan or a zillion others. It was slow moving, mostly vocal and I just couldn't even fathom how an athlete could get jacked up listening to this stuff. I have no problem with rap and if that floats your boat, fine, but you cannot tell me that if "No Easy Way Out" from Rocky IV was playing that these athletes wouldn't be jumping out of their sneakers.
Back when I played high school hoops, by far the best moment of my career is when we were visitors and the home team actually played the Rocky IV soundtrack during warmups. No drug in the entire world could have gotten me as pumped up as that game. The fact that I hit a game winning foul shot is besides the point.
The point is that I personally don't think there are two better pump up songs than "No Easy Way Out," and "Hearts on Fire." I know I'm dating myself. I know I'm 37 years old but I'm making a plea to high schools around the country. Just try it out. See if it works. I'm telling you guys. Rocky IV soundtrack and the audience and players will go nuts. By the way the video for No Easy Way Out his hilarious:
Robert Tepper!
You didn't think I'd forget Hearts on Fire did you?
Tell us what's wrong with this post? How could we improve it? :)
Let us improve this post!