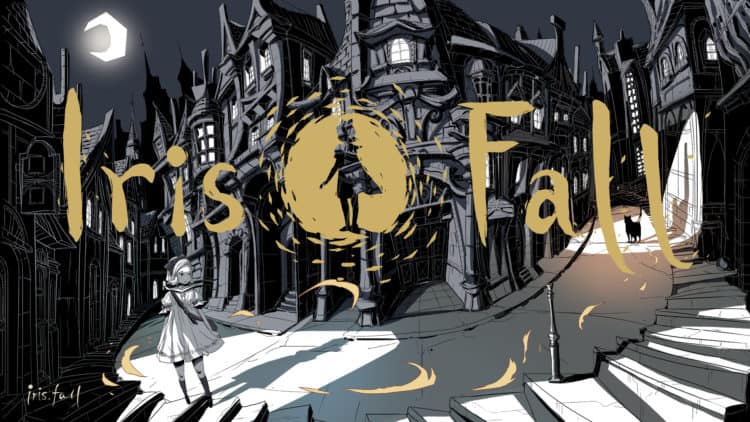 As 2018 comes to a close, there is no denying that between film, tv, apps and video games consumers have never had as many options to be entertained. Because of the abundance of content being produced on a weekly basis a project has to be pretty unique to stand out in the over saturated crowd. A title that is continuing to do this is Next Studios' new video game Iris.Fall. In case you haven't heard of Iris.Fall, it's a gothic, adventure puzzle game following young Iris as she awakes from a dream to find herself trapped in a mesmerizing world of light and shadow. The world being a giant puzzle box made up of different rooms, each a puzzle involving playing with light and the absence thereof. The gothic visuals of the game are striking but it's the game's enchanting score by composers Thomas Parisch and Edwin Wendler that take that imagery to another emotional level. We decided to speak with Thomas in the below exclusive interview about everything from inventing new instruments to finding the right tone for Iris.
-You came on to the project pretty early to find the right tone. Was the final sound of the game what you initially had in mind or did it change as the creative process went on?
TP: I would say we definitely kept the basic direction we set out to pursue in the beginning. In general, I don't think I ever have something very specific in mind when starting a project. Also, it is important for me to leave a certain degree of openness, my creative process requires that. Of course, there is that basic idea of what it should be. But rather than this being one definite target, it is rather a general direction, often a bunch of loose ideas, possible avenues to take, some vague, some clearer… So in the case of Iris Fall, discussing everything early on with Koozer, the audio director for the game from Next Studios, I knew we would need a specific palette for the girl and for the theater. There's the childhood flair with bell-like colors, toy piano etc. Then there's the theater with a whacky, offbeat feel full of nostalgia and musty show tunes. Koozer loved old barrel organs, those clumsy but unique contraptions spitting out several instrument lines at once creating the experience of a whole ensemble with one machine. So we used accordions, clunky detuned pianos, light percussion and things of that nature to bring to life that world. All these choices were in line with what I roughly had anticipated for the score. But we went a step further actually, and I have to give credit to both Koozer and our music producer Vivita Zheng at this point, as we decided to add on top of all that by simply designing our own whacky instruments and building them just for the score. All in an effort to make this more unique and whacky, we took the idea of those old music machines to a musical inventor friend of mine, Yoon Lee, who designed and build a sort of zither (we ended up playing it like a hammered dulcimer) and he also altered a violin to sound a gramophone-like nasal and rattling. I didn't have these exact things in mind originally but they were certainly along the lines of our initial ideas for the tone of the score and I am so thrilled we could do it. I never did that sort of thing for any project before, what an experience it was…
-You wrote the main theme of Iris.Fall. How would you describe that track?
TP: It is a theme that primarily relates to the main character, the girl Iris. A simple tune with a simple form, it lives in the world of childhood wonder and innocence. But with that purity on the surface, the melody sits on a bed of slightly eerie textures, lightly detuned and scratchy sounds, hinting to the fact that there's something off here with the hope of sparking intrigue. It was a balancing act to find the right mix for those layers. Lead instruments are different pianos, detuned clunky ones as well regular pure ones and toy pianos. Then there are drones and ambient sounds made out of e-bowed piano and guitar strings. Of course, there's also our special zither adding touches of that signature sound we created for the score. Apart from evoking a childhood universe, another important aspect of the theme was to make sure it can be adapted for the theater as well. There's a cue called Flower Cart, for example, which uses the same theme pretty much verbatim but throws it into the world of the theater turning it into a bouncy, whacky show tune.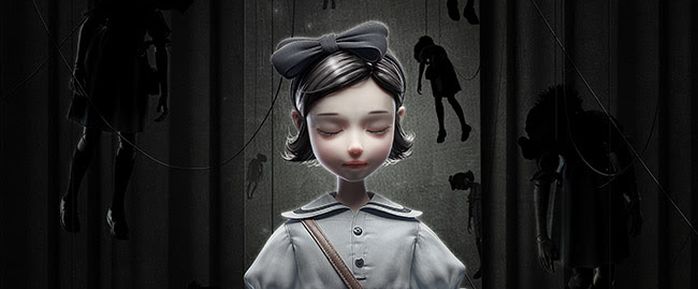 -Were there any major obstacles you had to overcome, musically, when scoring Iris.Fall?
TP: The main obstacle was balancing and blending the different elements described above, finding the appropriate ratio between noise, texture and the pitched, melodic elements. Then the search for a melody that blends the childhood magic with a sense of uncertainty, apprehension while being malleable enough to adapt to the theater as well. So the main struggles were in the beginning really… Once the tone and theme were set the rest fell into place rather easily. Oh, actually, there was another obstacle later on we didn't anticipate at all: we had to learn how to play our zither! Since the layout of the strings, the spacing and tuning, was unconventional, we couldn't play it like a dulcimer. Also, we had a sustain pedal which was somewhat of a challenge to operate… Even though the parts were not overly complicated it took real practicing to record them properly. It was a lot of fun though getting familiar with the new instrument and experimenting with it for bendy and scratchy sounds as well, happy memories I won't forget…
-Did you play any darker games such as the recent Friday the 13th video game to get inspiration for Iris.Fall?
TP: Not really… For the music, most inspiration came from the research about the world of barrel organs, orchestrations and the early cinema theater organs that were used to score films in real time as well as any other mechanical music devices such as player pianos and music boxes. When it comes to general mood, for me personally, there was always a certain "film noir" vibe to Iris Fall which might have been a subconscious influence. Although I never discussed this particular reference with Koozer, and it might not be that applicable after all… In general, when it comes to inspiration, I'm a strong believer in cross-pollination between artistic genres. So I try not to look at other scores at first, also in an attempt to not limit myself right off the bat…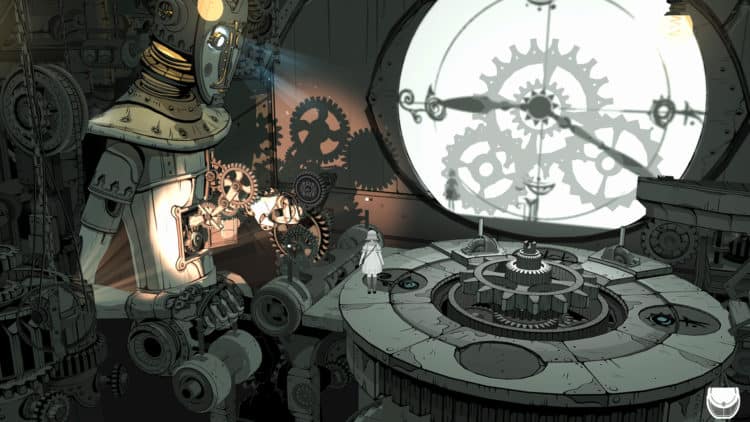 -Congrats on the recent HMMA award for your Moonlight Blade track. How did you initially become involved with Moonlight Blade and what has been your favorite thing about working on the game?
TP: Thanks! Moonlight Blade is a pivotal game for me in many ways. It was one of the first Tencent games I worked on and the one that introduced me to the game universe, and pop culture of China. Another reason why it was important to me, still is, and became one of my favorite games I have worked on so far is the fact that it taught me about a new music tradition and culture in general. By requiring a mix of western score and traditional Chinese music, Moonlight Blade took me on a journey beyond what my musical horizon was at the time. And by doing so I found a new passion in world music! I really enjoy going off the beaten path of what I used to do in more traditional Hollywood scoring and explore new forms of crossovers between scoring, classical, jazz and ethnic music. With the encouragement of the music supervisor for Moonlight Blade, Yang Jie, I went even further down that road of world music approach for the latest Moonlight Blade update this year. So I'm very happy it could win the HMMA in the world music category.
-You worked on Resident Evil 6 which some have said is the largest, most action-packed entry in its history. Did you feel that momentum when you were working on the game?
TP: I definitely felt the momentum at the time. It was clear and discussed that RE6 would be more action driven than the ones before. Although there obviously was still a very strong horror/gothic element, we had Hollywood blockbuster action-like sections that emphasized action over horror. Since it was a departure from established aesthetics to an extent, a certain risk was a given. Because such an established title comes with its own fanbase, of course, so a change in artistic direction always means that there will be both intrigue but probably also criticism for heresy. What helped take off some pressure anticipating these responses was certainly the fact that we were a team of composers lead by a Capcom in- house team. So it was not just me writing everything with the burden of making the big creative decisions. That would have been quite overwhelming and too huge a responsibility to bear especially since I was just joining the RE world without having worked on any of the earlier releases at all…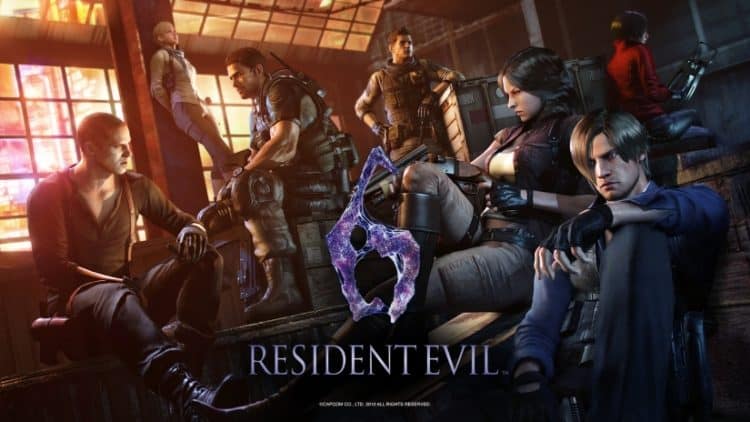 -There were a few different composers on Resident Evil 6. How did you make sure you all had a cohesive vibe to what each of you were contributing?
TP: Again, the in-house team at Capcom was handling the creative supervision. Luckily, they had a pretty clear idea of what was required and they were always open to dialogue. So, coordination between all of us was handled very well which was key. And, of course, we composers were communicating amongst ourselves. On my side, I had a writing partner in Laurent Ziliani at the time. So, the two of us always stayed in touch closely during writing, naturally. But also with the team in Japan (the other side of the globe was just the next room thanks to the internet) we exchanged themes, sounds also at times, there would be spontaneous co-writing etc… The workflow was a fun and new experience for me. But yeah, without the concise creative supervision from Capcom, this huge project could have easily been bit of a mess since, for the most part, we composers tend to be in our own worlds with not much overlap between them…
-Are there any video game scores you have heard recently that have stuck out to you?
TP: What pops into my mind spontaneously, maybe because I just listened to it, is The Red Strings Club with a score by an artist called fingerspit. I like that it's very creative in the design and blend of synth textures and samples. Occasionally thrown into what are mostly ambient cues are electric guitars and some pensive, jazzy keys and reeds. There's always the danger that the balance between such different worlds becomes messy and convoluted. But here everything is crafted very carefully and tastefully setting moods in a subtle but distinctive, idiosyncratic way. I really appreciate that…