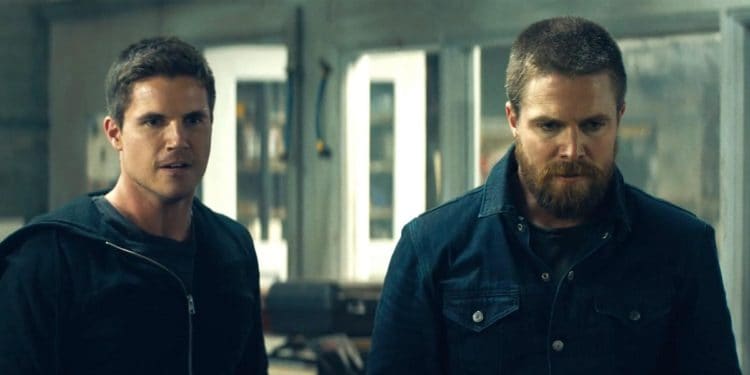 What types of things do you know about actor Robert Amell? You might recognize him as the actor from The Flash, but there's actually a lot more to him than meets the eye. Below are 10 things that you might not have already guessed, although there is bound to be one or two on the list that you at least had some knowledge of.
1. He's from Canada
This is an easy one, as it's something that anybody that has followed his career for any length of time probably already knows. He was born in Toronto, and was also raised in the area. In fact, he remained in Toronto all the way through the end of college. Although he now lives in Los Angeles, he still considers Canada his home and talks about it frequently.
2. He's a hockey fan
Even if you didn't already know this one, you probably could have guessed that he's a hockey fan, especially if you know that he's originally from Toronto. He's partial to the Maple Leaves, but he's also open to watching other teams play. One thing that has gotten him in some hot water over the years is his vocal support for the idea of developing a second team in the Toronto area. There is no gray area here, so apparently, people are strongly divided on one side of the fence or the other. Those that support a second team feel like there are enough fans to handle it and those that don't are not interested in seeing any change in the way things are currently done whatsoever.
3. His parents were jewelers
At the time of his birth, both of his parents worked in the jewelry industry. They probably never dreamed that the son they had would eventually become one of the most well-known actors in Hollywood, but that is exactly what happened. As opposed to following his parents into the family business, he decided to strike out on his own and make his dreams come true. Fortunately, he had the intestinal fortitude to make it happen, and fans are all the better because of it.
4. He has a famous cousin
He's actually related to Stephen Amell, who stars in the television series Arrow. In fact, the two are first cousins. As you can see, talent seems to run in the family.
5. He started acting when he was very young
He can scarcely remember a time when he didn't want to be an actor and his parents were always supportive of the idea. At the tender age of six, he was doing auditions for commercials and other projects. It didn't take long for him to pick up a few roles here and there, and the rest is history.
6. Acting is a family affair
His sister, who is similar in age, used to go to commercial auditions with him when he was a kid. At the time, they would both audition for various projects. Not only does he have a cousin that's an actor, but both he and his sister have enjoyed a great deal of success. It's interesting to know that three members of a family who don't come from a long line of actors would eventually go into the business, but they all seemed to love it and they decided to make it their life's purpose.
7. He's also been a model
As surprising as it might sound, he was landing roles as a model when he was just a kid. Although he doesn't model as much anymore, largely because he's far more involved in acting roles, he credits this with helping to get his name out there when he was just getting started.
8. He did several plays in high school
He really was bitten by the acting bug by the time he reached high school. Even though he had done a few commercials and some modeling jobs in the past, this was the first time that he had the chance to spread his wings as a dramatic actor. As it turns out, he loved every second of it and decided that this was indeed how he wanted to spend the rest of his life.
9. He studied acting in college
He was so enamored with the idea of acting that he wanted to get a formal education in it, believing that it would help him land roles more readily. Once he finished high school, he attended the Canadian Studios Acting Academy and then went on to get a college degree in Performing Arts.
10. He is married to Italia Ricci
He started dating this young actress a few years ago and eventually, the two fell in love. They've been married since 2016 and by all accounts, they're very happy in their marriage.