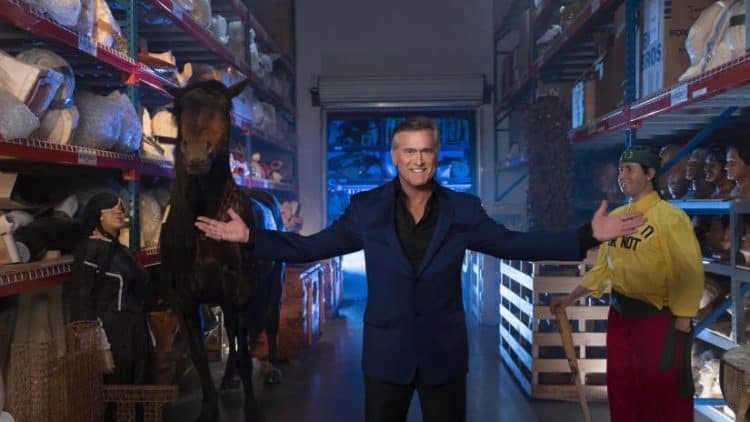 Believe it or not, everything there is to know cannot be found on the Internet using a search engine. Beyond the obvious strategic plans to invade Iran and the launch code sequences, there are people and businesses that choose to keep their interesting information hidden away as much as possible. Before the Internet there was "only" paper and ink, celluloid, and a few types of external digital storage devices to record information. It is in this environment of low speed technology that the show "Ripley's Believe It or Not!" flourished.
Though the television version of the idea halted production more than a dozen years ago in 2003, 2019 marks the 100th anniversary of its history, and the Travel Channel has decided to honor all the hard work put in over the years by airing a celebratory 100th anniversary season. Its premiere episode was June 9, 2019 at 9 p.m. on the East and West coasts. Those in the Mountain and Central time zones need to check their local listings.
While the focus of the 2019 reappearance is connected with its 1949 television premiere, the concept of "Ripley's Believe It or Not!" extended to daily newspapers throughout the country. It appeared as a single panel cartoon right alongside of the cartoons, and playing true to its intended form, was a source of trivia for many people.
Technically, there was a reboot of the show in 2008 but it was recorded in Filipino, so did not get worldwide reception. For the Travel Channel reboot there will be 10 one-hour episodes to watch, taking the show into the summer Dog Days of early August The theme of the show fits in nicely with a large segment of the Travel Channel's audience as they are naturally curious and want to see more of what the world actually has to offer. Much of the "Ripley's Believe It or Not!" content has been labeled as "fantastical" and is one of the reasons Bruce Campbell will be hosting the show. In an Instagram post on his account, Campbell says he looks forward to hosting the series as he has a keen interest in this genre.
Best known for his role as Ashley "Ash" Williams in the television series Ash vs Evil Dead along with Sam Axe in Burn Notice, Campbell also has a long history of doing voiceovers for television and animated cartoons. There were some older fans of the old Ripley series calling for Jack Palance to return as host. Unfortunately, he died back in 2006
There is a "Ripley's Believe It or Not!" website where you can go to and catch up on things. Some of the page one stories includes:
The government's attempt to actually stop a hurricane more than 70 years ago using science
American defectors to North Korea who actually became North Korean movie stars
A baby that was born who was the size of an apple
Examining the science that shows the only person that can love your dog as much as you do is your identical twin
You will also find the opportunity to become part of "Ripley's Believe It or Not!" by submitting a bion. Visit the website to find out what a bion is and how you can submit yours for consideration. There is also a link to a short preview of what is to come on the Travel Channel special.
Understanding the advances in technology and realizing that the show has been in cold storage for more than a decade, the channel promises that the series will not simply be a repackaged version of the older shows. Not only will there be new events and adventures, there will also be a complete new presentation to keep the attention of modern viewers. Creators and producers are excited about the potential for the upcoming shows.
While there was no television show in 2010, Ripley continued to compile its Believe It or Not! lists. As a preview of what you might be watching on June 9th, here are a few samples from their list of the Top 10 Ripley's Stories of 2010
Scientists had developed a spray on, non-woven fabric that when sprayed on a human would form "clothing." But it gets better. Once the clothing was formed and worn, it could be taken off and washed just like regular clothing. This didn't make headlines in the fashion industry, and the idea might be buried somewhere, tucked away to prevent putting the entire clothing manufacturing business out of business.
For those who are interested in a new flavor of beer, Deep Fried Beer was available at the Texas State Fair. The process is apparently patented, and as far as the flavor goes there might be the possibility of a bacon flavored beer. However, rather than the idea being secreted away like the spray on clothing, it seems most people lost their taste for the idea.
In other news involving deep frying, A German woman had set out to be the fattest woman on the planet. Weighing in at more than 600 pounds, her goal was to reach 1,000 pounds. Her weekly grocery bill is about $750 a month, and to be honest it's hard to see her achieving her goal on such a slim budget.
It is stories like these that will pique your curiosity and tune in to the 100th Anniversary series of "Ripley's Believe It or Not!" It would be interesting if they followed up on some of these older stories to find out what happened. Even if you decide that you can wait until the series hits the Internet in a few months, here is a chance for you to get away from the computer for a while and watch a redesigned retro TV show that still keeps people's interest today.