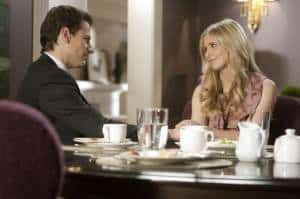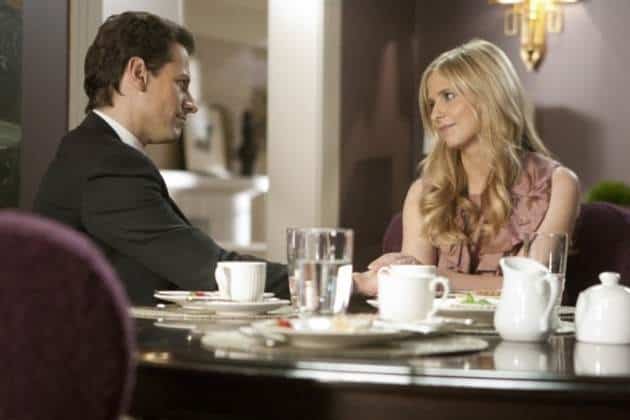 Ringer came to the end of its first season…and what may be its only season, depending on whether The CW chooses to renew the show next month. While Ringer did leave us with a cliffhanger, there were quite a few developments in the season finale, especially things we've been wanting to see for a while.
Siobhan's Lies Were Exposed: After the twins' birth, Henry told Siobhan he wanted to move to Chicago so that the kids could grow up with his family. He sneakily convinced her to use the money she stole from Martin Charles for a down payment on the house. Later, the paternity test results arrived and Siobhan was shocked that Henry had ordered the test. But without even looking, she told him that he was the girls' father when he asked. Only that was a lie and he knew it. So he went into her account and stole all of her money, then confronted her. The paternity test was just that…a test. Henry admitted that he was prepared to raise the twins as his own, but simply couldn't take Siobhan's never ending lies. He kicked her out of his house and ignored her pleas for help.
Martin Charles Was Saved: Tom Arborgast went through with his plan to buy out Andrew's firm, giving him the opportunity to continue his business and recoup his investors' lost money. But Arborgast couldn't let Andrew leave for his vow renewal without revealing an important piece of information.
Andrew Discovered the Truth About Henry: Arborgast, in an attempt to get revenge against both Henry and Siobhan, told Andrew the truth about Siobhan's affair with the writer. He confronted Bridget about the affair at the party they were hosting before jetting off to Turks and Caicos for the vow renewal (and later he proceeded to punch Henry in the face).
Bridget Told the Truth: Bridget was forced to confirm the affair when confronted by Andrew, but that wasn't the truth she had intended to tell him. Throughout the episode, she continued to insist that she wanted to tell Andrew and Juliet the truth of her identity. Solomon tried to talk her out of it, claiming that exposing her true identity would also leave her open to the dangers of Macawi. Later, her past caught up to her when the shifty FBI agent appeared in her apartment. He soon ended up dead, killed by Macawi, who knew Bridget's location. But when she got word of the death, Bridget decided she had to come clean with Andrew and told him and Juliet the truth. She insisted that she had grown to love both of them, but they both couldn't get past the lies that she told. Instead, they headed off on vacation without her.
Macawi Finally Got His Girl…Or Did He? (He Didn't): After Henry kicked her out, Siobhan headed to her old apartment to try and steal some things she could sell, but Macawi caught up with her. Trying to avoid death, she claimed that he had the wrong girl. In the lobby, Bridget was determined to speak to Juliet further, at least until she saw that the security guard had been killed. She raced up the stairs, convinced that Macawi was attacking Andrew and Juliet. Fortunately, Machado was on his way, having been alerted to danger by Bridget earlier in the episode, and Solomon was also sending the cops. Once again, the sisters narrowly missed each other. Bridget fired on Macawi, but he sprung back up again. Fortunately, the cops rushed in just in time to save her life.
Bridget Learned the Truth About Her Sister: Solomon had one more present for Bridget: security footage from the marina from the day Siobhan "died". He revealed that the cameras had picked up Siobhan getting in the car with Charlie and Bridget soon realized her sister didn't actually die out on the water.
Siobhan Made a Vow: After narrowly escaping Macawi, Siobhan returned to the hospital to watch over her babies and managed to find a kind nurse who offered her a cot. Realizing her current destitute position, she made a vow: "I need to get my old life back".
Henry Admitted the Truth About Siobhan: After learning Siobhan was alive, Bridget confronted Henry, and she realized he knew that her sister was alive. He quickly told her everything: that Siobhan had lured her to New York in hopes that she would take her place because someone was trying to kill her. Bridget's final words: "Siobhan wanted me dead?" Oh, Bridget, you have no idea.