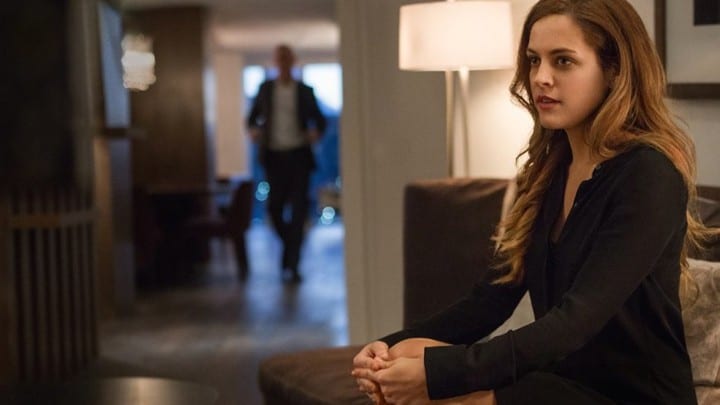 As the eldest granddaughter of Elvis Presley, Riley Keough could have sat back and enjoyed the lifestyle that comes with her name without ever lifting a finger. Instead, she's forged an incredibly successful career as an actress that's seen her climb all the way to the top of the Hollywood food chain. With the news in that she'll next be bringing her talents to the small screen in Amazon's new series, Daisy Jones and The Six, there's never been a better time to catch up on the talented Miss Keough.
1. Moulin Rouge inspired her to act
When Riley was 12 years old, she watched Moulin Rouge for the first time. The film, and especially Nicole Kidman's performance in it, had such a significant impact on her she's since credited the film as her inspiration to get into acting. " I was like, 'Wow, I want to be Nicole Kidman, she makes me feel so sad!" she told Contact Music. "I remember thinking how fulfilling it'd be to do that, which is a big concept for a kid."
2. She had an eclectic upbringing
With Lisa Marie Presley and musician Danny Keough as parents, and Elvis and Pricilla Presley as grandparents, Riley was never going to have a standard-issue childhood. And, indeed, she didn't, although contrary to what most of us think, life wasn't a 24/7 extravaganza of limousines and butlers. "[I] grew up very privileged with my mother, but my dad didn't live like that," she's explained to The Guardian about her eclectic upbringing. "I think experiencing both sides was helpful. My father had mattresses on the floor. He lived in cabins and trailer parks. He did not have much money. When I was about eight, I said, 'I want to grow up and be poor like you!' He was eating a bowl of cereal. I didn't realize how offensive that was!"
3. She started life as a model
As is increasingly becoming the way for anyone with a famous lineage, Riley's first experience of paid work was as a model. Despite featuring in several high-profile campaigns, she never saw herself staying in the profession. " I was fourteen years old and really wanted to be independent so I could buy what I wanted," she's explained. "The older sister of a friend of mine worked as a model and made good money, so I imitated. But I don't think it will continue, that was just a passing phase." "Photoshoots are boring," she added. "If [modelling] was my career, I don't think I'd have been the best."
4. Her film debut was in The Runaways
At the age of 20 years old, Riley made her film debut in the feature film, The Runaways. The film, which also starred Dakota Fanning, Kristen Stewart, and Tatum O'Neal, premiered at the 2010 Sundance Film Festival to a warm reception, marking Riley out as the next "big thing". Over the following few years, she capitalized on her status with supporting and leading roles in the likes of The Good Doctor (2011) and Jack & Diane (2012).
5. She has a long-standing relationship with Steven Soderbergh
Over the past few years, Riley has become something of a muse to the director Steven Soderbergh. The first time they worked together was on the set of Magic Mike in 2011. Having clearly struck up a great working relationship, they came together again on the hit TV series The Girlfriend Experience in 2016, and a year later, on the critically acclaimed Lucky Logan (2017).
6. She's a multi-millionaire
As you'd expect of the grandchild of Elvis Presley, Riley has a very healthy bank balance. That said, as the majority of her wealth has come from her own adventures in entertainment, rather than her family's, her net worth may be slightly more modest than a lot of people would assume. It's still significant enough to warrant a mention though, at least if the $5 million Celebrity Net Worth estimates her worth to be is true.
7. She got married at the age of 25
In 2012, Riley began dating stuntman Ben Smith-Petersen after the two met on the set of Mad Max: Fury Road. 3 years later, the couple wed in Napa. Although very happy in the relationship, the actress has no plans on having children just yet. "The older I get, the less urgent I feel to have a kid," she explained to The Guardian. "Not to be too grim, but the world is in a weird place, so I'm kind of torn on whether to bring a child into it. Like morally."
8. She hero-worships Gandalf
Even if we don't like to admit it, we all look up to someone or other, whether they be friends, family, or famous faces. Riley is no different, although one of her heroes might draw the odd eyebrow. "I do think we need heroes," she's told Interview Magazine. "It gives people hope and an example to follow. My heroes are people like Gandalf the Grey. And Angelina Jolie."
9. She's devoted to music
Given who her famous grandfather is, it's probably no surprise that music plays a huge part in her life… even if she doesn't see herself following in Elvis' footsteps anytime soon. "Music is my favorite thing in the world,' she's said. "I grew up completely around music and I think that's one of the most important things to me. At this point, I can't see myself doing that professionally. Luckily, I don't feel pressured."
10. Jimi Hendrix is her style icon
As a former model, fashion obviously plays a big role in Riley's life, but judging from who her style inspiration is, she tends to look more to the past than the present when it comes to her fashion choices. 'My style icon is Jimi Hendrix," she's said. "I love all of the jewelry he wore and all his elaborate colors. I like anyone who dresses in an interesting way. If I could raid anyone's closet, I'd choose my mom's. She has the most beautiful coats and shoes that I very seldom get to borrow. It would be fun to tear apart the entire thing just to make my point."Steven Soderbergh