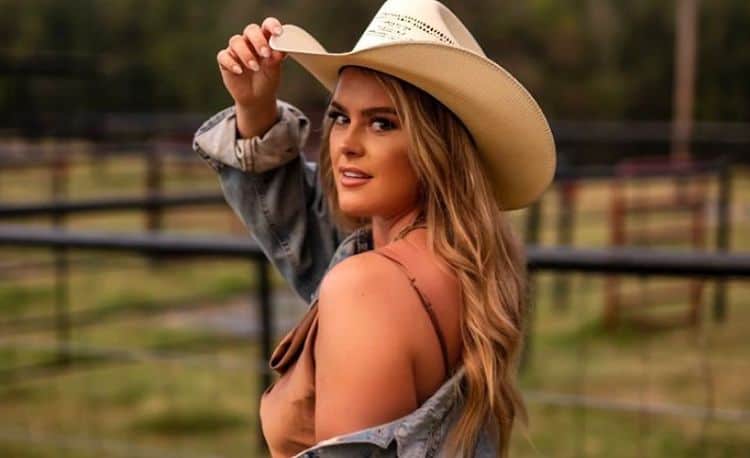 Rianna Hockaday is proud to say that she has almost everything she wants in life, now she's ready to add the final piece of the puzzle: a husband. But while most people Rianna's age are looking for love on dating apps and in bars, she decided to take her search to reality TV. As a contestant on season 26 of The Bachelor, Rianna was looking forward to the chance to connect with Clayton Echard. Unfortunately, however, her journey was cut short and she was among the first group of women to be sent home. Although her time on the show didn't end the way she wanted, she is still thankful for the opportunity and she's looking forward to whatever is next. Keep reading to learn 10 things you didn't know about Rianna Hockaday.
1. She Is A Texas Native
Rianna is a proud Texas girl and it appears that she has lived in the Lone Star State for her entire life. She loves wearing cowgirl boots and she isn't afraid to bust a move while wearing them. One of the upsides to the fact that she didn't win The Bachelor is that she won't have to consider moving to Missouri.
2. She Is A Nurse
Helping others is something Rianna has always been passionate about, and she decided to pursue a career that would allow her to do just that. She is a Pediatric Cardiovascular ICU nurse and she loves working with her patients and providing them with the best care possible.
3. She Loves Spending Time Outdoors
Like a true Texan, Rianna has lots of love for the outdoors. Whether it's horseback riding, snowboard, or hiking, Rianna enjoys getting outside and experiencing the beauty of nature. Being outside isn't just a great way for her to get some fresh air, but it also gives her the opportunity to clear her head.
4. She Doesn't Like Doing Laundry
Do you have a household chore that you know is necessary but simply can't stand? If so, you can probably relate to Rianna's disdain for washing clothes. She hates doing laundry and almost anyone who has spent a day washing and folding clothes can easily see why.
5. She Likes To Travel
Just because Rianna has lived in Texas for her whole life doesn't mean she hasn't gotten to experience other parts of the world. She has been fortunate to do lots of traveling over the years and she has been to places in and out of the United States. Some of the countries she's visited include Mexico, Greece, Dominican Republic, and the Netherlands. Whoever Rianna ends up with is also going to have to enjoy traveling.
6. She Is Family Oriented
Rianna comes from a close-knit family, and she is very serious about keeping those relationships strong. When she isn't busy with work, she loves spending as much time with her family as she can. Not everyone comes from a close family, so this is something that Rianna doesn't take for granted.
7. She Was A Cheerleader
High school football is a big deal in many towns throughout Texas, which means that cheerleading is also a pretty big deal. During her high school years, Rianna was a member of the cheerleading team. We were not able to find any information on whether she continued to cheer in college.
8. She Participated In Blackout Tuesday
In the summer of 2020, an online protest called Blackout Tuesday was organized so that people could show their solidarity with the fight to end racism. Those who participated posted a black square on their Instagram profiles in honor of the day. Rianna took part in the protest by posting a black square that showed a white hand interlocking with a brown hand.
9. She Is A Dog Person
Anyone who has ever had a pet knows that the bond is one of the most special things a person can experience. Rianna loves dogs and she even has a fur baby of her own. Although she hasn't created a separate social media profile for her dog, his pictures are always a big hit when she posts them on her profile.
10. She Already Has A Large Social Media Following
Rianna's time on the show may have been short, but it looks like she's already reaping some of the benefits of reality TV. As of now, she already has more than 10,000 followers on Instagram. There's a good chance that number will continue to grow. Having a large following might even open the doors for other opportunities for Rianna in the future.