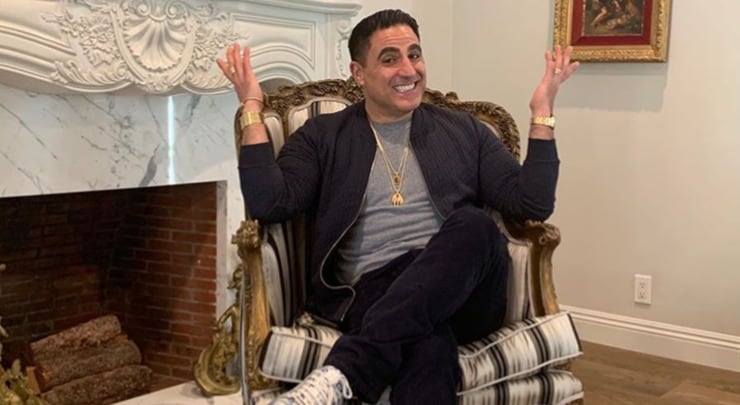 You might know Reza Farahan from the reality television show "The Shahs of Sunset" but he is not your ordinary reality star. The guy has an intriguing life which leaves people with quite a lot to say about him. If you consider yourself to know Reza from his role in movies alone, then there is a lot you are missing out. Here are some things you likely do not know about him.
1.Why he went on the show
Reza stands out openly on his sexual orientation. He is gay, and nothing holds him back from that; not even the constant criticism and stigma the LGBTQ community faces. He chose to be part of the reality show because he focuses on encouraging teenagers who struggle with their sexuality. In his interview with Style Caster, the celebrity reinforces his commitment to helping kids deal with homosexuality. Outraged by teenage suicide and bullying due to their sexual orientation, Reza wants to depict a realistic picture of those he connects with, and he considers himself the voice for the Persian gay community.
2. Reza's Net worth
We all know the reality TV star for his affluence; his luxurious lifestyle makes you question how vast his wealth is. He does not hide his obsession with extravagant things and has an extensive collection of opulent accessories. Reza's net worth is roughly calculated to a whopping $7 million. His fortune is from his work in the real estate industry in Beverly Hills, and partly from his earnings from the reality television.
3. He is half-Jewish and half-Muslim
Reza was born in Tehran in a Jewish environment and moved to the United States in his early childhood. Putting his religion into perspective gets murky, taking into consideration that his mother is Muslim. Reza's' dad converted from Judaism to Islam for him to marry Reza's mother. What many fans of the reality show are not aware of is the fact that Judaism is passed to children through their mothers. By now, you ought to be stuck in Reza's' religious identity puzzle and maybe wondering how you ended up in all this fuss. Similarly, Reza himself is in the midst of both. He acknowledged the difficulty in connecting both the Islam and Jewish world in his interview with Los Angeles Times. In spite of his religious dilemma he is positive and tries to maintain a balance between both. Reza's religious and racial background has also resulted in him being referred to as a terrorist.
4. He was involved in a legal brawl with a fellow TV star
Reza and Mike, both co-stars in the reality show, got into a legal fight after Reza demanded that Mike should stop selling T-shirts with a picture of Reza's face on them. Reza claimed that Mike did not seek his consent yet has been selling the T-shirts on his clothing line website, TrueGoldBrand.com. Reza took matters to the next step by serving his show-mate with a cease-and-desist order. In his legal claim, he protests over infringement of competition rights as well as rights of personality.
5. He treasures his mustache
One thing that goes without question is Farahan's love for his beard. He loves the identity it gives him and even has a name for it: Little Reza. Moreover, did you know that he has a twitter handle for the mustache, @Reza_Mustache? He rocked a goatee but claimed he developed strong affection towards his mustache. As much as you can brag about paying particular attention to your mustache, you won't beat Farahan. Nevertheless, while appearing on Bethenny Frankel show, he did the last thing one could imagine to Little Raze; he fulfilled the promise he had made earlier on the show and shaved off Little Raze. Such a sad sendoff for little Raze.
6. He sought a restraining order against "MJ's" husband
"Shahs of Sunset" star got himself into a feud with Mercedes Javid's husband, Tommy Freight after Farahan sued Freight on allegations of vandalism of property and threats to his life. The three-year restraining orders bar Freight from coming within a hundred yards of Farahan. Their differences extended to Mercedes and Reza who had previously enjoyed a cordial friendship for quite some time. She hinted that the relationship is long overdue.
7. He and Adam want a family
Farahan openly stood out by his sexuality in "Shahs of Sunset" when he opened up about his relationship with Adam. Reza's husband, Adam, works for Ryan Murphy and has high praise for his boss. They were engaged in 2010 and got married later in 2015. Their marriage has been a rocky affair with grumbles from Reza about his husband's negligence towards him. The fights were so intense that at one time viewers wondered if the couple was getting a divorce especially after Reza complained that he was paying for everything in the marriage. However, the two are still together and are considering starting a family.
8. Had an extreme scene cut out of the reality show
Reza's Persian origin brings him unprecedented judgment from a racist fellow who sometimes calls him a terrorist. While shooting the scenes for the reality television show, he regrets his utterances made towards Khomeini. He regretted his words and begged the producer to censor the scene for fear of his life.
9. He loves Hermès accessories
When you are fortunate like Reza, then your desire for luxurious items comes naturally. We all know Reza for his extravagant lifestyle, so you should not be surprised by his love for French luxury goods manufacturer, Hermès. He talks of his obsession with Hermès accessories with his favorite being the Hermès pocket square collection.
10. He parties less often
In contrast to the various parties shown in the reality show, Reza doesn't party as much. In the series, the scenes are full of parties with casts getting intoxicated, but that is not his style of having a good time. Still, when the need arises, Reza does not shy away from parties; after he and Adam sold their condo and moved into their new home, they threw a fancy housewarming party.
Tell us what's wrong with this post? How could we improve it? :)
Let us improve this post!