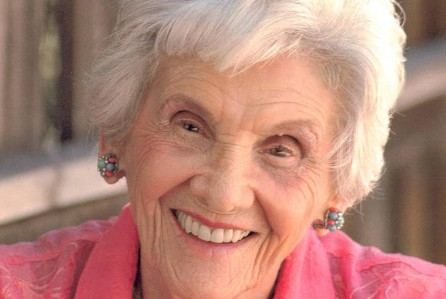 Connie Sawyer, the oldest working actress in Hollywood, has passed away at the age of 105. When you think about the fact that she was active in show business from 1931 to 2017 you can't help but raise your eyebrows and think that she had one heck of a long run. That's longer than a lot of us have been alive at this point, and she was working that entire time for the most part. Some of us can't even imagine being at a job for more than a decade or so, and this impressive woman was doing what she loved to do for well over eight decades.
Sawyer's mother had wanted to be an actress for a long time and eventually talked her daughter into performing in talent shows. From that point Sawyer took to the stage and started doing comedy acts as she developed her talent and continued to get better and better with her performances. She managed to get the attention of a few noticeable stars as she went along and was welcomed onto the Milton Berle Show at one point. She also got to star opposite of Frank Sinatra as well, so it can honestly be said that she managed to rub elbows with some of the most influential actors in the industry for a while.
From that point Connie managed to guest star on shows like Laverne and Shirley, Dynasty, Two Broke Girls, and even on the Jay Leno Show. She guest starred in a large number of shows, some that she enjoyed and others that she had regrets about later either for the content or something else. But the point is that throughout her career and up until her passing she was very involved in Hollywood and was a treasured part of the industry. To think that anyone was involved this long with the filming industry is highly impressive and makes you wonder just what kind of things she managed to see throughout her time. What kind of changes did she take part in and how did she view the changing of the industry?
Those questions and more can probably be found in her autobiography, I Never Wanted to Be a Star-and I Wasn't, which was published in 2017 and is easy enough to find. It really seems like she took her status as a working woman in a different light than many others would. She wasn't the starlet that was treated like a diva or a princess, but instead the hardworking woman that was often there but not as noticeable it would seem. In the scene below from Dumb and Dumber most people might have thought that she was just another extra that was hired on to make this scene work, but now that you know a little more about her you might take the time to really watch the scene and pay full attention to her since it was obviously a bigger deal than you realize to have her.
Rest in peace Mrs. Sawyer, you've certainly earned it.
Tell us what's wrong with this post? How could we improve it? :)
Let us improve this post!