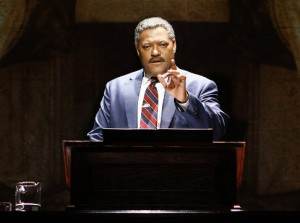 When I was a child, my father used to call me Thurgood.
Don't ask me why. I was a scrawny little white boy who more closely resembled Yoda than any Supreme Court justice. But for some reason, whenever he saw me, my father would happily crow that I was "Thurgood Marshall, Chief Justice of the Supreme Court!" Despite the fact that Marshall was actually an associate justice, I grew up with sort of a passive interest in Marshall. Whenever I heard his name mentioned, I felt like I was entitled to be more interested in him than others. That he mattered more to me than he did to anyone else. So, naturally, when I found out that HBO was going to be airing a recording of the play Thurgood, I was naturally excited.
I didn't know much about Marshall going into Thurgood, though I did know what he looked like, that he was the first black justice on the court, and that he'd had an integral role as an attorney in Brown v. Board of Education, the famous case that overturned segregation. I'd always felt like I should know more about the man, but never did. Thankfully, Thurgood was a good place to start.
First of all, I have to say that Lawrence Fishburne owns this part. Sure, he's got the voice that you can distinguish as his no matter who he's portraying, but the slight accent he colors it with serves to distinguish himself from the character just enough. As Marshall, Fishburne is often side-splittingly funny. In one part of the play (which was filmed live in Washington), he berates latecomers in the audience, though good-naturedly. At the end of the play, he gives a short hypothetical story about a black man and a white woman on a train ride which has a ending that almost has to make you grin. But between that, Fishburne delivers a speedy first-person narrative of Marshall's life, from before he was born until his retirement from the Supreme Court in 1991, two years before his death.
Of course, it's really impossible to know how similar Fishburne's Marshall is to the real Thurgood, but after watching this play, I feel like I knew the guy, personally. There's a real intimacy in the play that's only disrupted by sound effects and a changing background (used sparingly but still my only qualms about the production). I felt like I was sitting in a room, talking one-on-one with him. That's how absolutely riveted I was.
In retrospect, Thurgood is similar to the last HBO film, The Sunset Limited, in that there isn't a change of scene. Thurgood is much different, though: it's both bigger and smaller. It's bigger because the story told takes place over the span of a lifetime (not counting the anecdote about his enslaved ancestor). It's smaller because instead of two characters it only has one man delivering an incredibly long monologue. By the way, Fishburne's brilliance in the role is underscored by the fact that he had to memorize two hours' worth of talking. That's quite a long time, and the fact that he didn't even stumble lends only to the greatness of both the actor and the play.
I could address how bluntly the play addresses race, and perhaps I should. I'm sure that's what other reviewers have done. But I think it would cheapen the play to say that it tears down boundaries for television. I'll only say that it's the story of a man so influential that a white man in Alabama gave his child that man's name as a nickname. And I'll also say that it's a story well told. A