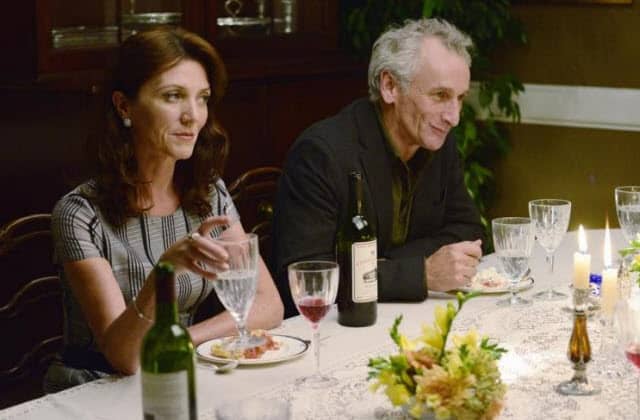 Imagine your family's most hostile and awkward dinner, and then add into the mix the surreal complication of your dead relatives returning for such an occasion. All the old wounds and resentments the Langstons may have buried years ago surfaced on Resurrection this week.
Margaret plans a family dinner on the otherwise somber anniversary of Jacob's death 32 years ago. Lucille still mourns the loss of her son even though he's technically alive again. She broke my heart into pieces when she said that nothing could erase that unbearable pain.
Considering how quiet Lucille has been all season so far, it's about time she cracked. She might not have always had the best relationship with her mother-in-law but they're more alike than they think. Lucille's outburst on Barbara was totally justified. If anything, it probably felt good to let all that anger off her chest since she could never yell at her before for basically killing her son.
The only reason Barbara was invited to the dinner in the first place was because Jacob wanted to see her and apologize. He'd heard that she also returned but they never exactly held a family reunion given the circumstances surrounding their deaths. Jacob blames himself for his aunt's death, which makes sense from a child's point of view. The reality is Barbara put them in that situation because she was irresponsible about her affair and everyone knows it.
Margaret looked extremely pleased after Lucille told Barbara off. She did plant the seeds in her head that Barbara's the root of all the family's problems, dating back to her bad influence on Fred when they met as teenagers. Something tells me Fred's rebellious attitude has nothing to do with Barbara and everything to do with his evil mother.
What kind of a grandmother would tell their grandson such a creepy bedtime story? Jacob did ask for a scary one but all it takes is him to retell the story to his parents and they'll immediately be suspicious. She disguises her history as a young girl witnessing the brutal deaths of demons in her village. These demons wouldn't die after many attempts until finally a secret was discovered. Only this girl knows of the secret and she's tasked with the responsibility of banishing said demons even though she's become one herself.
So, yeah. Margaret has the key to making a Returned person disappear for good. That explains how and why Arthur disappeared from the clinic after she visited, but doesn't add up for Caleb. As far as we know, she just recently returned and wasn't around a few months ago when Caleb vanished from the jail cell.
Fred is definitely onto his mother's case after speaking with Maggie about the investigation into the bones from last week. He tried asking Margaret twice if she knew anything about the bones found in the old factory. She's not owning up to any of it, not even acknowledging that she knew Arthur. Of course she already slipped up on her own lies since she told Maggie the partial truth.
The fallout from this episode proves that we certainly won't be seeing the Langstons celebrating the holidays together this year.
[Photo via ABC]