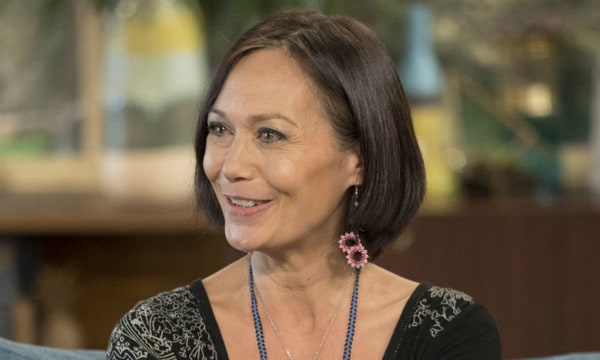 Former Emmerdale star Leah Bracknell passed away at the age of 55 after a three-year battle with lung cancer. Leah, who played the character of Zoe Tate on the soap opera, died in September, with the death announced on the 16 October. The news was accompanied by a statement from her manager which read: [Her family] would like to thank all the public for their support and generosity which contributed to the extension and quality of her life over the past three years." "Leah embraced life and faced her illness with positivity. Her family has asked for privacy at this time," the statement concluded.
1. She's remembered fondly by her former castmates
Producers at Emmerdale, the soap for which Leah is most fondly remembered, offered their condolences following Leah's passing with the message, "Everyone on Emmerdale is very sad to hear of the death of Leah. She was a hugely popular member of the Emmerdale cast for over 16 years. Leah was a very generous and caring colleague, much loved by cast and crew alike." The sentiment was echoed by John Winston, Head of ITV in the north of England, who said: "Everyone is very sad to hear of the death of Leah." "Leah was a hugely popular member of the Emmerdale cast for over 16 years. During that time, she featured in some of the show's most high-profile plots and always delivered a perfect performance."
2. She dubbed herself a cancer rebel
In July 2019, Leah wrote an emotional "cancer manifesto" after she was given just a few more months to live. The manifesto, which she entitled 'The Cancer Rebel's Manifesto for Life", intended to inspire other cancer patients to 'reject the notion of being a victim.' "I am a CANCER REBEL with a fierce heart, an independent mind, and an ocean of desire to keep on keeping on and making a difference and making a noise as long as there is breath in my body," she wrote on her blog.
3. She was a mold-breaker
Leah is best remembered for her performance as vet and land owner Zoe Tate on the popular soap opera, Emmerdale. Leah played the character for 16 years, asides from a few brief spells away for maternity leave. The character is remembered for breaking boundaries by becoming the first ever lesbian to be portrayed on a British soap, and for being (at the time, at least), the longest featured gay character on TV.
4. She left Emmerdale in 2005
After playing the character of Zoe Tate for 16 years, Leah left Emmerdale in 2005. Originally, her departure was meant to be temporary, but she later ruled out a possible return. After leaving the soap, she spent several years in theater (with one of her most notable roles being the governess in a Theatreworks production of Henry James' Turn of the Screw) before returning to TV with roles in Judge John Deed, Casualty 1907, Doctors, and The Royal Today.
5. She won several awards
While Leah's character of Zoe Tate on Emmerdale may have been a contentious figure, her pitch perfect portrayal of the wealthy vet earned her numerous plaudits. In 2002, she picked up a nomination in the category of 'Most Popular Actress' at the National Television Awards and a "Best Dramatic Performance" nomination at the British Soap Awards. Her explosive departure from the show, meanwhile, earned her the 'Best Exit' award at the British Soap Awards.
6. She was married twice
After her first marriage to Lyle Watson ended in divorce, Leah met her long-term partner Jez Hughes. The couple married in March 2017 after Leah's cancer diagnosis, choosing to say their vows in a low-key ceremony at Park House in Sussex. Leah leaves behind two children.
7. Her cancer was missed by four doctors
Prior to her death, Leah had spoken about how her terminal cancer was almost never caught at all, with 4 doctors failing to spot the warning signs. It was only when she was rushed to hospital in a lifesaving emergency that she finally received the proper diagnosis '"From my experience, despite contact with four doctors, they did not pick up on the severity of the situation which meant I was rushed to hospital where a lifesaving operation had to be performed," she said while discussing NHS staff shortages. "I was very lucky."
8. She was a yoga enthusiast
Leah was a longtime yoga enthusiast long before her cancer diagnosis, and even released a bestselling yoga workout DVD entitled Leah Braknell's Yoga And You. She continued to practice the discipline throughout her illness, combining it with a program of alternative therapies after conventional medication failed to alter her prognosis.
9. She rallied against the stigma of lung cancer
After her diagnosis, Leah talked on numerous occasions about her frustration about the way lung cancer is researched and treated, damning the stigma that's attached to a disease that is often incorrectly dismissed as a "preventable smokers' illness". "Even when I was told that the type of lung cancer with which I was diagnosed was not caused by smoking, it was a bitter sweet revelation, and let's be honest, it can't have helped. But to fail to fairly fund research into detection, screening, and treatments, due to prejudice seems to be almost inhuman," she wrote on her blog, before concluding "If a person has skin cancer, are they blamed because they didn't use sunscreen?"
10. Her fundraising appeal hit its target in three days
After her diagnosis, Leah launched a fundraising campaign to raise the money needed to fund a form of treatment that was only available in Germany. The campaign reached its target of £50,000 in just three days of launching, with over 2,000 supporters signing up.