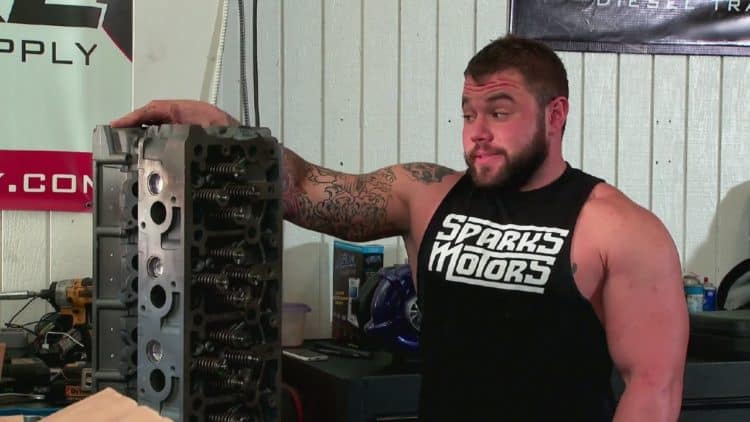 If you haven't watched Diesel Brothers then you likely won't know who Chavis is, but if you have then you might be wondering just where he went to and if you can expect to see him coming up anytime soon. The answer to the last part is probably not since he sounds kind of busy with his life at this point, but that being the case he certainly hasn't been idle. The gearhead is also a father of two so he's had plenty to keep him busy, but apart from the truck that you saw him working on during the show, his pride and joy, he's also spent time building a motorcycle and working on a Cadillac that he named Hades.
Anna Quintana of Distractify reminds us he was working on his truck Reaper for the show and was showing a lot of gumption and pride the entire time since the truck was meant for drag racing. But when the big day came Reaper ended up blowing the transmission and being disqualified. Since that time though Chavis managed to get things back in gear and has seen been pretty busy. It almost sounds as though his next project is going to be building a cabin on the ten acres that he bought, so his skills are going to be sorely tested and he'll have to break out a few different skills to get the job done.
From everything gathered thus far it sounds like he was making more of an appearance than a bid to be on the show for a while to come and he doesn't show up on the few sites that have the entire cast displayed. So it's likely that he was just passing through and made a good appearance and people took a liking to him. It happens from time to time that a guest that comes on a show will garner a lot more support and attention than some of the original cast members and people might want to see more of them. This usually has to do with the idea that they're someone knew and possibly exciting and could bring something different to the show that they haven't seen before. A lot of times however if such people stick around it's found that they're just about the same as the people that are already on the show and anything that makes them different is going to be suppressed just enough so that they don't end up taking over the show. That sounds kind of petty when you really think about it, but all in all it sounds like something that might happen too.
Taking a look at this guy's Instagram account though it's not hard to see he's all about the life that he chooses and so far it seems to have been treating him pretty well. Between his family, his job, and his hobby/passion it doesn't seem as though he'd need to come back unless his financials took a sudden nose dive. Being into anything that has to do with automotive and being able to crank out the stuff that he does it doesn't seem that he might be hurting for money anytime soon since his passion is great enough that he puts everything into whatever he does. If you want the skinny on just what he's been doing his social media is a good way to find out since he's active enough and isn't shy about putting what he feels and the things he does on it to let people know what's going on. Some of the stuff he puts on seems a bit juvenile but in a manner that many men and even women can admit is a good bit of fun and at times is what's needed. He is a pretty proud family man though and the pictures of his kids and the way he describes them shows as much. Chavis is definitely a guy that knows what he wants out of life and is able to go and get it.
Whether he'll make another appearance though on Diesel Brothers is hard to say since it does seem as though he could come back at any time if he had another project to work on or if they just asked. But then again if he's got enough on his plate at this time it's hard to see him dropping it all and rushing in unless there was a project that he needed to be on in order to make him feel like he was doing something worthwhile. It's all a matter of personal choice at this time it seems and whether or not he comes back will be up to him in the end. Given that he attained a measure of popularity when he was around though it does seem as though he might be enticed to make a short appearance.