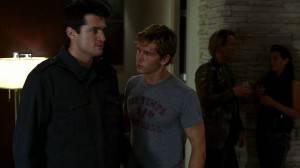 We pick up where we left off last episode…..Luke has entered the party at Godric's house. When Jason goes to greet him, Luke tells him to back off. Luke begins to give his little speech while outside the house, Bill basically tells Lorena to f-off. She whooshes off. Inside the house, Luke detonates the bomb at the same moment that Bill realizes something is wrong with Sookie. He rushes inside the house to find that Eric covered Sookie with his own body to protect her. Bill rushes outside to get the other Fellowship boys. One drives off, but Bill manages to grab one and sings his teeth into the guy's neck.
Inside the house, Isabel is trying to help the other injured vampires while Godric looks on. Sookie gets up and calls out for Jason. He seems to be only mildly injured. Sookie tries to help Eric and realizes that he can't heal himself because the shrapnel is made of silver. He convinces her he's dying and gets her to suck the shrapnel from his body. As she does it, he grins.
Outside, Bill lets the Fellowship guy go to show the humans that vampires have mercy. Inside, Jason finds a severed hand (ew). Isabel updates Godric on the casualties. Bill arrives inside to find Sookie sucking Eric (not like that). He tells Sookie that she was conned and she gets pissed. Eric and Sookie now share a connection, apparently, and he can sense her feelings. Godric sends everyone off to the hotel and Sookie and Bill leave. Eric remains behind with his sire.
Back at the hotel, Sookie is whining about being hoodwinked, but Bill tries to tell her it's not her fault. Bill warns Sookie that she might be attracted to Eric now that she's sucked his blood.
Back in Bon Temps, Jessica is complaining about being a perpetual virgin. Hoyt doesn't care and wants to keep dating her and suggests she meet his mother. He warns her that Mama doesn't like vamps, but Jessica doesn't care what she thinks. She goes off to sleep while Hoyt promises to stick close.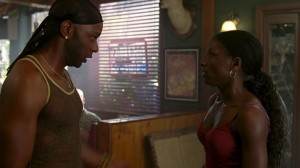 Later that morning, Tara and Eggs are recovering from the previous night where they ate Daphne's heart (possibly the grossest thing ever featured on this show). Tara's lamenting her recent out-of-control behavior, while Maryann says that control is overrated.
Sam's still in jail the next morning, along with a lot of the town people who participated in the orgy. Sam's upset that Sheriff Bud won't let him go.
Back at the hotel, Sookie goes to Jason's room. The two of them discuss Jason's experience with the Fellowship. They also talk about the fact that they're the only family each other has and they need to stick together. They turn on the television and see a news program where the Newlins are trying to justify their recent actions against vampires.
At Merlotte's, some ladies want to see the freezer where Daphne's body was found, but Arlene tells them to bugger off. Arlene tells Lafayette she's worried about these recent deaths (Daphne and Miss Jeanette). She cries to Terry, wondering about the awkwardness between them.
Tara and Eggs arrived at Merlotte's, where Lafayette immediately jumps all over Eggs, thinking he gave Tara the black eye she has. He drives Eggs and Tara from the bar.
Hoyt's arguing with his Mama now about Jessica and vampires. Turns out Mama has a lot of people/things she hates and is kind of a miserable person. He storms off in a huff.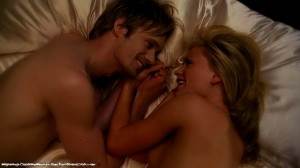 In the hotel, Sookie's dreaming about being naked in bed with Eric. They're discussing why she doesn't want to be a vampire. Sookie sees Lorena in the dream and she tells him that she's abandoned Bill. She awakens from the dream to find Bill in bed with her.
Maryann arrives at the plice station and greets the other orgy participants. Sam realizes that Maryann is in the station and sees a fly at the grate in his cell. Sheriff Bud goes to chat with Maryann. She suggests he let a few orgy people go. She admits she's really there for Sam, but Bud isn't about to let him go. Maryann massages Bud's shoulders and makes his eyes go all black. She takes his keys and goes to Sam's cell only to find that he's disappeared (presumably changed into a fly). She's super-pissed, but lets the orgy people go.
Jessica, Hoyt and Mama are meeting at Merlotte's. Jessica is trying very hard to be polite but shows her fangs quickly when Mama becomes irritated. Eventually Mama points out that Jessica isn't normal and can never have babies with Hoyt and Jessica seems very upset by this. She and Hoyt run off.
Tara, Eggs and Maryann are hanging out at home when Lafayette and Lettie Mae stop by. Lettie Mae announces that they're there to take Tara away, but Maryann tries to tempt her with booze. Lafayette calls Maryann a soulless (it's funny). Tara's eyes go all black and she starts attacking her mother but Lafayette throws her over his shoulder and escapes with her and Lettie Mae. Eggs runs after them, but Maryann says Tara will be back.
Nan is chastising Eric and some of the others and going after the Fellowship people. Godric admits that he let the Fellowship capture him and that he basically has a death wish. Nan fires Godric and he accepts it. He suggests Isabel take his place as sheriff. Sookie speaks up, defending Godric and his actions.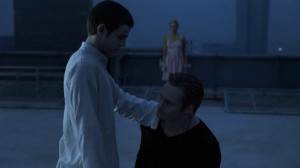 Mama's whining about her son in Merlotte's, but Marann arrives, demanding to see Sam. Her voice is all weird and she's making the wind blow inside the bar.
Fly Sam, meanwhile, arrives at Andy's house. He's drinking, but greets Sam.
Nan asks Godric to come sign some papers and he apologizes for everything that's happened. Before he leaves, he tells Eric to meet him on the roof. Bill is very pissed with Eric for what he's done and slaps him across the face. Eric tells Bill to accept that he's now a part of Sookie. Sookie wants to go find and help Godric.
Sookie joins Godric and Eric on the roof. Godric says he's lived long enough, but Eric is upset. Eric starts to cry and drops to his knees as Sookie looks on. Godric orders Eric to leave before the sun rises and he does. Sookie offers to stay behind with Godric. The two of them discuss God and whether God will judge Godric. The sun slowly rises as Sookie backs off. She says goodbye and he burns with blue fire.