Well, I will be damned.
The first part of the Love & Hip Hop: Atlanta Reunion mostly lived up to the secrecy surrounding the much hyped special, which brought the cast of VH1's runaway hit together on stage in front of a studio audience. Most of the rumors flying around prior to last night proved to be true in some capacity, while others were close to the mark, but not on the money. However, the ratchet factor was hella high tonight with animosity being very special guest who got plenty of screen time among the women.
With that said, some people felt that the reunion was just as stale as the insults the women fired at each other (I'm looking at you, Rasheeda and K. Michelle). Yet the episode still brought enough goods to compile a Top 5 list of the most interesting and "Damn! WTF?!" moments of the night.
1. Mona Scott-Young
To be honest, my first time seeing Mona Scott-Young in action was through the interviews she conducted featuring Joseline and Mimi for VH1.com, which I thought she handled well. But tonight, Scott-Young played ringleader of the circus that was the reunion special where she called the shots and revealed just how close she became with these women. I mean, who else would have sat there and watched Joseline get butt naked to take a pregnancy test (besides any warm-blooded straight male)? I can't see Shaunie O' Neal or Andy Cohen going through those lengths for 'authenticity' for their respectable franchises.
With that said, it wasn't Scott-Young's dedication to the cause that got her on this list. slyly went in on all the Love & Hip Hop: Atlanta's naysayers in the most formal and nicest way possible. In her dialogue about critics claiming the show was a negative representation of black women, Scott-Young, with the help of the cast members on the show, pretty much stifled the critiques, stating that the only group of people LHH:ATL was representing were themselves and themselves only. Just because the show features a black cast, doesn't necessarily mean that it is obligated to represent all black people. I'm glad Mona Scott-Young addressed that growing misconception, because if white people are not cringing at shows like Here Comes Honey Boo-Boo! (actually some are as of this writing, but still) then why should we cringe at Love & Hip Hop: Atlanta? Kudos, Ms. Scott-Young for keeping it real. At least with that scenario.
2. The Stevie J./Joseline vs. Scrappy/Erica Debacle
It was interesting to note that the only real fight of the season was truncated due to the backlash VH1 has gotten for violence on their shows (see Moment #4). But if there was any fight on the network that I would have gladly seen in its entirety, it would have been the Stevie J. vs. Scrappy fight. A lot of folks thought Stevie J. trounced Scrappy without a doubt, but I don't know. Stevie looked a little rocked himself afterwards to me, so it was interesting (but not at all surprising) to hear both guys declare victory in the fight.
3. Funky Dineva
The Doll was in the building and her hair was layed as always! Some people thought Dineva would actually host the reunion, but if that had been the case I doubt that there would have been any order on stage if The Doll was given center court. Plus, Funky Dineva would have kept it 100 and some of the cast members might not have been too welcoming of the questions she would have most definitely thrown their way.
4. VH1's "No Violence" Policy
Not much of a "top moment," but it was still interesting to hear. Mona Scott-Young dropped word of how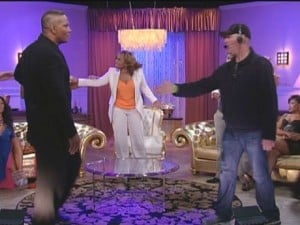 VH1 gave an order to trim down the Scrappy vs. Stevie J. fight due to the backlash of violence on their shows. While I can understand why VH1 has implemented the policy, I can't help but say "Booooo!" to their gag order. Then again… One of the main factors that turned me off of the original Love & Hip Hop was Chrissy's incessant need to put her hands on some chick on the show. And let's not even talk about Evelyn Lozada of Basketball Wives. So maybe VH1 has something there, but damn I would have loved to seen that full fight between Scrappy and Stevie J.
5. Joseline
Where can I start with this chick…? When Love & Hip Hop: Atlanta started, I really didn't care for Joseline at all. It's amazing that 10 episodes later, I simply cannot get enough of this woman.
Point blank, Joseline just doesn't care. And she owns that. As soon as I saw her with that masquerade mask, I knew she would throw the first ball of ratchetness of the night, and boy she did not disappoint. "Well, you know. I had to put on my shades for all you hating. And for all my fellas, you can have all this! Yes, that's right cause I'm the baddest"
Simply put, Joseline owned the night and it will most definitely be a long ass wait until she returns again next year.
Worth Mentioning Events
– With all the blogs either discussing, dissecting, or picking sides in the drama between K. Michelle, Rasheeda, and Toya Wright, you would think the reunion would use that to fuel the drama between the two women on stage. However, each woman resorted to name calling, which could have been done on someone's playground in Atlanta somewhere. In short, I'm over it.
– The Karlie Redd verbal beatdown has run its course and I'm over that as well, despite her being uncontrollably messy this year. I really didn't care for her daughter being brought into the fray, because no one's kids really appeared on the show.
– Stevie J. was just Stevie J., but I think our Machiavellian producer will really show his ass next week.
What did you all think about last night's Love & Hip Hop: Atlanta Reunion special? Do you have any favorite moments? Quotes?
Tell us what's wrong with this post? How could we improve it? :)
Let us improve this post!