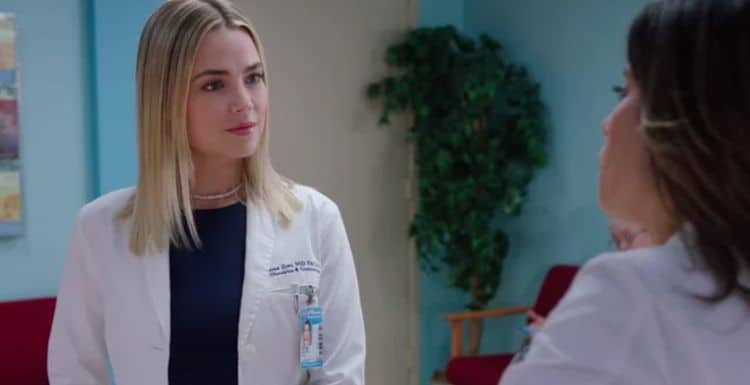 Rebecca Rittenhouse's love for acting is apparent in everything she does. The talented star has earned more than a dozen on-screen credits throughout her career, and there will be even more in the years to come. At the moment, she is best known for her role in the shows Four Weddings and a Funeral and Blood & Oil, but those aren't going to be her best-known roles for much longer. Recently, it was announced that she would be playing the title character in an upcoming TV series called Maggie. This show is shaping up to be the perfect opportunity for Rebecca to show just how bright she can shine. Continue reading to learn 10 things you didn't know about Rebecca Rittenhouse.
1. She Fell In Love With Acting As A Kid
Rebecca doesn't come from a family of actors, but her parents' love for the arts was passed on to her at an early age. She told SBJCT Journal, "Acting is something I expressed an interest in when I was about 5. I think it's because I watched so many classic, beautiful films like "Roman Holiday" and "Rebecca" with my dad growing up."
2. She Studied At UPENN
Now that we know Rebecca has loved acting since she was a kid, a lot of people will be surprised to know that she didn't study acting in college. Instead, she went to the University of Pennsylvania where she earned a bachelor's degree in romance languages. She then went on to study acting at the Atlantic Theater Company located in New York City.
3. She Is A Dog Mom
Rebecca may not have any children, but she's found her way to motherhood nonetheless. She is a very proud pet parent to a sweet little dog named Shiner. Rebecca adopted Shiner and she is a big believer in the importance of adopting animals over buying them from pet stores.
4. She Hopes To Write And Direct Some Day
At this point in her career, all of Rebecca's work has been in front of the camera but she's hoping that won't always be the case. As a true storyteller, Rebecca would eventually love to get behind the camera and do some writing and directing. If she's anywhere near as good at those things as she is as acting, she has a bright future.
5. She Loves To Stay Active
Regular exercise is an important way for Rebecca to take care of herself mentally and physically. While talking to SBJCT Journal, she shared that Pilates is one of her favorite forms of exercise. She added, "I love pilates so much. I have become really physically strong, but have also developed a mind body connection that really helps me in my work."
6. She Enjoys Doing Theater
Rebecca's mainstream success has come from film and TV roles, but the stage was her first love and she still enjoys doing theater. She has been in several plays throughout the years, most notably an off-Broadway production of Commons of Pensacola at the Manhattan Theatre Club.
7. She Likes To Travel
Rebecca loves traveling and she has gotten the chance to see lots of beautiful places in the United States and other parts of the world. Not only is traveling the perfect way to experience new places, but it's also one of the things that helps her feel creative and inspired. Rebecca seems to particularly love visiting places with beautiful beachfront views.
8. She Is Very Stylish
As far as we know, Rebecca has never been a professional model, but she definitely has the fashion sense to pull it off. Rebecca has a great sense of style and she knows how to steal the show for any occasion. She also isn't afraid to experiment with different colors, patterns, and prints.
9. She Is Clumsy
Rebecca may look graceful, but as we all know, looks can be deceiving. During an interview with Into the Gloss, Rebecca shared that she is very clumsy. Needless to say, she probably has a lot of slip and fall moments. Fortunatelly, it doesn't appear that her clumsiness has ever caused any serious injuries.
10. She Loves Trying New Things
For lots of people, doing the same things over and over again brings a certain sense of comfort. However, that isn't how Rebecca wants to live her life. She is always open to having new experiences and she loves being able to explore. This kind of mindset is especially helpful in her career as an actress, because curiosity is an important element when its time to get into character.