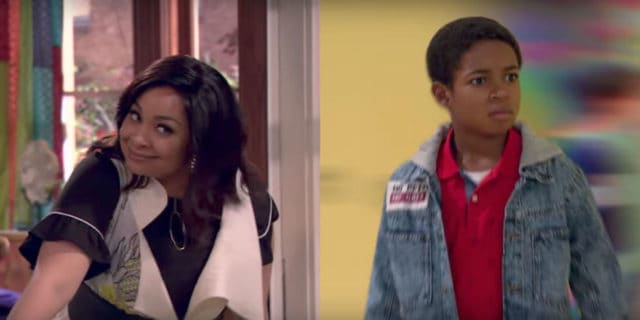 Anyone who was a fan of the great era that was the early 2000's on the Disney Channel gets excited at any prospect of seeing those stars back in their childhood roles. When Raven's Home was first announced, I'll admit to being reduced to schoolgirl giddiness. Now we get to actually see Raven as a mother, and how she did and did not change from the girl we loved all those years ago. The series gets off to a great start with Chelsea and Raven not having changed all that much. The cherry on top is that their kids are exactly how we expected them to be. The only catch is that the long-held family secret which set the stage for Raven's shenanigans on That's So Raven needs to have a stronger presence, and fast.
It's been 10 years since we last saw Raven Baxter and her best friend Chelsea Daniels. We find out that they both had their kids fairly young and are now divorced. Chelsea's ex is a tax evader who stole her money and is now in prison. Though it's not said outright, we know from the spoiler mill (look away now if you haven't heard), that Raven married her high school sweetheart Devon. Obviously neither marriage worked out, and for financial reasons Chelsea and Raven moved in together with their kids in Chicago. It makes for tight living quarters, but kudos to Disney Channel for showing the realistic economic difficulties of living in a big city.
Pretty quickly we learn that the boys have their moms wrapped around their fingers. Levi is vastly more mature than his mother, while Booker is Raven's favorite, to the annoyance of his twin Nia. You would think it would be because of Booker and Raven's psychic connection, but the kids have no idea of their mom's big secret. Raven's reaction to Chelsea's suggestion that she finally come clean with the twins is one of the funniest moments in the opening minutes! Instead, Raven goes to the same place she did in her teen years: "It hasn't happened yet, so I have to fix it before it does." Meaning our lovable Raven hasn't changed one bit.
Meanwhile, Booker has his first vision. He immediately tells Nia, Levi, and their neighbor Tess, but Nia isn't easily swayed into believing her brother. It takes a lot of huffing, puffing, and eventually getting knocked across the room by a heavyweight bag to convince Nia her twin is psychic. Raven meanwhile has no idea the true reason her kids are fighting, not even after deflecting a lot of tennis balls with, well, not a tennis racket. Thus Booker and the kids agree to keep this secret to themselves, lest Raven freak out or not believe them. If they only knew…
And this is my only gripe with the premiere, something I hope is corrected fairly quickly. Booker will need his mother to navigate being psychic, just like Raven needed her parents to help her when she first got her abilities. It will be an even better situation this time around because Raven can completely relate to what her son is about to go through, even if she hasn't really gotten much better at staying out of the chaos in the 10+ years since we met her. Raven-Symoné stressed that a big theme on this show is going to be communication, and I sincerely hope that happens between Raven and Booker sooner, rather than later.
What are your thoughts on the show and the return of characters we love? Are their kids exactly how you imagined them? Let us know your thoughts as we enjoy our time in Raven's Home?
Save