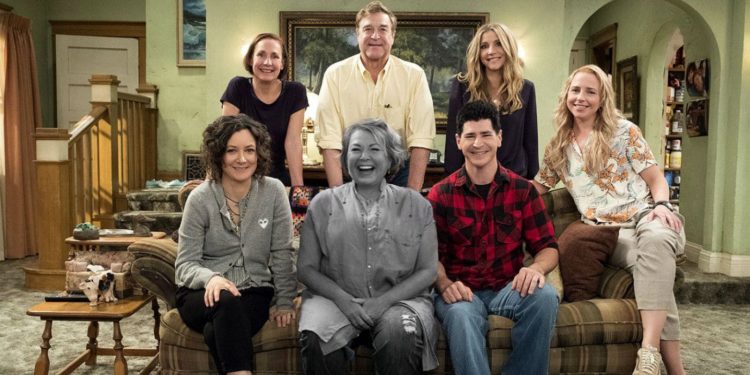 When Roseanne Barr was let go from the reprisal of her role as Roseanne Conners, it looked as though the popular sitcom was doomed. Producers didn't let the controversy stand in the way of their plans for the rest of the cast, however. Although Barr would not be returning, they came up with a brand new sitcom which they titled "The Conners." Fans who have been loyal throughout the years still tuned in to see some of their favorite characters on the series, but there's recently been a question as to whether or not "The Conners" will be back for a second season.
The ratings are a determining factor
"The Conners" was born from the cancellation of its parent show "Roseanne." "Roseanne" was a popular comedy, and when it was discontinued and the main character killed off, it was up in the air whether fans would continue watching a series that moved ahead without her. "Roseanne" received high ratings, and "The Conners" didn't quite achieve as high marks from the audience, but the ratings were still high enough to lode it firmly in the number one spot in the season's comedy lineup for 2018-19, but would this be enough to secure the sitcom's slot in the 2019-20 lineup?
Fans are hopeful yet doubtful about the return of "The Conners"
The show made it for its first season after Barr made her exit, and although the ratings dropped a little it's no major cause for concern on that front. 9.2 million viewers were tuning in to see the continuation of the story of the Conners family, and it tells us that for some, Roseanne wasn't the biggest drawing card in their arsenal. Are the fans' suspicions about the show being canceled correct?
The fate of "The Conners post season 1
To our delight, we learned that "The Conners" will in fact be back for a second season. Here's some more positive news for fans. The first season only consisted of 11 episodes and ABC has confirmed that there are going to be 13 episodes for season 2. "The Conners" has been assigned the Tuesday at 8 p..m. time slot and it's going to make its premiere with episode one on September 24, 2019.
There are a few ways to watch "The Conners"
If you're not able to catch the premiere episode of the second season of "The Conners," then there are other ways that you can watch the show. It's going to be available for streaming on ABC.com. There are other streaming services that will offer the show including Amazon Prime, Hulu and others.
Who will be on the show this season?
Having put to rest any and all rumors about a cancellation, the next question that comes to mind is who will be returning to the show, from the original cast? We're going to see several of the original members return, including John Goodman who will carry on as the family patriarch, and his daughters Sara Gilbert playing Darlene Conner-Healy, Lecy Goranson in the role of Becky Conner, D.J. will be back, played by Michael Fishman, and Laurie Metcalf will be back as Roseanne's sister Jackie Harris. Ames McNamara is Mark Connor-Healy, Emma Kenney as Harris Conner-Healy, Jayden Ray will play Mary Connor, adn Geena Williams-Conner is played by Maya Lynne Robinson.
Other actors who may or may not appear
Katey Seagal is going to be back on the show, playing the part of Louise, and this will be a return appearance for her. Everyone is hoping that Johnny Galecki will return to the role of David Healy, but this has not yet been confirmed. Natalie West will play Crystal Anderson and Sarah Chalke will be Andrea. We've also heard that there is going to be a very special guest appearance by Dan Akroyd for season 2.
What are the odds of a season 3?
Those of us who grew up with "Roseanne" have come to know and love each and every member of the original cast. We've watched Darlene, Becky, and DJ grow up, and it's something that gives us a sense of nostalgia, even if they're all grown up now and have kids of their own. We all remember how awful it felt when we thought that Dan Conner had died of a heart attack and was absent for the last segments of the show. Without John Goodman as a regular member of the cast, there ws simply something missing. He occupied a big place in the show and when he was back, it was almost too good to be true. We won't know if there is even going to be the talk of a third season for a while. It depends upon how well the show does in its second season. It also depends on if "The Conners" can maintain its viewership in the absence of Roseanne.
Final thoughts
It's good news to finally confirm that "The Conners" has been renewed for its second season, and that there are going to be an additional two episodes to boot. We're all hoping that Johnny Galecki comes back in the role of David Healy, because if he doesn't, what's going to happen with Darlene's love triangle? John Goodman has so far, done a great job of carrying the show forward, and this makes the new series familiar for those of us who remember "Roseanne," but it's also about the lives of he and Roseanne's kids, and how they're moving forward with their lives. We know that Becky is going to have a baby, but aside from that, the producers have not let out a lot of particulars just yet. We think that they might be saving that for later. In the meantime, "The Conners" is definitely a go, so you can tell your friends that you were right if you guessed they'd return.
Tell us what's wrong with this post? How could we improve it? :)
Let us improve this post!