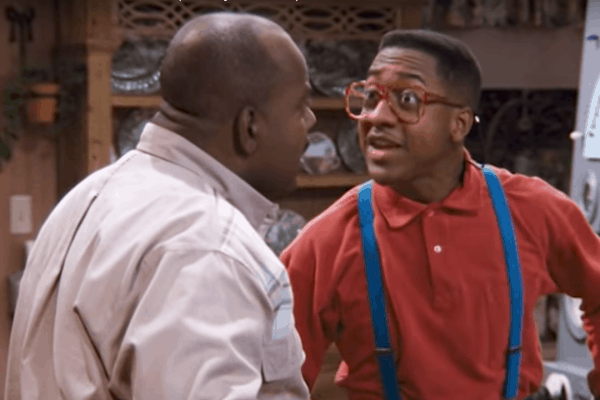 Hulu did something amazing on Friday. The streaming service brought back some of our favorite TGIF series from the 80's and 90's. Viewers can now watch over 800 episodes of five classic series: Perfect Strangers, Full House, Family Matters, Step by Step, and Hangin' with Mr. Cooper. One of the greatest things about sitcoms in this era is that each had a theme song that would introduce the cast. We decided to grade these five theme songs. Believe us it was harder than it looked!
5. Hangin' with Mr. Cooper
https://www.youtube.com/watch?v=x2z36Lt8Yz0
Hangin' with Mr Cooper ran on TGIF for 4 seasons. The first season of the series actually aired on Tuesdays and did not feature Raven Symone and Sandra Quarterman. Dawnn Lewis, who only appeared in season one,  left her gig on A Different World to star on this series.  Though this theme song has a catchy beat, it did not hold up as memorable as the other 4 classic series theme songs.  We still love it, but it does receive the lowest grade on the list. Grade: C+
4. Full House
Full House is one of my all-time favorite TV series. It aired on TGIF for several years before moving to Tuesday nights. Each season we were treated to new opening credits of the cast. Though the show is set in San Fransisco, only one episode of the series was filmed there as well as the final season opening credits.  Our favorite moment will always be the Tanner gang having a picnic in front of their iconic home from the earlier seasons. Grade: B-
3. Family Matters
Family Matters is a TGIF series that is spun off of Perfect Strangers. Harriet Winslow was the elevator operator at the Chicago Chronicle. Early versions of the opening credits for Family Matters show the Winslow clan riding bikes in downtown Chicago from the same vantage point that can be seen in the Perfect Strangers credits. The house used for the exterior shots of the Winslow home is being torn down and will be turned into a 3-unit residence paying tribute to the series. Grade: B+
2. Perfect Strangers
Perfect Strangers premiered on Tuesday nights in March of 1986. It did not make the move over to TGIF until halfway through its third season. Jesse Frederick and Bennett Salvay wrote this iconic theme song. They would also go on to write the theme songs for every other series on this list aside from Hanging' with Mr. Cooper. The opening sequence shows several key points of the Chicago area like the Welcome to Chicago sign and Wrigley field. Grade: A-
1. Step by Step
Theme songs do not get any better than the TGIF series Step by Step. The series ran for six seasons on ABC before making the switch over to CBS along with Family Matters for its final season. The theme songs catchy lyrics play while the entire Lambert-Foster clan enjoy a day at a theme park (Though those computer generated waves coming in at the end of the sequence are scary!). If you look closely in the earlier episodes, you can see a brown-haired boy dressed in the same attire as Mark in some of the shots. Christopher Castile replaced this actor after the pilot was shot. Overall Grade: A+
Which TGIF theme song is your favorite? Let us know in the comments section below.
Photo by: ABC
Save