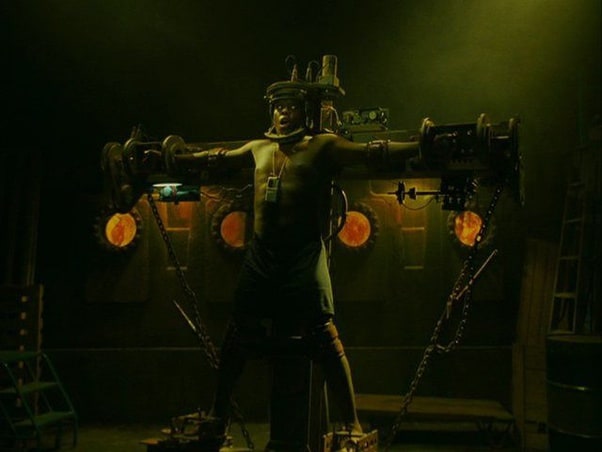 Let's just go ahead and say that every trap in the Saw movies is devilish in its own right, and all of them look absolutely painful, not to mention are capable of inducing nightmares in a lot of people. The fact of the matter is that thanks to the human condition, essentially the fact that we know how to cause each other massive amounts of pain and the fact that there are those that would deem it their right and their responsibility to do so, this kind of thing could be entirely possible. It's more likely than not that authorities would shut a real-life Jigsaw down in a hurry though, or at least that's what a lot of people are going to tell themselves, since the sheer amount of properties necessary to make this happen, and the materials that an individual would need, could possibly be traced with a fair amount of ease, one would hope. It's a little too terrifying to think that there might be those out there that would love to give this a try, but at the moment it's a pleasure to say that no one has really gone this far with such an idea. Human beings don't need to be this inventive to teach other humans a lesson, but when it comes to the movies, things are bound to go well over the top.
Here are five of the best, and most nightmarish, Saw traps ever devised.
5. The Rack
An arm can only twist so far before bones will break, muscles and tendons will tear, and the limb will be effectively torn from its moorings. The same goes for any appendage or protruding part of a human's body since those parts aren't meant to come off in such a manner. But a machine that's been geared to twist, and twist, and twist, until it's programmed to stop doesn't really care about all that, nor will it care about the screams of the tortured individual whose limbs are being broken and twisted around without any regard to the type of pain that they're feeling at the moment. Of course, once his head twists around far enough the screaming does tend to stop.
4. Public Execution
The design of this trap isn't entirely bound up in the machinery that the individuals have been strapped to since the woman hanging from the ceiling and the feelings of the two men she's been seeing are the catalyst that will decide just who dies and who gets to walk away. Of course, once she starts telling both men, one at a time no less, that she really loves them and doesn't want the other, one can't help but expect the men to finally see reason and make the horrifying decision that she just has to go. It's not the best decision really since it means that they're complicit in her murder no matter that it wasn't their design. But how stupid did she think they were?
3. The Scalping Seat
It's hard to believe that the representation of this torture would be easier when experienced by those that actually had to endure this gruesome practice centuries ago, but at the very least they might have killed their enemies before doing this to them. Instead, this woman is being forced to sit there and feel EVERYTHING that's being done as her scalp is literally torn from her head by a devilish machine that was built for this purpose and is just as unrelenting and unbreakable as the others given how Jigsaw was wise enough to keep his subjects immobilized for certain traps so that they couldn't tinker with the design.
2. The Neck Tie Trap
There is a lot to be said for teamwork in a horror movie since the more a group works together instead of against each other, the more likely it is that they'll survive. But then again, Jigsaw is well known for picking out victims that were seen to be extremely selfish and entirely focused on their own survival rather than that of others. In fact, one could say that he had a certain eye for the most despicable human beings that could be found, and he made it a habit to find new and intriguing ways to punish them for the type of behavior that the law couldn't always do anything about. But when it comes to survival one might think that people could at least find a shred of common sense and work together…or not.
1. The Needle Pit
For an ex-junkie, this would be an absolute nightmare, but for anyone else, it would still be a hellish drop into a needle-filled pit where every movement would bring an agonizing amount of pain as the tips of so many needles could easily become buried or worse, break off after being lodged in the skin. If this doesn't make a person wince just thinking about it then there's something else going on in their heads, or they're just that hard to rattle.
Saw is by far one of the most devious series to ever be created, largely because of the intense realism that was featured.