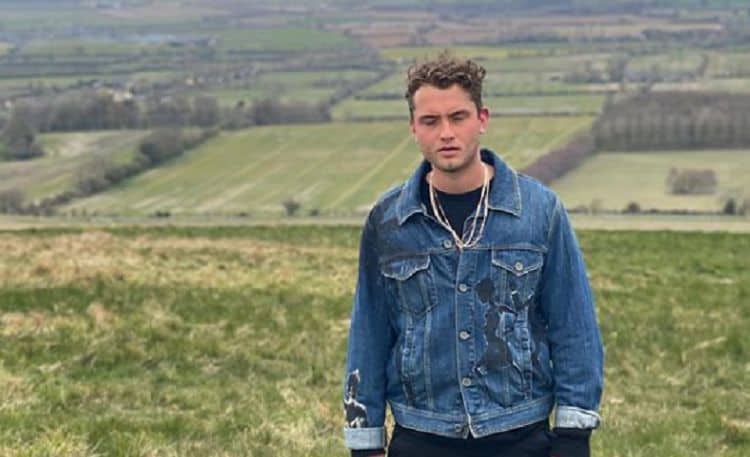 Being the child of a celebrity has its perks, among which is getting the best things in life. However, that does not mean they are handed to you on a silver platter. Rafferty Law is the son of Jude Law and Sadie Frost, but he has had to work hard to be the accomplished model, musician, and actor that he is. His first major movie role is in an upcoming remake of Oliver Twist, "Twist," which has fans wondering if there is more to the 23-year-old than following in his parents' footsteps. Well, there is a lot more as you are about to find out through these facts.
1. He has a love for music
In his interview with Teen Vogue, Rafferty disclosed that he was in a music band, Dirty Harrys. He and his friend were the songwriters, and they had planned to release their EP in early 2015. Rafferty's interest in music had also seen him interning for Blur, where he helped tune their guitars, among other duties. He started his other band, Outer Stella Overdrive, and his brother, Rudy, plays the drums. Rafferty, on the other hand, can play piano, bass, keyboard, drums, and guitar.
2. He slept in his parents' bed until he was six
Most parents prefer putting their babies in nurseries, so their intimacy is not affected, but some will have the little angels in their beds until they are comfortable to sleep in their own rooms. Jude and Sadie fall in the latter category hence did not mind Rafferty warming up their beds until he was six. However, it came at a cost; their social life went down the drain because Rafferty took such a long time to fall asleep that guests usually left by the time the parents made it backstairs.
3. He sees his kittens as his children
Family comes in all shapes and sizes, so it is not strange to hear someone call his pets his "babies." Jessica Chastain once admitted that even though she wants children, if they do not come along, her dog, Chaplin, would do. Rafferty is still too young to be considering parenthood but if ever his house was on fire, what he would run to save are his kittens, Sid and Nancy. He loves them so much that whenever he goes out, he worries about them.
4. He did not like school
It is hard to find someone who likes school, and for Rafferty, life in the institutions proved difficult because he has a problem with authority. He revealed that teachers who were rude to him always got a nasty response back, which, of course, did not end well. That does not mean his parents allowed him to be a truant; they had set standards that Rafferty had to meet lest he did not get to pursue whatever else he wanted. Rafferty, therefore, worked hard only enough to meet the target and was not interested in outstanding performance.
5. His runway debut
In the summer of 2014, Rafferty made his runway debut when he modeled for DKNY (Donna Karan New York) Men. Considering that Ollie Edwards raked in $410,000 after being hired by DKNY, it is safe to say that Rafferty had a lucrative income after landing a deal with the brand. At the time, he was signed with Select Modeling Agency, and since then, Rafferty has modeled for Dolce & Gabbana and Hugo Boss. He has also been on the covers of magazines such as American Vogue and Apollo Magazine.
6. He is allegedly dating Rita Ora
Rumor has it that Rafferty is dating Rita, whom he met on the set of "Twist." According to a source who talked to The Sun, the two had chemistry while filming and it was only a matter of time before things heated up. After keeping it under the wraps for weeks, the couple finally decided it was time to display their romance. Rafferty does not seem to mind that Rita is six years his senior.
7. He was crushing on Brad Pitt at 13
When "Fight Club" was released in 1999, Rafferty was yet to be born, but when he was 13, he watched it for the first time. One thing that struck Rafferty was the fashion of the character played by Brad Pitt, and his crush on the actor began. He, therefore, started copying Tyler Durden's (Brad Pitt) style of dressing by mismatching colorful outfits and donning sport suits for months. Rafferty is not the only celebrity who was influenced by the film; Justin Bieber and Harry Styles also embraced the look.
8. He might have gotten his love for music and acting from his father
Rafferty was only seven when his father took him to his first musical gig; Robert Plant, the lead singer from Led Zeppelin', was performing in New Orleans. Since his father also played the saxophone in "The Talented Mr. Ripley," Rafferty also enjoyed playing the instrument as a child. Jude Law took his son along to the sets of the films he was cast in and even introduced him to some of the actors among whom was Robert Downey Jr. Even as a teenager, the young model showed his support for his father's acting career by attending the premiere of his films. His favorite by 2014 was "Dom Hemingway," whose opening scene took Rafferty's breath away.
9. He has a temper
We all have our good days, but sometimes, one thing can go wrong, and we lose our minds. Steven Seagal once pinned John Leguizamo against a wall and shocked him but never apologized, yet they were rehearsing a scene. Rafferty displayed his crazy side on stage once when a drummer got on his nerves. According to an interview with Standard, Rafferty said the drummer had been drinking thus he was late and was not concentrating. Rafferty got so annoyed that he threw his guitar at the drummer and knocked him out.
10. He is a party boy
Rafferty does not hide his wild side from the public. In most of his Instagram posts, if he is not strumming a guitar, then he is holding a beer bottle or a glass of wine. He also smokes, which Rita does not mind since they were photographed kissing while Rafferty was smoking.