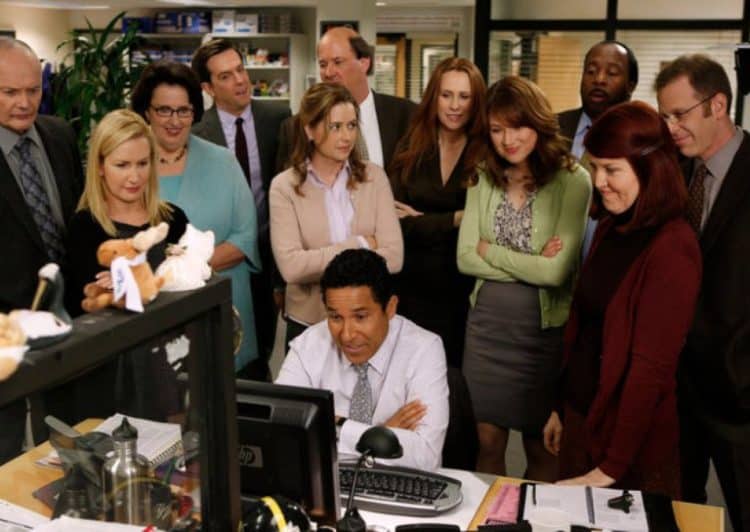 Ten years since the last episode of The Office aired, and it still remains to be one of the most popular sitcoms in history. At the height of the Covid-19 pandemic, the mockumentary show dominated our screens, having been the most-streamed TV show in 2020 at 57 billion cumulative minutes, according to Variety. The second-most-streamed show, Grey's Anatomy, doesn't even come close, clocking in at only 39.4 billion. The Office stars Steve Carell, John Krasinski, Rainn Wilson, Jenna Fischer, Angela Kinsey, Ed Helms, Mindy Kaling, Phyllis Smith, Ellie Kemper, B.J. Novak, Oscar Nunez, Brian Baumgartner, Craig Robinson, Kate Flannery, Leslie David Baker, and Creed Braton, an ensemble cast that plays employees of a mid-sized paper company as they go through the mundane events of corporate life. The Office made millions of fans around the world happy, and it also made a few of its cast members very popular and very wealthy. At least three of its cast members emerged out of the TV show as movie stars, while a couple of others achieved success behind the camera.
Ed Helms ($25 million)
Ed Helms played Andy Bernard, the perpetually insecure paper salesman who never fails to remind his colleagues that he went to Cornell. Ed Helms was first cast in Season 3 of The Office, eventually replacing Steve Carell's Michael Scott as the manager of Dunder Mifflin in later seasons. According to Celebrity Net Worth, Ed Helms is reportedly worth $25 million, making him the third richest The Office cast member. Ed Helms was reportedly paid $100,000 per episode in The Office when he became a more prominent cast member, a generous sum but nowhere near the superstar money he made in the Hangover movies. According to Hollywood Reporter, Ed Helms made $1 million for the first Hangover movie and $5 million for the second one. The third one, according to Koimoi, snagged him a whopping $15 million deal, a 1,500 percent raise from the first Hangover film. Aside from Hangover, he's also appeared in blockbuster films like Vacation, Tag, and Ron's Gone Wrong. He also currently stars in Rutherford Falls, a show he co-created with the brains behind The Good Place and Brooklyn Nine-Nine (and occasional The Office actor), Michael Schur. Outside his work in front of the camera, Ed Helms serves as a board member of RepresentUs, a non-profit organization that lobbies for anti-corruption laws in the United States.
Mindy Kaling ($35 million)
Mindy Kaling played customer service representative Kelly Kapoor in The Office. She also regularly served as a writer for the show, alongside B.J. Novak and Paul Lieberstein. In an interview Kaling did with Variety, she said she was the only woman and person of color in the writer's room of The Office. "I was the only person of color and the only woman in a staff of seven. That was 2004. Now, that would be absolutely insane. But when I was a writer there, if I had a bad day or said something lame or unfunny, I was like, oh, this is what they think Indian women are like." Kaling has since become more active behind the scenes after her time in The Office. According to Celebrity Net Worth, Kaling has a net worth of $35 million. She became a highly successful writer after her work in The Office, having created, written, and starred in The Mindy Project. She's currently working on two TV shows, Never Have I Ever and The Sex Lives of College Girls, both of which are coming-of-age stories. Kaling made news last year for buying Frank Sinatra's former Malibu beach house for a whopping $9.5 million. It's a two-storey home with elevator access and has a total of 5,824 square feet of living space, according to Business Insider. Under Sinatra's ownership, the house used to entertain A-list guests such as Gregory Peck and Dick Van Dyke. Now it belongs to one of the most-sought-after writers in Hollywood.
Steve Carell and John Krasinski (tied at $80 million)
Steve Carell played Dunder Mifflin's incompetent regional manager Michael Scott in The Office, while John Krasinski portrayed the too-cool-to-be-here paper salesman Jim Halpert. Michael Scott remains to be Steve Carell's most iconic role on screen, but he's also since appeared in other blockbuster projects, like Despicable Me and Welcome to Marwen. He currently stars in the Apple TV+ series The Morning Show, as a disgraced morning show host, opposite Jennifer Aniston and Reese Witherspoon. Both Carell and Krasinski have controversial behind-the-scene stories about their time in The Office. Steve Carell infamously left The Office in Season 7, but according to a book about the show titled The Office: The Untold Story of the Greatest Sitcom of the 2000s, the actor really didn't want to leave the sitcom, as per Good Housekeeping. "He didn't want to leave the show. He had told the network that he was going to sign for another couple of years. He was willing to and his agent was willing to. But for some reason, they didn't contact him. He planned on staying on the show. He told his manager and his manager contacted them and said he's willing to sign another contract for a couple years. So all of that was willing and ready and, on their side, honest. And the deadline came for when they were supposed to give him an offer and it passed and they didn't make him an offer."
As for Krasinski, in a tell-all book by Brian Baumgartner, who played Kevin Malone in The Office, he revealed that the actor refused to shoot a scene that would have drastically altered the plot of the show for the worse. "During a business trip to Florida, Cathy makes up an excuse to spend time in Jim's hotel room, and the sexual tension is pretty apparent," according to the book. "According to John, there was talk that maybe Jim would go too far and actually have an affair with her." Krasinski recalled, "That's the only time I remember putting my foot down. 'Cause [Greg] was saying, 'You're going to actually make out with her in this scene.' I remember saying things that I never thought I'd say before, like, 'I'm not going to shoot it.'"
For the longest time, Steve Carell was far ahead everyone else when it came to their net worth, having already been a movie star during his time in The Office with projects like The 40-Year-Old Virgin and Evan Almighty. But it looks like Krasinski, who appeared in the critically acclaimed film A Quiet Place, has finally caught up. Both are estimated to have $80 million, according to Celebrity Net Worth. In 2016, Krasinski and his wife, actress Emily Blunt, sold a mansion to reality TV star Kendall Jenner for $6.5 million, as per Lonny. They recently purchased a Brooklyn condominium for $11 million. You can add media tycoon to Krasinski's list of achievements; recently, he sold a web series called Some Good News to ViacomCBS for an undisclosed amount. Carell, on the other hand, is a bit more secretive about his wealth. He bought a $6 million mansion in Los Angeles' Toluca Lake suburb, according to Velvet Ropes, but eventually sold it in 2012. He's most popularly known for owning a four-bedroom house in Marshfield, Massachusets, as well as owning and operating a general goods store in the same area.
Tell us what's wrong with this post? How could we improve it? :)
Let us improve this post!