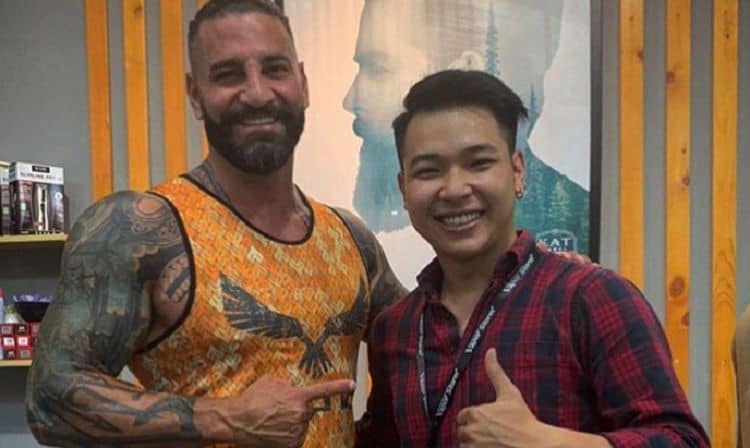 David Johnson Wood is known for his film work in "Ghost in the Shell," "Vixen," "The Man from Macau," and he played a Marine several times in the last two Donnie Yen films; "Big Brother," and "Ipman 4," in addition to his television work with Spartan Race's global "Agoge" Endurance Evolutions." David is a US Marine OEF combat veteran and an entrepreneur. He founded multiple companies in the US and SE Asia that focus on adapting the latest technologies in technical apparel for the extreme outdoors, endurance athletes, and elite military units. David currently lives in Hong Kong with his wife and children; here are a few more interesting things about him.
1. His four children are the lights of his life.
He has four children, all of whom have impacted him in extraordinary ways, and taught him about love, patience, and mercy.
His son Jaden was born in December 2001. At the time, he was fighting in Afghanistan as a Marine Sergeant, along with the first boots on the ground after 9/11. He didn't meet his son until he was six months old. Through custody battles and many obstacles, he gained full custody of Jaden. He raised him as a single father until he met his wife in Hong Kong; she has since helped raise him from the time he was eleven years old. Jaden turns 18 this December; he's already enlisted in the US Marines and will go Recon. He starts Bootcamp this March. Living and learning together in Hong Kong has been such a blessing. Having him so young and unplanned gave him an almost brother-like relationship, and now they truly are best friends.
David's two twin daughters, Abigail and Isabella, were born in Hong Kong In 2015. They were born four months premature, each weighing around 400 grams at birth. They spent their first four months in incubators, receiving multiple surgeries, fighting for their lives. It was the darkest time in his soul and marriage; his marriage felt like two drowning people trying to save each other. There were no certainties. Every day was another miracle and another day of patience. In April 2016, his daughters came home. They're now healthy, young ladies. They taught him the gift and virtues of patience and positivity in the darkest days.
David's oldest daughter, Michelle, is nineteen years old. He met and discovered her last year through Instagram. Her mother found David through his VOG (@virtus.outdoors) Ä°nstagram. She was born in Panama in March 2000, following his first deployment to LATAM in 1999. Back then, they had no social media, smartphones, etc., so her mother and David lost touch right after his deployment, neither of them knowing a child was conceived. After seeing her picture last October, David immediately knew she was his. She looks exactly like his mother and older sister. David flew to Rome to meet and spend New Year's with her; they now speak daily and have been taking holidays together with his son. David is planning for her to meet his wife and daughters in the New Year. Michelle taught him that there is always time to love, grow, and build relationships.
2. From military to mission to innovation back to the military
David served as a US Marine from1999-2005. He was deployed in every environment you could imagine. The gear he was issued for the missions was subpar. He would jot down adaptive solutions on each deployment, endeavoring to eventually share his findings with an innovative company whose goal is to better provide the elite warriors with the best gear for each mission.
3. Hong Kong mission
David moved to Hong Kong in 2009 to do sensitive liaison work for NGO's. His missions involved working with previously unreached peoples, oppressed groups, and victims of human trafficking. His eyes were opened to the countless atrocities and untraditional avenues through which to assist the helpless.
4. Heavenly Kingdom Business
After a few years of having Hong Kong as David's base of operations, mapping Southeast Asia, and understanding the different cultures and nations surrounding him, he started his holdings company, DJW Holdings (www.djwholdings.com.hk). DJW Holdings has enabled him to work 'officially' in a variety of needed ways in regions associated with his liaison work. DJW Holdings has subsequently opened the doors to fulfilling his dream of creating garments for every condition an elite warrior faces.
5. VOG (Virtus Outdoor Group)
Six years ago, David co-founded a company with his mentor and friend, Tim Scott. Tim had been heavily involved in the sensitive liaison work with David from the very first operation. Tim is an extreme outdoorsman, successful entrepreneur, CEO, and owner of multiple global companies. They built VOG fully vertical and planted seeds in multiple countries for long-term ministry and missions.
6. Digital camouflage
Their goal for changing the way tactical gear can be used is two-fold. They wanted to create a digital camouflage pattern fully capable of fooling AI, Drones, NVG, etc., and protect the warrior day and night. They also wanted to design and patent fabrics under VIRTEK fabrics, thereby infusing the technology into the molecular level of the garments, thus allowing for the full functionality of the operator.
7. Extreme outdoors
After a successful launch in 2016 on Amazon, Govx, OpticsPlanet, etc., they have continued to innovate the garments, camouflage, and, most importantly, the brand. They're no longer just a company designing military-style clothing. They're now a full line for Extreme Outdoors, Endurance Athletes. They are also in the process of releasing their functional lifestyle apparel at a November Launch.
8. Television network series
They've teamed up with Marc Hertel, Force Recon Marine, Navy Seal Sniper, Explorer, and Leader in the RÅŒNIN battlefront to bring about the needed shift in treating and healing their family of Light. In 2020 they will begin a network series focusing on rebuilding the scarred warriors and putting them back into the Fight. Their battle is no longer with guns and politics. In their stead, only true and selfless service to the broken. Their purpose at VOG: give back. If they can become a company of global guardians of service and compassion, then they state they're indeed on the trajectory to the Telos.