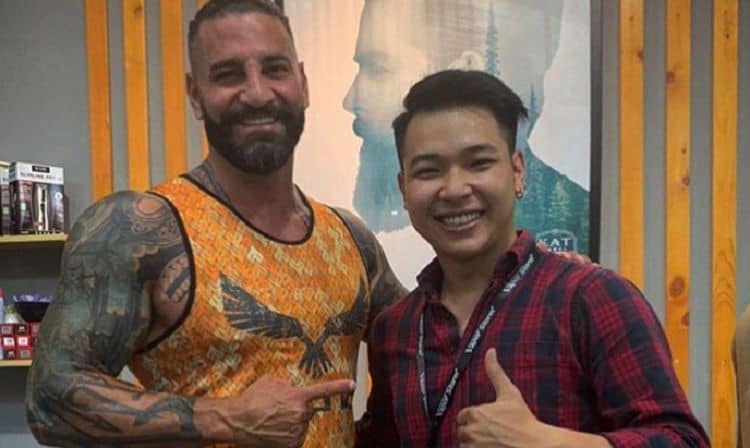 David Johnson Wood, known for his roles in films like "Ghost in the Shell," "Vixen," and "The Man from Macau," as well as his television work with Spartan Race's global "Agoge" Endurance Evolutions, is a man of many talents. A US Marine OEF combat veteran and entrepreneur, David has founded multiple companies in the US and SE Asia, focusing on technical apparel for extreme outdoors, endurance athletes, and elite military units. Currently residing in Hong Kong with his wife and children, David's life is filled with fascinating stories and experiences.
1. A Father's Love: Four Children Who Changed His Life
David's four children have had a profound impact on his life, teaching him about love, patience, and mercy. From raising his son Jaden as a single father to the miraculous survival of his premature twin daughters, Abigail and Isabella, and the heartwarming reunion with his oldest daughter, Michelle, David's journey as a father is nothing short of inspiring.
2. Military Service and the Drive for Innovation
During his time as a US Marine from 1999-2005, David was deployed in various environments and often found the gear issued for missions to be subpar. This sparked his passion for developing adaptive solutions and sharing them with innovative companies to provide elite warriors with the best gear possible.
3. A Mission in Hong Kong
In 2009, David moved to Hong Kong to work on sensitive liaison projects for NGOs, focusing on previously unreached peoples, oppressed groups, and victims of human trafficking. This experience opened his eyes to the countless atrocities and unconventional ways to help those in need.
4. Building a Heavenly Kingdom Business
After a few years in Hong Kong, David founded DJW Holdings (www.djwholdings.com.hk), a company that allowed him to work 'officially' in various regions associated with his liaison work. This venture also paved the way for David to fulfill his dream of creating garments for every condition an elite warrior faces.
5. The Birth of VOG (Virtus Outdoor Group)
Six years ago, David co-founded VOG with his mentor and friend, Tim Scott. Together, they built a fully vertical company with a focus on long-term ministry and missions in multiple countries.
6. Revolutionizing Digital Camouflage
David and Tim aimed to create a digital camouflage pattern capable of fooling AI, drones, and night vision goggles, while also designing and patenting fabrics under VIRTEK fabrics. This innovative approach infused technology into the molecular level of the garments, allowing for the full functionality of the operator.
7. Expanding into the Extreme Outdoors
After a successful launch in 2016, VOG has continued to innovate its garments, camouflage, and brand. No longer just a military-style clothing company, VOG now offers a full line for extreme outdoors and endurance athletes, with functional lifestyle apparel launching in November.
8. A Television Network Series with a Purpose
In 2020, David and his team will begin a network series focusing on rebuilding scarred warriors and putting them back into the fight. Their battle is no longer with guns and politics, but with true and selfless service to the broken. VOG's purpose is to give back and become a company of global guardians of service and compassion.
Tell us what's wrong with this post? How could we improve it? :)
Let us improve this post!