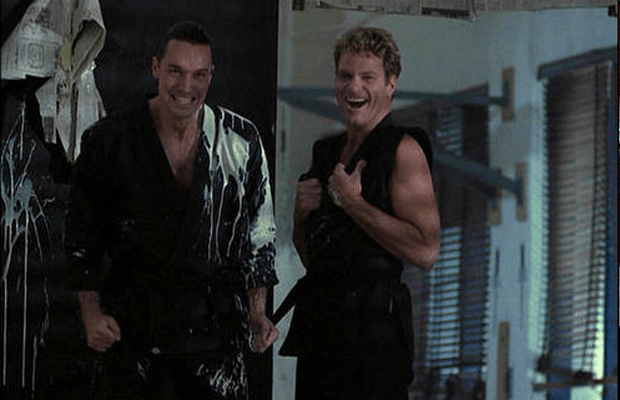 You might remember our last Karate Kid III question which involved a totally screwed up timeline. We pondered how it was even possible that at what had to be at least 1am, Daniel would roll into John Kreese's dojo only to find Terry Silver, John Kreese, and Matt "bad boy" Barnes all there waiting for him. I mean this was just too coincidental. What proceeds from there is Danny boy getting his non belt wearing tootsies kicked and Mr. Miyagi having to bail him out.
Miyagi takes on Kreese and Silver almost simultaneously. This is the infamous "Whaaaaa, Whaaaaaa" scene where Miyago makes fun of Silver mocking Miyagi. Miyagi teaches Silver a lesson by knocking him into the mirror where he's greeted by spilling paint. So here's the question:
What company is Terry using to paint the dojo so I know to avoid them? What professional company leaves open buckets of paint on a ledge…?
Seriously. Poor job guys. Very poor job.
Save
Save