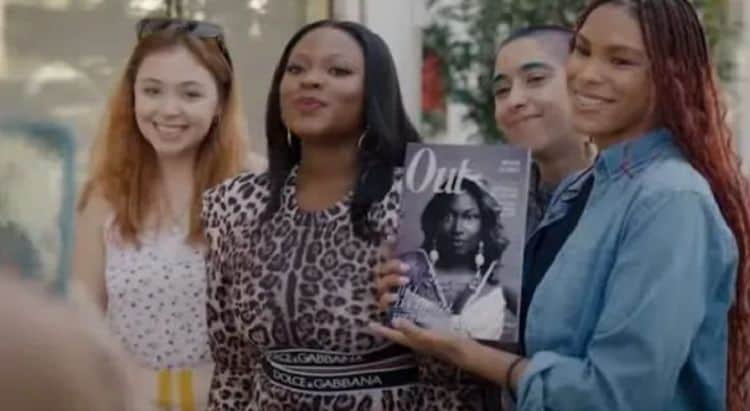 Queens Season 1, Episode 4, was a rollercoaster of emotions as the girls all rallied around Brianna to help her deal with the death of her husband, Jeff. Naomi and Jill also had to make some tough decisions. Jill came clean with Tina about her infidelity and they decided to go their separate ways. Naomi on the other hand, realized that she couldn't keep Eric away from Jojo for long and she had to break the news to her daughter that he was her father.
Family Time
In the opening scene of Episode 5, Naomi, Jojo and Eric are spending quality time together playing a board game. They look like the perfect happy little family. Jojo now knows that Eric is her father and she's anxious to get to know him. Eric lets Naomi know that he wants to spend quality time with Jojo without her and she reluctantly agrees. Naomi is afraid that she'll end up losing JoJo to Eric.
Lil Muffins Is Back
Lil Muffins aka Lauren is officially back! After a stint in rehab, she's sober and ready to reclaim her spot as one of the top female rappers. Lauren is determined to keep her stage persona separate from her real life, but she quickly realizes that it's not that easy. While at the grocery store, Lauren overhears two girls calling her lame and irrelevant as they look a magazine with Lil Muffins on the cover. Without her colorful wigs, Lauren looks like a normal girl and they don't recognize her. Lauren decides to shake things up by having a pink diamond implanted in her forehead, pulling a page out of Lil Uzi Vert a popular famous rapper. Needless to say, it doesn't work out because she ends up ripping the diamond out of her forehead while
Tik Tok Chain Snatchers
While JoJo and Eric are eating lunch one afternoon, two young fans come up to Eric, asking for a picture. They get the picture and snatches his gold chain. Eric tries to chase the boys down and Jojo suggests that they call the cops. Eric teachers her the one cardinal rule; "It's hip hop.We don't call the police in hip-hop." Eric believes that his rival played by Jada Kiss is behind his chain-snatching. When he goes to confront him, Jadakiss lets him know that they are well beyond their chain snatching years. JoJo finds out that Eric's chain was snatched as part of a popular Tik Tok challenge going around and the two plot on how to get the chain back.
Stalker
Valeria is in desperate need of attention to get some traction around her name in the media. So when she spots a strange person in her front yard, she is beyond excited because it's going to get her the attention that she needs. However, the stalker eventually reemerges and knocks on her door with a bouquet of flowers. Valeria discovers that her stalker is her biological mother, the woman that abandoned her when she was baby.
Brianna Gets Her Groove Back
Brianna has been too preoccupied with helping her deceased husband's mistress that's now pregnant with his child. The mistress decides to terminate her pregnancy and asks Brianna to accompany her to the clinic since she doesn't have anyone else to go with her. Brianna agrees, but when she gets stood up and discovers that Alexis; the mistress left town she decides to focus on herself. By focusing on herself.
At the AMA's pre-party, Brianna is approached by Fivio Foreign who invites her and her kids to accompany him on his private jet to Paris just so he can get to know her. Brianna, initially scoffs at his advances claiming that he's way too young. The girls encourage Brianna to live life and to break the rules for once. Brianna, shows up to Fivio Foreign's room and rocks his world.
Something's Up With Jill
Now that Jill is a free woman, she's finally living her truth, but she's taking things just a little too far. Jill is late to their rehearsals for the American Music Awards, which is a big deal because they don't want their performance to end up in a disaster like the last one. When Jill performs their hit song at the AMA pre-party with a drag queens the rest of the group is livid. Jill's disrespect and sneaky clout chasing tactics are all thanks to her lover turned manager, Alexis, who insists that she just looks out for herself. When Jill ex-husband, ambushes her at Brianna house and set their divorce papers on fire, promising to never let her go, all is forgiven and the ladies come to her support.
Tell us what's wrong with this post? How could we improve it? :)
Let us improve this post!