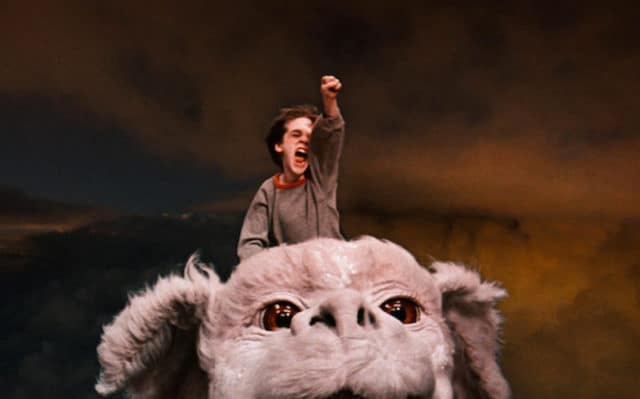 Do you recall this movie? Do you remember how it got virtually destroyed by its sequel? If you enjoyed this growing up it means that you had at least one moment in which your childhood was perfect. Watching it as an adult, the Neverending Story has a slew of plot holes and inconsistencies that didn't matter when we were kids. But if this film was brought back it could be done in such a way that it would be able to bring a new kind of wonder to millions of kids in the current generation. So why not? The Neverending Story could be the same classic it still is, but with the effects and capabilities of today it could be an absolute epic.
How would you feel about bringing this timeless classic back? Personally I think it would be amazing.
Plot
Stick with the old plot but definitely fill in the plot holes and make it flow a little better. This story line could still work and it would be a refreshing look at an old classic.
Director
Ron Howard or Steven Spielberg. It's too difficult to pick between the two since they both produce such good, quality work. Bring Wolfgang Petersen, the original director, back into the mix for direction if needed. But either of these two men would be absolutely perfect for this film.
Bastion – Gaten Matazzaro
Why? Why not? He knows how to act and he's done well so far in Stranger Things. Plus I can already see the scene of him shouting his mother's name into the storm to save the Empress.
Mr. Coreander – Tommy Lee Jones
He's the perfect grumpy bookseller, 'nuff said. Okay, okay. Just imagining being barked at by Tommy Lee Jones to leave something alone sounds like a moment of movie gold.
Atreyu – David Mazouz
So far he's been playing the unlikely part of Bruce Wayne with great aplomb. He should be able to portray a young warrior. He's just young enough that it would work.
Childlike Empress – Milli Bobby Brown
Despite her role as Eleven in Stranger Things and how tough she's been shown to be, she also possesses a very innocent look that would help her to complete this role.
Gmork (voice) – Andy Serkis
Imagine a voice somewhere between Gollum and Caesar. That gave me chills just thinking about it. The level of evil that Gmork represents would easily lend itself to Serkis' talents.
Falcor (voice) – Idris Elba
Noble, forthright, and playful, Elba could encompass Falcor quite easily. His powerful voice would lend an authority to the Luck dragon that would be very much needed, but he could also play off a kind of impish quality that Falcor was seen to have.
Morla (voice) – Maggie Smith
How awesome would this be to hear Maggie Smith's voice coming from the wrinkled, aged visage of Morla? Her wit alone would make the giant tortoise a favored character once again and could likely humble even a stubborn warrior like Atreyu.
The reconditioning of this epic story would be one of the best movies of the decade if they would could find the appropriate cast members and bring themselves to follow the source material close enough to make it worthwhile. Hollywood has shown that it has issues in following such direction, but the what if is worth thinking about when it comes to this classic film.
Save