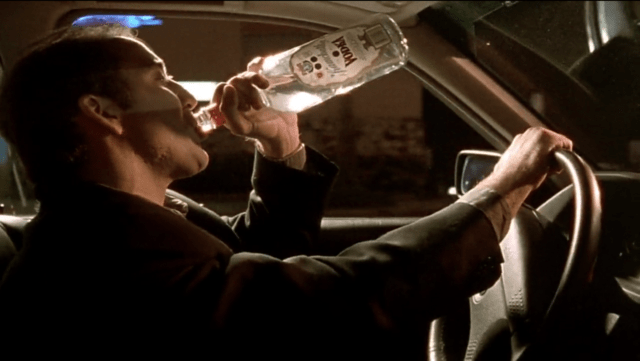 Using a character's personal or health issues into the storyline of a movie can add to the drama, help people to connect to the character, give depth to the film, and make the movie emotive. Regardless of whether the movie is a comedy or a drama, using topical issues can create a powerful storyline. One issue that has been used in many movies is alcoholism and some movies have addressed this issue extremely well; captivating the audience and making the story of the film memorable and thought-provoking. Here are five movies that did a fantastic job of addressing alcoholism.
1. Leaving Las Vegas
'Leaving Las Vegas' is a romantic drama movie that was released in 1995. The screenplay was written and directed by Mike Figgis. The movie is based on a semi-autobiographical novel of the same name that was written by John O'Brien. The movie starred Nicolas Cage, Elisabeth Shue, and Julian Sands. In the movie, a suicidal alcoholic moves to Las Vegas with the intention of drinking himself to death after ending his personal and professional life. While in Las Vegas, he develops a relationship with a prostitute. Just after filming for this movie began, John O'Brien commit suicide.
2. The Lost Weekend
'The Lost Weekend' is one of the earliest films that addresses alcoholism as it was released in 1945. It is based on the novel of the same name by Charles R. Jackson and was adapted into a screenplay by Billy Wilder and Charles Brackett. The movie was directed by Billy Wilder and starred Ray Milland and Jane Wyman. It follows an alcoholic as he goes on a four-day bender. The movie was nominated for seven Academy Awards of which it won four.
3. Flight
This is a drama film that was written by John Gatins and directed by Robert Zemeckis. It is about a tragic plane crash where the pilot uses his skills to land the plane and save most of the people on board. However, when the accident investigation begins, it is discovered that the airline pilot, William 'Whip' Whitaker Sr., had been drinking on the day of the accident and he admits that he is an alcoholic. Denzel Washington starred as the pilot and other cast members included Don Cheadle, Kelly Reilly, John Goodman, Bruce Greenwood, and Nadine Velazquez. The movie was released in 2012.
4. 28 Days
Sandra Bullock stars in this 2000 comedy-drama film. Her character enjoys drinking and destroys her sister's wedding when she drinks too much. When she attempts to rectify the consequences of her behavior, she drunkenly crashes the wedding limo. This results in her being sentenced by the court to attend rehab for 28 days. Although she initially believes that she does not have a drinking problem, she is finally forced to confess that she is an alcoholic and embarks on a life of sobriety. The film also stars Viggo Mortensen, Dominic West, Steve Buscemi, Diane Ladd, and Elizabeth Perkins.
5. Days of Wine and Roses
Released in 1962, this drama film was written by JP Miller and was based on the 1958 teleplay 'Playhouse 90′ which he also wrote. The movie was directed by Blake Edwards and starred Jack Lemmon, Lee Remick, Charles Bickford, Jack Klugman, and Alan Hewitt. When a PR agent meets and falls in love with a secretary, he introduces her to the delights of social drinking. However, their drinks at lunch soon spiral into full-blown alcoholism.
Save
Tell us what's wrong with this post? How could we improve it? :)
Let us improve this post!