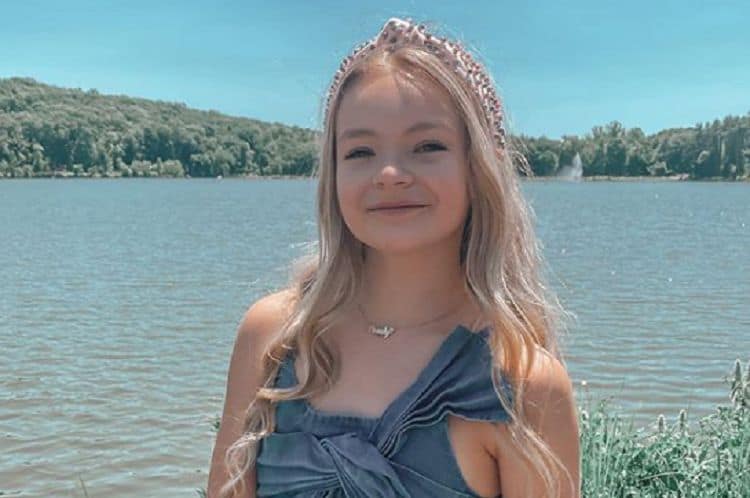 Reality TV has become a great way for people to segue into other opportunities. This is something Pressley Hosbach knows from first hand experience. Although she already had a pretty impressive social media presence, the teenage dancer became even more popular after appearing on Dance Moms. Despite her young age, Pressley has a bold personality that commands attention. She has built up a huge fan base that includes hundreds of thousands of people. With the best years of her career still ahead of her, there's no doubt that Pressley has the potential to become a super star. Keep reading for 10 things you didn't know about Pressley Hosbach.
1. She's An Actress
Dancing isn't the only thing that Pressley is interested in doing. She's already spreading her wings and exploring her other interests. She has a lead role in the TV series, Stage Fright where she plays the character of Roxie. I have a strong feeling she will be taking on more acting roles in the future.
2. She's Really Big On TikTok
The social media platform TikTok has become the home of many dance challenges which makes it the perfect place for someone like Pressley. Needless to say, she is a big hit on TikTok. She has a massive following of 1.7 million people and and her videos have earned over 45 million likes.
3. She Has Her Own Merchandise
Even at a young age, Pressley has already started to learn the business aspect of social media. She has been making the most of her success and she's also started the journey of becoming an entrepreneur. She has started selling her own merchandise through Instagram. Her items range from clothing to accessories.
4. She Started Dancing At Two
It can take some people their entire lives to discover what it is they're truly passionate about. Fortunately for Pressley, she found something she loved at a very young age. She started dancing around two or three and has been hooked ever since. She described her love of dance to Carrie's Chronicles saying, "I was born into the dance world because my mom owns two dance studios and my crib was in her office at the studio. Since I grew up in the dance studio, it seemed pretty natural for my mom to put me in dance classes as soon as I was old enough. The funny thing was that when I started, I actually cried every day! I would need to have my mom in the class with me until one day, I just started loving it. After that, I never looked back or wanted to do anything else! "
5. She Auditioned For A Previous Season Of Dance Moms
Pressley didn't join the cast of Dance Moms until season eight, but she attempted to get on the show earlier. She had previously auditioned for the show in an earlier season but wasn't chosen at that time. Auditioning for certain reality shows more than once is fairly common.
6. She Likes Documenting Her Life On YouTube
If Pressley ever decides to stop dancing, she may want to consider taking up a career in vlogging. She also has a successful YouTube channel that currently has 113,000 subscribers and over 5 million total views. She posts videos every week and her content covers a wide variety of areas.
7. She Toured With Justin Bieber
As a dancer, getting to tour with a successful artist is a dream come true. It's even more exciting when that successful artist is Justin Bieber. Pressley can say this is an item that's already been checked off her list. In 2016, she was chosen to be a backup dancer on Bieber's Purpose Tour. She's also performed with JoJo Siwa.
8. Dealing With Fights On Dance Moms Was The Most Challenging Thing About Being On Dance Moms
Being on Dance Moms has been a great experience for Pressley, but it has come with its share of ups and downs. Her favorite thing about being on the show was getting the chance to form friendships, but "The most challenging part would definitely have to be when the moms are fighting with each other and with Abby. I just try to block it out, not get upset, and not let it get in my head."
9. She's A Model
Pressley isn't just a dancer, she's an entertainer who also loves being in front of the camera. The future is looking bright no matter what she decides to do. On top of her dancing and acting work, she's also a model. She's gotten the opportunity to work with some very big brands including like Children's Place and Toys R' Us.
10. She's Danced With The Brooklyn Nets
In just a short amount of time, Pressley has has already made lots of impressive accomplishments. One of which was being part of a dance team for the Brooklyn Nets for four seasons. Thanks to that experience, Pressley is a pro at dancing in front of large crowds.
Tell us what's wrong with this post? How could we improve it? :)
Let us improve this post!