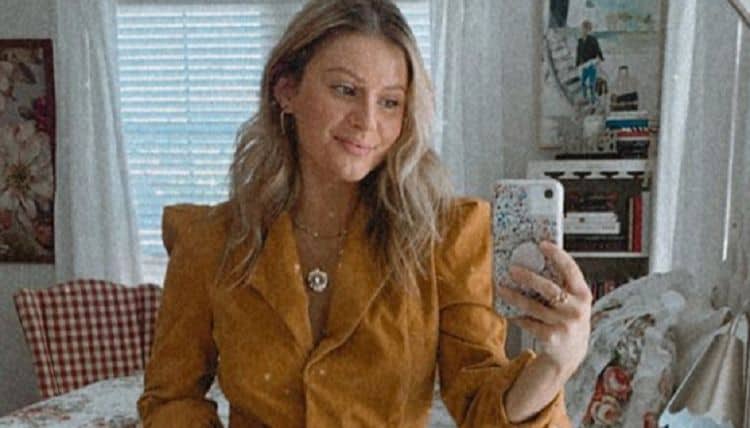 Carrie Wampler has been acting professionally for almost 10 years. Throughout her career, she has appeared in several popular TV shows including Big Little Lies and Parks and Recreation. However, she is best-known for her recurring role in the TV series, Austin & Ally. However, that won't be the case for long thanks to her latest opportunity. She has recently been cast as Ren in the popular sitcom, The Goldbergs. The role was originally played by Kelli Berglund who has since left the show. Ren will be a recurring character in the upcoming season, and it'll be a great chance for Carrie to show off her skulls. Keep reading for 10 things you didn't know about Carrie Wampler.
1. She's A Singer
Acting isn't the only career Carrie is trying to pursue. She's also an aspiring musician who sings and plays the guitar. It doesn't look like she's released any full length projects yet, but she's definitely working on it. She uploaded a demo of herself singing to YouTube and is hoping to gain some traction.
2. Her Siblings Are Also Actors
The Wampler family knows a thing or two about being bitten by the acting bug. Carrie's brother, Phillip, and sister, Cricket, are also actors. Phillip has appeared in several TV shows including the hit series, Black-ish. Cricket has a starring role in an upcoming TV show called Big Shot. Having siblings who work in the same field means that Carrie has a built in support system that she can turn to for advice.
3. She's Passionate About Cancer Research
Carrie has been involved with volunteer work for several years and she is particularly invested in causes relating to children with cancer. She volunteers at the Children's Hospital Los Angeles and she hopes to use her platform to spread awareness and promote cancer research.
4. She Has Lots Of Love For All Of Her Fans
Having a strong fan base is an essential part of having successful career. Carrie fully understands this and is grateful for all of the people who have shown her support over the years. When asked if there's anything she'd like to tell her fans, Carrie told Starry Mag, "I want them to know how grateful I am for their support and how happy it makes me when they connect with a character I have played.'
5. She's A Strong Advocate For Wearing Sunscreen
We've all been told time and time again how important it is to wear sunscreen. However, the reality is that many people still don't wear sunscreen, or when they do they don't wear enough. Carrie, on the other hand, is an advocate for good skincare and wearing sunscreen. She told New You that she wears sunscreen any time she's doing something outside, even in the winter. Carrie encourages people to be mindful of the fact that the sun can damage your skin even when you can't see it.
6. She's A Private Person
It's hard to maintain a strong sense of privacy when you work in an industry where the expectation is that you be an open book. Still, Carrie has managed to keep a lot of her private life away from the spotlight. Although she is active on social media, she doesn't share many personal details.
7. She's From Ohio
Carrie is a proud midwesterner who was born and raised in Tipp City, Ohio. Despite the love she has for her home state, she knew that Ohio simply wasn't a great place to find lots of good acting opportunities. She eventually relocated to Los Angeles where she lives today.
8. She's A Dog Mom
All of the pet parents out there know that having a fur baby is one of the most rewarding experiences ever. With that being said, Carrie is proud to be a part of the dog mom club. She has an adorable who makes occasional appearances on her Instagram profile.
9. She Participated In Black Out Tuesday
On June 2, 2020 people who support the fight to end racism and the Black Lives Matter movement were asked to show their solidarity by posting a black square on social media. The movement was called Black Out Tuesday and gained participants from all over the world. Carrie gladly participated in the event.
10. She Likes To Travel
If there's one thing many people wish they could do more often it's travel. There's nothing quite like getting the chance to visit different places and have new experiences. Carrie has been blessed that her lifestyle has afforded her the opportunity to travel both nationally an internationally. She has visited places like Australia and Hawaii.