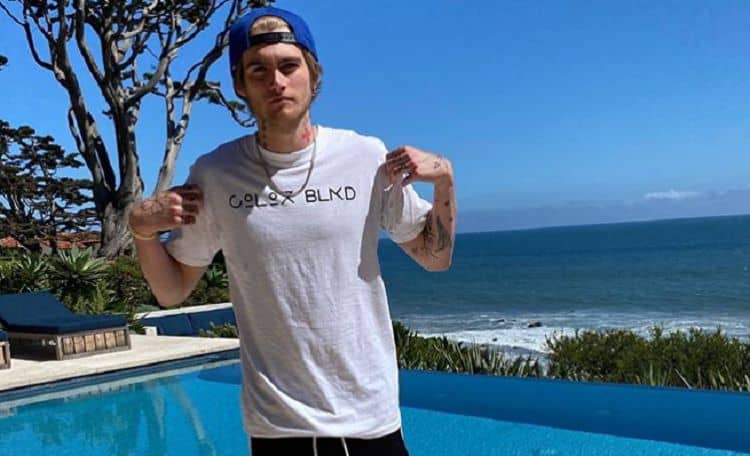 Presley Gerber hopes to one day own a bar or club, but before then, he continues to be in fashion shows and commercials, sometimes alongside his mother or sister. The model was raised as a protestant but exposed to his father's Jewish traditions. Despite such a religious background, he has recently hit the headlines after getting a face tattoo and lashing out at his critics. That has made the public curious to know more about him, so here everything we have gathered so far about Cindy Crawford's son.
1. He had not planned on becoming a model
Currently, Presley has graced the runway, promoting different brands across the globe. While watching him, you will be surprised to learn that he was not interested in becoming a model despite his mother being a renowned model. He was determined to be an entrepreneur and was even looking forward to going to college to study business. However, in his senior year of high school, he started modeling and has not looked back.
2. He did not grow up knowing that his mother was famous
The rest of the world may worship the ground that Cindy Crawford walks on, but Presley never knew how much his mother was adored. He did not notice any difference between Cindy and other mothers because she used to read bedtime stories to him and take him to school. Although paparazzi used to go to his house and Presley would also go on set to visit his mother, it never occurred to him as to why all those people were around his mother. He only recognized she was famous at the age of 10, according to his interview with Vogue.
3. What he loves most about being a model
For most models who got into the industry after being discovered, the motivation was money. Well, Presley has grown up in opulence, so money is not what keeps him hooked to the industry, the travel is. The fact that he went to Milan on his own to open a Dolce and Gabbana show remains one of his favorite experiences. You can rest assured that for someone who describes himself as fun, then Presley has quite a list of places he wants to go.
4. His parents are concerned about his mental health
Being arrested is one thing, but getting a face tattoo that reads "misunderstood" went to a whole new level, and Presley's parents could not take it anymore. After his arrest, they have been trying to get help for Presley, who has been allegedly in a rehab-like facility for treatment. However, now that the tattoo is evidence that even Presley feels misunderstood, Cindy and Rande have reason to be concerned about their son's mental state whose erratic behavior is also being contributed to hanging out with the wrong crowd.
5. He is still under probation after a DUI arrest
In the wee hours on December 30, 2018, Presley was pulled over under suspicion for driving under the influence. He failed the sobriety test and was charged with two misdemeanors; driving with a blood alcohol content of 0.08% and one count of DUI. The model later pleaded no contest in the misdemeanor of driving with a blood alcohol content of 0.08% which led to him being sentenced to a three-year probation. Presley was also ordered to complete a two-day community service and DUI program. He has recently been spotted in a drug-testing facility in Malibu, California.
6. He is not planning on going to college
In 2017, Presley graduated from Malibu High school, and his family was so excited as revealed by photos on Daily Mail. He was given an Omega watch as a graduation gift, and his parents were hoping that he would continue to model and still go to college. Unfortunately, Presley is not in a hurry to join college. He said that although it is in the back of his mind somewhere, he is having so much fun as a model that college will have to wait. He even used the "if it's not broken, don't fix it," expression to perhaps mean, much to his mother's disappointment, that he will only join college if the modeling career fails.
7. His parents were both models
Between Presley's parents, most people only know of Cindy Crawford as being the model while her husband is the entrepreneur. However, even Rande Gerber was a model back in the day. He was discovered in the streets of Manhattan by Ford Models when he was 16 thus juggled his studies at the University of Arizona and the budding modeling career. By the time he graduated from college, Rande had retired from modeling.
8. His father did not want him to be a model
Well, considering the recent poor publicity that has been around Presley, maybe Rande was right not to support him in his modeling career. Presley's father was concerned that Presley would be sucked in the toxicity of the industry while he was still young as published by Nicki Swift. However, he did not mind Presley's younger sister becoming a model which, to some, was double standards. Still, maybe Rande's knows his children well enough to predict that Presley would be easily swayed by fame.
9. He loves tattoos
Presley has a lot of tattoos on his body, which Body Art Guru has tried to decipher the meaning. For instance, the model has a compass tattoo with the initials of the members of his family, perhaps showing that they all help in steering him in the right direction with Rande being his North. He even has his date of birth on his arm. Others like "family first" and "be grateful" are self-explanatory while some like a skull, cat eyes, grim reaper and zipper are difficult to comprehend. Still, the most recent face tattoo is evidence that Presley is not yet done inking his body.
10. He was delivered at home
On July 1, 1999, Cindy Crawford felt it was time to give birth since she was already past nine months pregnant. Therefore she went to her obstetrician who told her to go back home because it was not yet time. However, after getting home, that night the labor started, and after 17 hours, Presley was welcomed into the world weighing 8 pounds on July 2 at 6 pm.