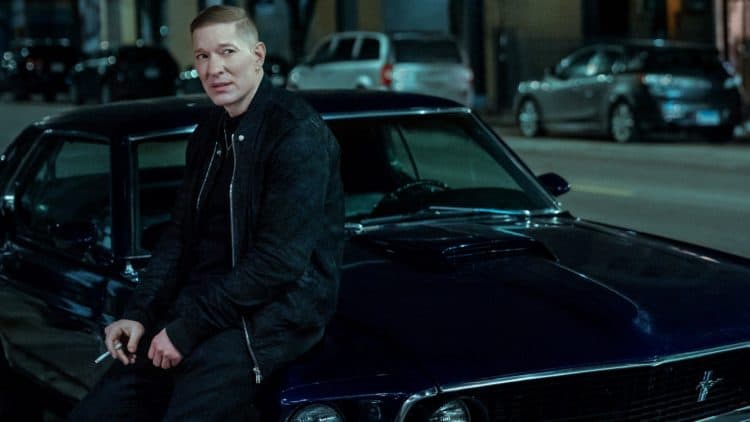 Ghost is dead. Keshia is dead. And the last two people he trusted from the St. Patrick clan flipped on him to save themselves. There's nothing left for Tommy Egan in New York. On Power Book IV Force Tommy is on his way to California where he plans on setting up shop and starting over after faking his death on Power Book II: Ghost. On his way to the Sunny State he has a panic attack as he's haunted by his former life in New York and nearly swerved off the road. Tommy decides to stay in Chicago for a minute do that he can pull his self together. While in Chicago, Tommy decided to check out his grandmother's house. He spent some time in Illinois as a kid but he hasn't seen his grandmother since he was a toddler. While observing the house in his car, one of the neighbors tries to intimidate him. The guy threatens Tommy with a knife if he doesn't come up off some cash for taking up a private parking space. When Tommy flashes his gun the guy backs off. If he knew that Tommy was a cold-blooded killer, the guy wouldn't have even stepped to him.
Tommy stops at a bar called Dr. Parker's Office where he meets a beautiful bartender named Gloria. Tommy downs a shot of whiskey because "some days you just need whiskey before noon." There's some chemistry between Tommy and the bartender. He promises to come back later on to try some of the dishes on the menu. In the next scene we meet Diamond. A prison barber that's almost finished his sentence. He gets out the next day and is gifted cutting tools by the guards so that the can continue to develop his craft. Diamond's brother Jenard picks him up when he's released from jail. Diamond has an enemy. An inmate is planning on getting at Diamond as soon as he gets settle into life at home. It doesn't take long for Tommy to get on some people bad side. When Tommy refuses to move his car he gets into it with Victor Flynn the son of crime lord Walter Flynn. Victor also happens to be Gloria's ex-boyfriend. An ex-boyfriend that's desperately trying to win her back. Tommy also delivers a beat down to Simon, one of Victor's associates after the guy violated a woman in the bar. Gloria's low key turned on by Tommy's fearlessness and that night they end up tangled in the sheets.
Gloria is a tough cookie. She was married briefly to a soldier but he never back home. Tommy and Gloria bond over the loss they experienced that is until Tommy sees a message on Simon's phone about a drug meet up. Tommy decided to go to the meet up. Sometimes he's just too bold and fearless for his own good. At the meet up Tommy saves Victor and Jenard's life against two feens who try to hold them up. They are impressed at the way Tommy managed the situation but their pissed when he walks off with their cash and product as payment for his services. Bernard is the head of the CBI which is a rival gang that sometimes goes against the Flynn organization. The most shocking revelation in the premiere episode is that Tommy has a brother. His brother was abandoned by Kate and raised by his father. Tommy tells him that Kate isn't worth meeting and that he got the better end of the stick. Hopefully, we'll get to see Tommy develop a relationship with his brother somewhere down the line especially since he doesn't really have anybody left.
Tommy decides that he's had enough of Chicago after nearly turning the city upside down. He gets in his car and hits the road. But before he makers out of town he's stopped by a fleet of black SUVs and commanded to follow them to the Flynn estate. At the Flynn estate, Tommy meets with Walter Flynn himself. He gives back the bag of drugs and money.
Fortunately, Walter spares his life and tells him to leave Chicago immediately. With no back up or real support in the street you would think Tommy would heed Walter Flynn's warning. Bu if it's one thing we know about Tommy is that he's never been a coward. Tommy decides at the last minute to turn back around. He calls his connect out on the West Coast and tells him that he's going to stay in Chicago for awhile.
Tell us what's wrong with this post? How could we improve it? :)
Let us improve this post!