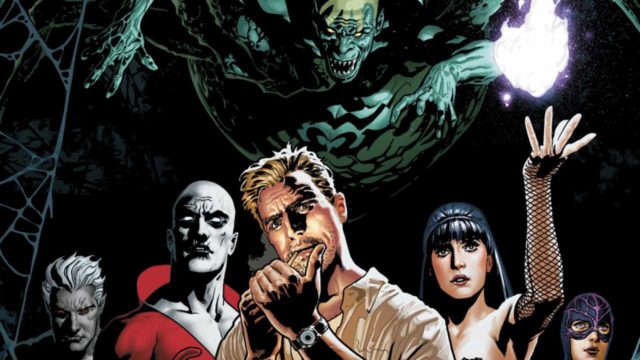 Considering that the Justice League is set to come out soon, one could only assume that filmmakers were bound to look at similar ideas that hadn't yet been used. Any problem that is considered to be beyond the capabilities of the normal Justice League are therefore handled by, you guessed it, the Justice League Dark.
Here's how we would cast the Justice League Dark movie:
15. Constantine – Oliver Jackson-Cohen
Jackson-Cohen is an actor that can bring the look and the devil-may-care attitude to the Constantine character without hardly trying. This is a man that took on the Rock in a gunfight in the film "Faster" and kept coming back for more.
14. Zatanna – Alicia Vikander
You might not see Vikander as a contender to a role such as Zatanna. But before you count her out, just keep in mind that she kept pace with Jason Bourne and is slated to be the next Laura Croft.
13. Jason Blood/Etrigan – Jonathan Rhys-Meyers
As a serious actor Rhys-Meyers is one of the absolute best. As a character actor he's still one of the best. Now place him in a position where he gets to be creative and serious in the same film. There's little else to say except that he'd nail it without much effort.
12. Deadman/Boston Brand – Patrick Fugit
As tortured characters go Deadman is probably not too high on the list, but his story is seriously messed up. Fugit has a great deal of experience playing tortured characters.
11. Doctor Fate – Riz Ahmed
You definitely want to get someone that has some experience and know how in getting into character. Ahmed fits the bill nicely considering that he's done quite a bit in his career and knows how to fit into nearly any mold required to become his character.
10. Black Orchid – Ana de Armas
It's comforting to know that in the current universe women are being given more serious roles despite their obvious sex appeal. Armas has starred with the likes of Keanu Reeves and is slated to appear in the next "Blade Runner" movie, so it's obvious that she has what it takes.
9. The Spectre – Keith David
This guy is one of the absolute greats despite his lack of starring roles. His voice, his demeanor, and his strength of character should more than bring this character to life.
8. Felix Faust – Oded Fehr
You've likely seen him in many films and even on television, and thus you know that Fehr can indeed act. Give him a role and let him go, and you're bound to get magic back.
7. Madame Xanadu – Alexandra Daddario
If nothing else Daddario gives audience a rather exotic look for any character she plays. In this role she could easily shine as she is undoubtedly fit to the part and can possibly just be herself and still wow the audience.
6. Trigon -Alexander Skarsgard
There is something inherently creepy about Skarsgard sometimes, but he can be charming as well. As a devilish character onscreen there's little to no doubt that he'll nail the role without much effort.
5. Swamp Thing/Alec Holland – Justin Bartha
Bartha is an enjoyable addition to any movie. As Swamp Thing he might be a little underwhelming, but then again thank goodness for CGI.
4. Raven – Olivia Cooke
The mysterious figure of Raven definitely needs an alluring figure to fill the roll. With her looks and her talent Cooke should have no trouble assuming this rather dark identity.
3. Klarion – Freddie Highmore
Some actors are just born to go crazy on screen. Highmore wouldn't even have to work that hard to imitate the character of Klarion, as he's shown in his portrayal of Norman Bates that he can easily flip the switch.
2. Morgaine le Fey – Rachel Weisz
You want a good character, find almost any woman for this role. You want class and style, then Weisz moves to the front of the line for a character like le Fey.
1. Sandman – Eddie Redmayne
If you want the type of cryptic character that people will love, Redmayne is the way to go. He's proven what he can do in the past few years and should definitely be a top contender.
Tell us what's wrong with this post? How could we improve it? :)
Let us improve this post!