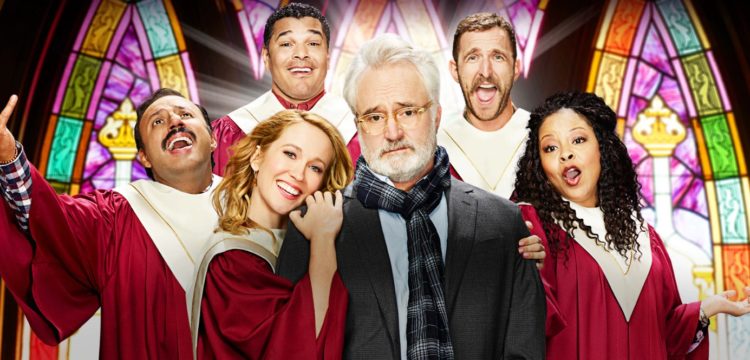 Perfect Harmony is utterly charming and hilarious. Arthur Cochran used to be a music professor at a prestigious ivy league school, but that's all in the past. However, when he happens across a church choir that just can't keep it together, it's a 'perfect' match. At least, we hope things will turn out that way. In the meantime, they clash a lot more than they blend melodiously. Can Arthur help them turn into a real championship team? We don't know, but we did dig up ten fun facts about Perfect Harmony to share with fans and newcomers alike.
1. What's in a Name
Perfect Harmony is a fantastic title for a show or a movie. Incidentally, it's been both. However, the film Perfect Harmony is not related to this show. Though both the 1991 drama and the show feature singing, that's about all they have in common. The movie deals with the boys of Blanton Academy in the small community of River Town and handles the issue of racial tension and inequality in the south. The comedy show Perfect Harmony, on the other hand, features a sassy and melodious church choir who are attempting to join a competitive circuit.
2. A Grand Tradition
There's not actually a 'grand tradition' to comic series about singing groups (yet). There's Glee, The Monkees, and if you stretch the definition, there's Pitch Perfect. The latter was three moves and not a TV show at all. Poking fun at the musical 'nerds' has been done. Attractive and mostly cool young people singing has been done as well. For Perfect Harmony to work, Lesley Wake Webster had to find a different sort of singing group to portray. This ingenious show is about as far from rock groups, teen angst and young adults finding themselves through their shared art and humor as you can get without losing sight of the comedy.
3. Unrealistic Alcoholism
Since the show begins with Aaron, a widower who gave up his Ivy League life to move to Kentucky with his now-deceased wife drinking and being rude to people that's not too inaccurate. It is more than a little unbelievable that a surly drunk would get a job offer instead of a police escort to the drunk tank. It's not precisely glorifying the drinking, but it does show off a whole lot of reward for some incredibly unacceptable behavior, even if he is right.
4. He Looks Familiar
If you watched the first episode and you find yourself staring at Aaron Cochran and wondering where you've seen him before the answer is simple. Everywhere. The skilled and charming Bradley Whitford has been working in the theater, on TV and in movies at the same time. To be fair, he did look a bit different on The West Wing. Most of the change is in the attitude. It's amazing how much playing a different character can change a person.
5. Friendship
When it comes right down to it, this is a story about friendship. People who are very different coming together to form a group often have disagreements, but it's also where they find common ground. Friendship is a choice, and it takes effort. The payoff is learning to work with someone who sees the world in a different way and seeing things from their perspective.
6. Lesley Wake Webster
We knew we'd heard that name before. Lesley Wake Webster is the brilliant mind behind Life in Pieces along with cohort Jason Winer. She's also helped produce American Dad and about a dozen other shows including What I Like About You. Lesley knows good comedy when she sees it, and she's both willing and able to laugh at a huge variety of different scenarios. From dysfunctional families to awkward dating issues, Lesley sees the humor in everyday life.
7. Anna Camp
The lovely Anna Camp is well known for her voice. She plays Ginny in Perfect Harmony, but musical movie lovers will recognize her as the domineering Aubrey from Pitch Perfect. Of course, fans of dark fantasy will also remember her as Sarah Newlin from True Blood. Anna has a considerable filmography under her belt, and we always enjoy seeing her name come up on a cast list.
8. Will Greenberg
Another famous face from this incredible cast, Will has also been seen all over the film and television world. He plays the energetic and cheerful Wayne in Perfect Harmony. You can find him on everything from Workaholics to Modern Family and Wrecked. According to his IMDB bio, "He can recite Shakespeare as Matthew McConaughey and sell Subway sandwiches as Denzel Washington." That makes this funny guy one heck of a voice actor and a great comic impressionist.
9. Rizwan Manji
Reverend Jax is a hard act to follow. Fortunately, Rizwan Manji is surrounded by incredibly talented coworkers on Perfect Harmony. Though he's not like the Reverend in real life, he Rizwan says his faith is an integral part of his life. Like his costars, Rizwan has been seen on numerous shows in the last few years, though he's best known for his roles on Outsourced, The Magicians and Schitt's Creek.
10. Tymberlee Hill
The talented and funny Tymberlee Hill (Adams Adams) doesn't need us to tell you she's a fabulous comedian. She's tearing it up in Hollywood playing roles on shows like Marry Me and Drunk History. What might surprise you more is that she likes to go bow hunting. We love to see a woman in camo, and she knows she looks good whether it's on stage doing plays, on film or hiding out in the forest with her new bow. Furthermore, this Virginia Beach born gal has a graduate degree from the Shakespeare Theatre's Academy of Classical Acting in Washington, D.C.
Final Thoughts
We can't wait to see more of Perfect Harmony, and it's stellar cast. There aren't enough musical shows out there yet, but you can add this to your list. Whether you're a fan of phenomenal singing or you just want a laugh Perfect Harmony is the show for you. This show is bound to be a fan favorite, and we hope to see it run for many years.