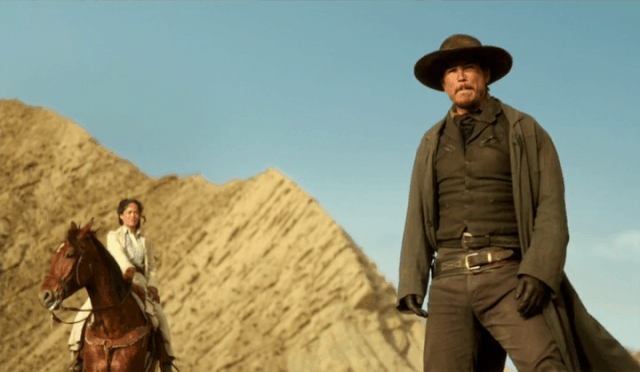 After an excellent episode of Penny Dreadful last week, I had totally accepted the fact that next week's episode will never be able to live up to the last. What I did not expect was that this would be the worst episode in the season so far. In the preview, I pointed out that Vanessa, The Creature and Lily and Dorian were missing. I knew they would make Vanessa sit this one out, but I did expect Lily and Dorian to feature in some way. Their presence would certainly have provided some strength to the episode. You see, the biggest problem here is too much exposition. The plot barely advances, the characters keep revealing crucial plot details in excruciating detail and there is far too much walking and riding.
We begin right where we left off last episode. Ethan and Hecate are on the run being chased by Inspector Rusk and his American pals. Hot on their trails are Sir Malcolm and Kaetenay. Then there's the routine stuff: Hecate asks Ethan about his father, Ethan doesn't reply. Meanwhile Kaetenay tells Sir Malcolm that if they can't save Ethan then he will be consumed by evil and that the world will be overrun with creatures of the night. I think the only reason his character is onscreen is so that he can spout gloomy facts about the world ending. They really need to give his character something to do. But this time, Kaetenay's ready to kill(and die) to save Ethan.
Meanwhile in Castle Frankenstein, Dr. Jekyll and Victor are at it again. This time Victor combines his knowledge to Jekyll's research and after painfully torturing their test subject, they do manage to perfect the cure. The trouble that I see here is that the guy they cured was off his rocker and he hadn't been exposed to electric shock before. I'm fairly certain that it won't work on Lily, at least not in the long term. It's gonna be difficult to do the same to Lily since she's been exposed to the shock before. And the other thing is that Lily does everything in complete conscience of her actions. It's not madness, it's self-righteousness. Come back when you've found a cure for that.
What the therapy does though is make it's subjects more tame. Maybe she'll stop with the murder? I'd be really surprised if it does work. Moving on, there were some excellent exchanges between Victor and Jekyll. Victor sees both of them as outcasts while Jekyll thinks that there's a huge difference between the two of them. Apparently Jekyll was kicked out of Cambridge for assaulting a racist professor. Jekyll sees himself as seperate from everyone. He thinks that Frankenstein doesn't truly know the meaning of rejection. Well, I've never seen people cursing and throwing garbage at Victor for one. There is some truth in what Jekyll says.
Back to the wild west and it looks to me that the show's trying a bit too hard to be American this time around. With a cast of predominantly British people, Penny Dreadful's never truly felt like an American show. But I think we should cut back on the dosage of the Wild West because we all know what happened to the Western genre. Well, now it's time for the exposition game to kick off in earnest. We learn about how his father forced Ethan to enlist in the American army, how he slaughtered a bunch of Apaches, how he surrended to the Apaches in remorse. Since Kaetenay was a cold hearted SOB, he decided to use Ethan to fight his wars for himself. Somehow, Ethan just switched sides and went back to the same mindless murder.
There's a great moment where Rusk tells Ostow about how badass he was when he chased an assassin that he was hunting even after having his arm ripped off. This is where the show decides to remind us that we're watching Penny Dreadful and not a western movie. After some pointless talk about how Hecate prefers animals to people, she goes into full Nightcomer mode and unleashes snakes on Rusk and Ostow. Unfortunately, Kaetenay was creeping around killing everyone and got bit too. So everyone except Rusk and Ostow died. Now Rusk is out for blood. Even though he's not supposed to carry a firearm, he gets one anyway and vows to kill Ethan and everyone close to him.
This is a strange new development in Rusk. He's seen the people that Ethan killed in that inn one time. Why do these deaths set him off so bad? They were more Hecate's fault than Ethan's. Although, it was actually good to see his character develop in a meaningful way like that. And while this is happening, Ethan abruptly decides that he's done with being good and promptly cozies up to Hecate if you know what I mean. So, she's preparing him to become Lucifer's servant. What a surprise!
More walking follows, their horses die and finally Sir Malcolm and Ethan reunite. Until Malcolm pulls a gun on Hecate and Ethan immediately pulls one on Malcolm. I still can't understand why Ethan's feeling so overprotective of Hecate all of a sudden. After all, we do remember last season, don't we? Well, Ethan's father's cronies arrive and take Sir Malcolm, Ethan and Hecate. Ethan tells them to leave Kaetenay to die a slow death which is pretty brutal even for him.
More talking and more exposition follows. Apparently, Ethan told all of his secrets to the Apaches which they used to raid the Talbot manor and kill Ethan's family. Jared wants Ethan to atone for his sins. If he doesn't then he'll kill him. Ethan, of course wants to kill his father and 'send him to hell'. And that's how the episode ends. With a standoff between Ethan and his father.
What I see happening here is a setup for Dracula vs Satan. We did learn in the last episode how Dracula and Lucifer were brothers and both wanted Vanessa. It appears that Satan will use Ethan to fight Dracula while trying to capture Vanessa for himself. But Dracula will fight Ethan so he can have Vanessa for himself. Either way, Vanessa will be trapped between the two men she formerly loved and a power struggle between the two forces.
Penny Dreadful airs Sundays at 10:00 PM on SHOWTIME.
Penny Dreadful 'The World Is Our Hell' Review
Summary
Penny Dreadful hits a new low with the help of some unnecessary exposition and the absence of most of the main leads that make this show worth watching.