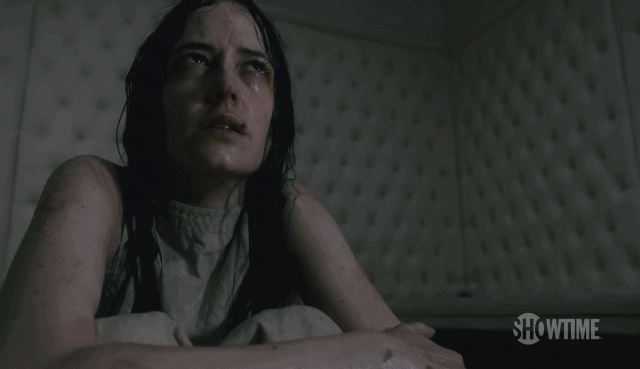 Last week's Penny Dreadful left us with quite a few revelations. We found out that Vanessa had met Dr. Sweet before while she was locked up in the white room. But we also found out that she also met The Creature in the white room. Now, last season Vanessa and The Creature were on great terms but with this sudden realization, I wonder what will happen the next time she sees him. Oh, and about the preview, it's just classic Showtime. Not only is the preview painfully short but it doesn't show anyone except Vanessa in the white room.
What about Lily and Dorian? What about Sir Malcolm and Kaetenay? And what about Ethan and Hecate? The preview gives us nothing. But does that mean that they're not there in the episode? I think it's very likely. If you've been watching the show since season 1, you'll remember that Penny Dreadful does a revelationary episode each season. These episodes are focused on a singular storyline. And usually they're likely to drop giant bombshells. Like 'Closer Than Sisters' and 'The Nightcomers'. 'Closer Than Sisters' was a haunting, creepy experience which literally set the pace for the entire season. Same goes for 'The Nightcomers'. Now I think it's time that we had another episode like those.
What does it mean though? It means that the reunion of our friends will likely happen soon and the rest of the season will be much-more fast-paced. But if 'Closer Than Sisters' and 'The Nightcomers' are anything to go on, this episode is a must-watch for everyone.
On to the preview, there's not really much they're giving away. Someone is telling Vanessa to embrace her inner self and be who she is. Now, I'm pretty sure this is Dracula talking to her. I mean, it sounds like Jon Claire but Jon Claire is just an orderly. He can't be the one telling her that, right? As for Vanessa being who she is, that would be Amunet. Is that really what Dracula wants? I don't really think he's working for The Devil. Dracula's supposed to be much more sinister than that.
No, I think he wants Vanessa for himself. Think about it. Wouldn't that sort of exalt Dracula and make him on a level with Satan? Yeah, Dracula wants Vanessa. But he wants her for himself and not the devil.
The synopsis is classic SHOWTIME too. It reads:
Vanessa convinces Dr. Seward (Patti LuPone) to use hypnosis to take her back in time.
The episode's titled "A Blade of Grass". And the synopsis is worth jack to us because Vanessa went back in time on last episode. So, we're gonna be going into this episode totally off-guard and unprepared, which is exactly what SHOWTIME wants.
Penny Dreadful airs Sundays at 10:00 P.M on SHOWTIME.