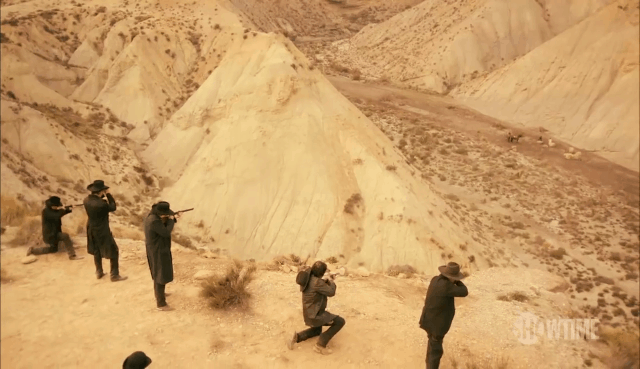 So, a lot happened last week on Penny Dreadful. Ethan murdered his captors with Hecate while Dr. Sweet was revealed to be Dracula. Now it appears that our characters are close to a reunion. Well, at least some of them are. We see Sir Malcolm and Kaetenay travelling on a train. Their surroundings are pretty much the same as when Ethan was being escorted by Inspector Rusk. So, that probably means that they're somewhat close to saving Ethan. But Ethan has problems of his own. Chief among them is those gunmen. Now, it appears that those gunmen belong to the men sent by Ethan's father. Or not, they could belong to Rusk. But from the looks of things, Inspector Rusk appears to have joined forces with Ethan. For now. So, he's gonna have to go with Rusk after they've dealt with his father.
I still think Hecate has an agenda of her own which will be revealed in it's own time. She does call Ethan 'Wolf of God'. Which definitely means Ethan is valuable to someone. For now, Kaetenay's motivation for saving Ethan is revealed. Apparently, he and Sir Malcolm will face a terrible end if they don't save him. That's motivation enough. Ethan, on the other hand will be glad to know his Apache Father Figure only wants to save him to save his own skin. What a happy family! And I thought the Murrays were messed up. On a side note, another Apache dream invasion. Why Kaetenay's face is so bloody though, I have no idea.
Elsewhere Lily is teaching her pet some tricks of the Black Widow trade. Apparently, she's already teaching her how to kill. No starting small for you. She must keep in mind though, that this girl isn't immortal like herself. I'm pretty sure her death will send Lily into a rampage.
Also, Dr. Seward has had enough of Vanessa's craziness so she's locking her up. Where? Probably an asylum. That will make her more vulnerable to Renfield's influence. He could even take her to Dracula. Also, she finds out that she's being followed. Well, that was amateur move from Dracula's minion. Ever heard of stealth, bro?
The Creature is also back, which is crazy. How did he walk all the way to London? Assuming that he's back in London, of course. Where else would he go to learn about his past?
The synopsis for this episode reads:
Ethan (Josh Hartnett) and Hecate (Sarah Greene) race across the desert with Sir Malcolm (Timothy Dalton) and Kaetenay (Wes Studi) hot on his trail. The Creature (Rory Kinnear) returns to London desperately trying to piece his former life back together. After Dr. Jekyll (Shazad Latif) and Dr. Frankenstein's (Harry Treadaway) plan fails, they come up with a new strategy. Lily (Billie Piper) and Dorian's young acolyte, Justine (Jessica Barden), demonstrate useful skills. A clue about her past is revealed to Vanessa (Eva Green).
The episode is titled 'Good And Evil Braided Be'. A lot is revealed in the synopsis. The creature really is back in London, it appears. And it also reveals that Dr. Jekyll's mind-control formula doesn't work as advertised. A new strategy? No idea. And the girl's name is Justine. I don't think they mentioned her name in the past episode.
Penny Dreadful airs tonight at 10:00 P.M on SHOWTIME.