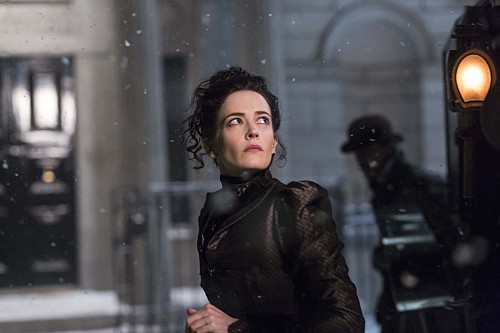 After a first season that saw exorcisms, resurrections, vampires, and men resurrected from the dead, how would Penny Dreadful top itself? Anyone who managed to catch this little Showtime gem last year (I certainly did) was treated to a brilliantly over-the-top season of atmospheric storytelling and wonderfully realized versions of classic horror characters, set against the macabre backdrop of Victorian London. In fact, Penny Dreadful was a little too good at what it was trying to do, to the point its Big Bad season endgame fizzled out, eclipsed by the many personal journeys – particularly Eva Green's award-worthy performance as the tortured Vanessa Ives – that spent much of the eight-episode first season in the foreground.
Season 2 of Penny Dreadful picks up the many pieces left from that underwhelming Season 1 finale, and quickly begins to re-arrange them in fascinating new ways. Of course, Ives remains the central focus of this. While Season 1 revolved around the death of her best friend (and Malcolm's daughter) Mina and The Vampire's obsession with Vanessa, Season 2 digs further into the past of her tortured soul, in the form of a coven of witches led by Madame Kali, last seen as an occult-leaning seance leader in the show's second episode (at one point, she says "There is another" in regards to Vanessa) last year. She's a Lucifer worshiper, right down to the heart eating, blood bathing, and gothic dressing, and Helen McCrory gets to unleash the character in a way she couldn't last season, providing a wonderful counterpart to Green's energy I can't wait to see play out.
The episode goes out of its way a bit to present this conflict as deeper and bigger than last season's. There are multiple scenes and bits of dialogue expressly written to establish that, somehow, this evil is greater and darker than what we saw during the show's wildly unhinged first season. And when "Fresh Hell" isn't preaching that, boy, it's delivering on it: just the mention of the name Lucifer brings a new darkness to this show, allowing it to fully indulge some of the spiritual bents it vaguely explored during last season's events. And that amped-up feeling of darkness and horror spreads to the other characters of the show, in many forms: the wax museum owner looking to exploit Caliban; the inspector investigating the Wolfman's massacre at the local inn; Dr. Frankenstein trying to escape his own creations – and each one is more satisfying than the last, building to an awesome tracking shot introducing us to the local coven of satanic witches, led by Kali, who goes all-in on the upside down crosses and chanting in mythical/lost/buried (take your pick) language
The aforementioned scene flashes between Vanessa and Kali as they both chant their prayers, making nice parallels to an earlier scene with Viktor and Caliban screaming to the storm gods to bring poor Bronna back to life. In those moments, Penny Dreadful's greatest asset leaks to the surface: the show draws beauty out of horror, presenting characters with the simple truth that everyone is running away from their own darkness, and desperately seeking the human connection to bring them back to the light, to make them feel human (and not cursed) again. And it's in that humanization, that ability to find emotional resonance between characters (not just in their own respective narrative vacuums), that solidifies the foundation for which Penny Dreadful can build its crazy occult images and outlandish storylines on top of.
And it works, better than one would initially expect. At times, "Fresh Hell" looks as if it may crumble under its own weight, just as last season's finale did, with so many stories and an allegiance to upping the craziness around every turn. However, it never does, its ability to one-up itself dramatically outweighed by its consistent dedication to placing character and plot on the same plane. Penny Dreadful's ambition doesn't come from its ingenuity, but from its attempts to ground the most ridiculous gothic stories with grounded emotional resonance. Without that emotional component, everything around it would quickly crumble into silliness, a series of provocative images inhabited by cartoon tropes. It's not the dedicated aesthetics of Victorian London that maintain that humanity: it's that ability to bring these characters together through their journeys of self-discovery, and do it without being wickedly forced or overt.
With a slightly extended ten-episode order for this season, I'm looking forward to seeing if Penny Dreadful continues to double down on the elements of the show that work, or if the show embraces the more traditional, superficial trappings of the classic horror novels it's adapting. Initially, atmosphere can always substitute for character, but as a series continues and grows, it has to be able to integrate that dedication to aesthetics with an equal focus on keeping its growing cast of characters interesting and three-dimensional. It's only an hour, but "Fresh Hell" certainly appears to be Penny Dreadful embracing those ideals as it kicks off its second season – and if it continues, we are going to be in a for a devilish treat.
Other thoughts/observations:
– Caliban remains a poet: "We are bound on a wheel of pain, thee and me."
– Desperate to feel the love of human connection, Dr. Frankenstein gets a little too familiar with the corpse of Bronna in the vat of resurrection water (the Electric Fountain of Youth?).
– The Inspector has a limp right arm, a little touch of character I'm looking forward to hearing an explanation for.
– So Ethan doesn't know what happens to him while he's the Wolfman…probably not a great thing when you live in civilized society.
– "What is Frankenstein without Frankenstein's monster?"
[Photo credit: Jonathan Hession/Showtime]