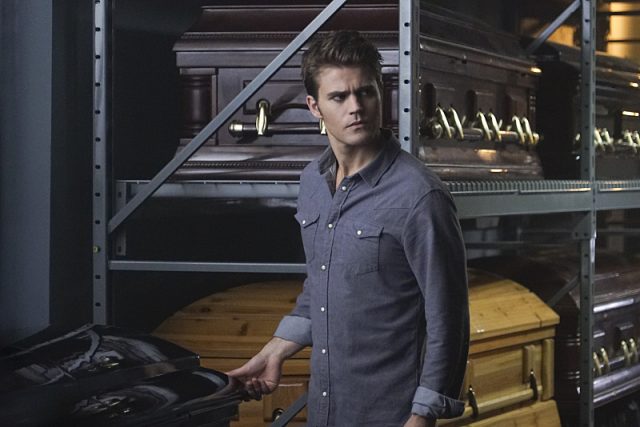 Of the fantastic three on the Vampire Diaries, Paul Wesley is the most intriguing. This is likely because we don't really know much about him. Everyone knows that Ian Somerhalder spends a lot of his free time working with charities. Nina Dobrev is very vocal about getting more young people to take up sports. Other than the fact that Paul Wesley stars in the Vampire Diaries, he is a bit of an enigma. If you want to learn more about Paul and his life, read on.
He Was a Troubled Kid
If you have ever seen the Vampire Diaries, you would know that Paul's character is goody-goody of the group. In real life, he wasn't always the good guy. He was actually a bit of a troublemaker. When he was in the Christian Brothers Academy in New Jersey as a kid, he was expelled for constantly getting into fights. It wasn't until he got involved with the school's theater program that he finally started to turn his life around.
Paul is Polish
Paul was born and raised in Marlboro, New Jersey, in America. He lived in his home with his family most of the time. His roots to his Polish heritage are very strong, and he is very proud of it. Until Paul was 16 years old, he would spend four months out of every year in Poland. Due to his time there, he speaks fluent Polish. Many of his family members still live there, which gives him the reason and the opportunity to visit quite often.
Paul Wesley is Not His Real Name
Paul Wesley was born on July 23, 1982, however, he was not born Paul Wesley. He was actually born Paul Thomas Wasilewski. In 2005, after getting his parents permission, he changed his last name to Wesley. He believed that Wasilewski would be too difficult for people to pronounce.
Paul Has Been Married and Divorced
Although Paul is still so young, he has already been married and divorced. In 2007, he met Torry DeVitto on the set of Killer Movie. Torrey is also famous for her role as the crazy, kidnapping Nanny Carrie on One Tree Hill. She is also famous for her role on Pretty Little Liars. The couple in April 2011. Sadly, the couple couldn't make their marriage work and they filed for divorce in 2013.
The couple kept quiet about the reason for their split, but there were rumors that because Pretty Little Liars films in Los Angeles and The Vampire Diaries films in Atlanta, that they couldn't make the marriage work. The couple said that the split was amicable, and since there was a prenup signed before the wedding, the details regarding the divorce were easy to iron out. Some mourned the end of the marriage, however, there were likely plenty of teenage girls who were thrilled that this heartthrob was single again.
He Loves to Read and Hates Television
Paul Wesley is a very rich man. You would expect to walk into his home and find a 75-inch Smart television sitting in his living room. Actual;ly, he doesn't even own a television. He says that since he doesn't like to watch television that he doesn't need a TV. He fills his free time reading rather than watching television. His favorite book is J.D. Salinger's "The Catcher in the Rye." According to Paul, the book changed his life when he was a kid. He says that he read it when he was a young boy about to become a man. He said that he believed in the book and was fascinated by the book's values. He admits to reading this book many times.
He Believes in Ghosts
Paul plays a supernatural creature on television, but he also believes in them too. According to Paul, when he was a boy, his family rented a home in Rhode Island. One night, he woke up and he saw a woman staring out the windows with her arms crossed. When he realized that she didn't belong in the home and she wasn't with his traveling group, he called out to her. Suddenly, she faded away. According to Paul, he was confused at first and didn't realize it was a ghost until later. By the time he did, he says he was really scared.
He Feels Inferior to Robert Pattinson
Both Paul and Twilight's Robert Pattinson play hot, sexy vampires. According to Paul, however, he doesn't compare to Robert. He was doing an interview when he was asked about how he feels about people comparing him to Robert. According to Paul, any girl would throw him under a bus if it meant that she could be within five feet of Robert. He said that he watched most of the Twilight movies and that Robert is very intriguing.
He Got a Terrible Tattoo When He Was a Teenager
There are plenty of teenagers who got a tattoo when they were younger and grew to regret it when they got old. Paul Wesley is no exception. When he was a teenager, he got a tattoo of a skull and crossbones. As he got older, he began to regret the tattoo more and more. Eventually, he had his teenage mistake covered up with a beautiful rose.
He is an Indie Buff
Of the entire cast of the Vampire Diaries, Paul has starred in more movies than all of them. You may not know that he played in any movies because you may not have heard of them. He actually loves Indie flicks and he loves to star in them. Over the past few years, he has starred in Amira & Me and Before I Disappear. In 2015, he starred in the movie Convergence and in 2016 he starred in Mother's Day. Indie films and the Vampire Diaries aren't the only things that Paul has done. He has also starred in television series, such as Army Wives, Shark, 24, The Originals, and Late Bloomer. According to Paul, he takes on just about every part that he can get because the experience is very rewarding.
Paul's Net Worth
Paul made most of his money acting, however, he also earned some producing and directing. Currently, Paul's net worth is estimated at $2 million.