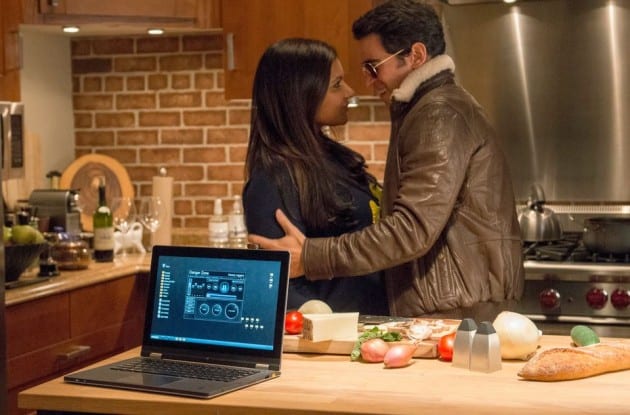 This week on The Castellano Project — excuse me, The Mindy Project — Danny walks a fine line between bad boyfriend and flat out bad boy territory. It's an easy guess as to which side of this mama's boy Mindy (and viewers) prefer, leather bomber jacket and aviators included.
Right from the start I knew I was going to love this episode. Mindy admits she's been illegally downloading music and movies, which definitely makes Danny freak out. Yet Mindy makes the rookie mistake of clicking on an obviously misleading 'play' button that crashes Danny's laptop. She brushes it off as a "run of the mill computer virus" but it turns a little creepy when the webcam goes on!
It only got better from there. Danny and Mindy seem to have regular dinners with his Ma and Dot. It's at one of these dinners that Mindy offers to take Annette out swimsuit shopping so that she doesn't get laughed at in her son's baggy clothes in her new swim aerobics class. When Mindy is at the checkout counter, she witnesses Annette stuff a man's jacket in her (purposely huge) purse.
Of course, Annette gave the bomber jacket to Danny, who absolutely loves it. He claims he's wanted one all his life. It's typical Danny behavior though to gush over anything and everything his Ma does for him, so of course he doesn't believe Mindy when she tells him Annette stole the jacket. What I don't understand is how it was so easy for her to walk out of the store without the alarm sensors going off in the first place.
Anyway, Mindy then wrongfully accused Annette of stealing Tamra's missing charm bracelet. "You're dealing with Catholics now. Get ready to repent, Lahiri," Danny warns Mindy before they go to another dinner for Mindy to apologize to Annette. That whole dinner scene was hilarious. I have to say that Dot had me cracking up with her comebacks. We need more of her around.
Peter and Abby are keeping their relationship casual. Surprisingly too casual for Peter. I'm disappointed that he broke up with her because I really thought she would've been the one to mature him. In a way, I suppose she did make him realize that he's actually looking for a mature adult relationship, but I wish she was looking for the same thing rather than turning out to be the "Matthew McConaughey of the romance novel world."
Danny choosing to make the mad dash out of the store with the stolen jacket (again) in order to save his Ma from any legal repercussions was the best. It probably could have been even funnier if the cashier was shown again getting "Gary," who might've just been the manager that needed to approve of Danny paying for the stolen item. In a weird way, Danny's bad boy streak resulted in Mindy actually paying for her music for once. Appropriately her choice of song was from Top Gun, which made Danny break out his dance moves. Any time Danny dances is a good time indeed.
What did you think of the episode?
Photo via Fox
Tell us what's wrong with this post? How could we improve it? :)
Let us improve this post!