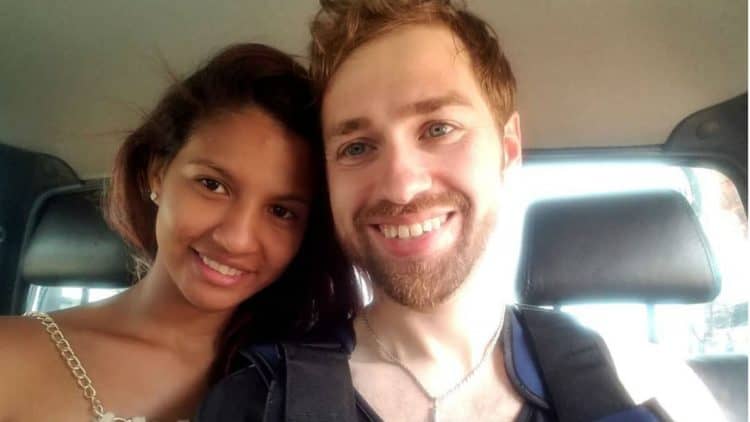 In the 6 years since its debut, 90 Day Fiance has seen a lot of very interesting cast members come and go. But Paul Staehle is certainly one of the most memorable. Paul first appeared on the 90 Day Fiance: Before the 90 Days in 2017. At that time, he was in the process of traveling to Brazil to see his now wife, Karine. Even before Paul left the United States, it became very clear that he wasn't the most organized or responsible person on the show. Once he actually go to Brazil, those things became even more apparent. Not only did Paul and Karine get off to a rocky start, but their relationship has been rocky ever since. Still, they've managed to make it work and Paul, even with all his bizarre moments, has managed to become one of the most popular people on the show. Keep reading for 10 things you didn't know about Paul Staehle.
1. He And Karine Make Videos On Cameo
Despite the fact that most viewers don't fully understand Paul and Karine's relationship, there are still plenty of people who can't get enough of the couple. They have created a joint account on Cameo where they create personalized videos for their fans. At the moment, they are sharing $50 for a video.
2. He's A Brand Ambassador
Now that he has a few seasons of 90 Day under his belt, Paul is officially a reality TV star. He has built a strong social media presence and he has 337,000 followers on Instagram. He has been able to leverage this following into business opportunities by working with brands as an ambassador. Some of the companies Paul has worked with include a company called Artemis Box which has unfortunately gone out of business.
3. He Has A Criminal Record
Paul's criminal past has made viewers raise eyebrows since his first appearance on the show. At the time, he hinted that he had been in trouble with the law. However, it quickly became obvious that his legal issues were worse than he originally let on. According to Heavy, Paul was charged with second degree arson and insurance fraud in 2014 stemming from an incident that took place in 2007. He also had an ex-girlfriend who filed a restraining order against him which he violated.
4. He Believes His House Is Haunted
Paul is definitely one of those people who can't seem to catch a break. As soon as it seems like things are starting to go well for him, something random happens that could throw him off track. If you've been keeping up with the latest season of 90 Day Fiance: Happily Ever After, you know that Paul and Karine were struggling to find a place to live. Fortunately, it looks like they found somewhere to stay, but now Paul feels like the place might be haunted. Paul shared a video explaining how his son's toys seem to be moving around the house on their own.
5. He Started A YouTube Channel
Paul and Karine are definitely doing what they can to capitalize on their reality TV fame. In addition to having an account on Cameo, they've also started a YouTube channel. They've posted a wide variety of content including vlog style videos and holiday celebrations. Their channel has more than 806,000 total views.
6. He's Worked For The Family Business
Anyone who has ever seen Paul on 90 Day knows that his career has always been a big question mark. Although he claims to have worked in IT, he doesn't appear to have had a job since he's been on the show. He's also made several comments that make it clear that his money is tight. However, it looks like Paul may have finally found some gainful employment. According to his LinkedIn profile he works in sales at the family business, Staehle Fabricating.
7. He And Karine Suffered Miscarriages
The journey towards parenthood hasn't been easy for Paul and Karine, and they've suffered some tragic losses along the way. He told Cosmopolitan, "The miscarriages were something neither of us will ever forget. It brought us even closer together as we put aside arguments and disagreements to comfort one another. It is a tragic life moment no one should have to endure."
8. He Insists He's A Good Father
When Paul and Karine gave birth to their first child together, Pierre, they were both really excited to be parents. But Karine feels that Paul doesn't always step up to the plate the way a father should. She has even made comments to insinuate that Paul is a bad father and husband. He doesn't agree, though, and says that he always does what's in the best interest of his son.
9. He's Taking A Break From Social Media
Paul has decided to take a break from all of his social media accounts, and he hasn't posted anything new since May. While he might just be taking a mental health break, there's also a possibility that he and Karine are no longer together and he wants to wait until the current season of Happily Ever After is over before he makes any announcements.
10. His Son Has An Instagram
No matter how you feel about Paul, you can't deny the fact that his son is absolutely adorable. Little Pierre has the cutest little face and he's a very happy baby. Paul and Karine have created an Instagram account for Pierre and he has nearly 20,000 followers at the moment.