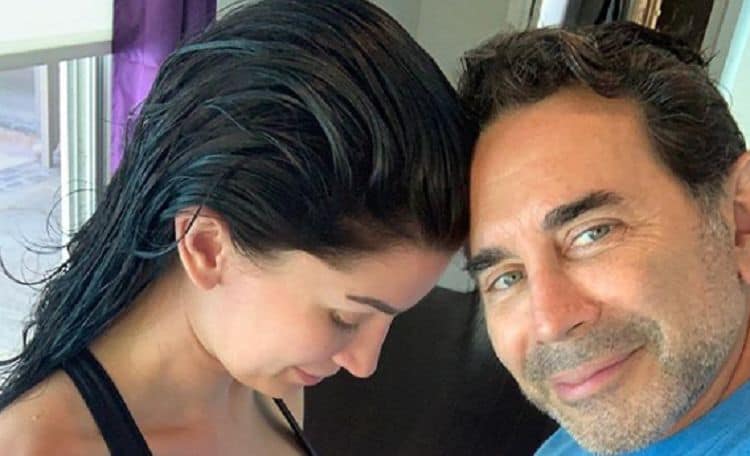 Paul Nassif may have come to fame as the other half of RHOBH's Adrienne Maloof, but these days, he's a celebrity in his own right. The plastic surgeon with a penchant for rhinoplasty is currently starring in season 6 of Botched, the E! reality TV show that's turned cosmetic surgery into entertainment. These days, his personal life is doing just as well as his professional one, and he's currently looking forward to becoming a dad for the fourth time around with his new wife, Brittany. Find out more with these ten quick facts.
1. His Education
Nassif was born on June 6, 1966. After graduating from Loyola High School in Los Angeles, Nassif was accepted at the University of Southern California, graduating in 1984. From there, he spent two years studying medicine at Rosalind Franklin University of Medicine and Science/Chicago Medical School and a further two years studying at the University of Southern California School of Medicine. After completing his studies in 1992, he interned in general surgery at the University of New Mexico Health Sciences Center, before taking up an Otolaryngology-head and neck surgery residency at the University of New Mexico. After deciding his future lay in cosmetic surgery, he completed a facial plastic and reconstructive surgery fellowship at St. Louis University School of Medicine.
2. His First Wedding
In May 2002, Nassif and Adrienne Maloof married. After three sons, ten years of marriage, and 101 arguments, the couple filed for separation. After their tempestuous separation had played its course, Nassif and Maloof formalized their divorce on November 8, 2012.
3. The Divorce
As fans of RHOBH will know, Nassif and Maloof's tumultuous marriage hit the skids long before their divorce in 2012. You'd have thought that playing out their relationship in front of millions was a factor in their split, but according to Nassif, the cracks in the marriage were already showing well before the show happened — although it didn't exactly do much to smooth things other. "If you already have some cracks, it makes the cracks a little deeper, maybe. – That might be the way to look at it," he told Hollywood Life. And the same applies to how the couple is no co-parenting, as he went on to explain. "I think that co-parenting has nothing to do with being on or off the show [RHOBH]," Nassif claimed, explaining, "It just has to do with listening to your children. It's the most important thing in your life. And, we're two mature people and we recognize that, like, 'Hey, these are our kids. We got one shot at it.' So, this is what we're trying to do the best we can."
4. The Settlement
After restraining orders, fierce allegations, and a truckload of bad blood, Paul and Adrienne finally bought their relationship to an official end in 2012. Despite the acrimony, the settlement itself proved remarkably amicable, with Paul and Adrienne issuing a joint statement saying, "We're happy to announce we have reached agreement on a settlement." "There has been so much untrue negative innuendo and destructive rumors beyond our control," they added. "We want the best for each other and we're confident we can help each other make a continuing positive impact with our children."
5. The 2nd Marriage
On Saturday, September 28, 2019, Paul and Brittany Pattakos hosted a picturesque beachfront wedding reception in Santorini, Greece following an official wedding ceremony at home the previous week. Watching the couple affirm their vows were a select group of 65 guests… although one notable guest was conspicuous by his absence. Nassif's colleague and Botched co-star Terry Dubrow had attended the formal ceremonies along with his wife, Heather Dubrow, but unfortunately, he couldn't find time in his schedule to attend the Greek reception.
6. The TV Series
HOBH may have made his name, but it's Paul's post- Housewife's TV appearances that have come to define him. Since rising to fame, he's become best known as one of the co-hosts of the plastic-surgery themed reality TV show, Botched. Since premiering on June 24, 2014, Botched has become one of E!s most popular shows, with six highly successful seasons already under its belt. He's also made appearances on E!'s Dr. 90210 and starred on the eight-episode Botched spin-off, Botched by Nature.
7. His Net Worth
What do you get if you combine the medical profession with reality TV? Judging by Nassif, you get a very wealthy man indeed. According to the bean counters over at Celebrity Net Worth, the good doctor is worth the grand sum of $14 million.
8. Fourth Time Dad
After celebrating their nuptials in September 2019, Paul and his new wife Brittany Patakos clearly didn't waste any time on starting their new family — as the couple proudly announced earlier this year, Nassif is about to become a dad for the fourth time. Fortunately his ex-wife (and mother to his first three children) Adrienne Maloof has taken the news well. "I kind of haven't really discussed that with her. I mean she knows, obviously," the plastic surgeon told The Daily Dash. "She said 'congratulations' to both of us. So, I think a 'congratulations' is probably a good thing to say. But I haven't really discussed".
9. Adrienne Meets Brittany
How often do you manage to combine a family occasion with the ex with a first date with your new girlfriend? Not often, but in the extraordinary word of Paul Nassif, it just seems to be par for the course. After a short meeting at a medical meeting, Paul and Brittany's first-ever date took place nowhere else than at Adrienne's mother's wedding. "Boom! After that [first meeting] we had one date, our first date was at my ex mother-in-law's wedding!" Paul explained to Hollywood Life, with Brittany adding "So I met everybody, his ex-wife [Adrienne], his kids [Gavin, Colin, and Christian]. He was like, 'Let's see how you handle it!'"
10. Those Awkward Moments
Despite the tumultuous nature of their relationship (and the even more tempestuous nature of their divorce) Adrienne and Paul have clearly got to a stage of acceptance, if not friendship. They've even got back into the habit of exchanging Christmas gifts… even if the exchange doesn't always go quite as smoothly as it could. Speaking to Page 6, Paul revealed how his last gift took Adrienne so off guard, she had to get inventive about how she reciprocated. "You know those … massage things that actually massage your ankles?" he said. "She went upstairs to her bedroom, grabbed it, brought it down, and said, 'Here's your gift.' So I said, 'Wait a minute, so you didn't go out and get me a gift? You just grabbed something from your room?' A used gift," Still, a used gift I better than none at all, right?