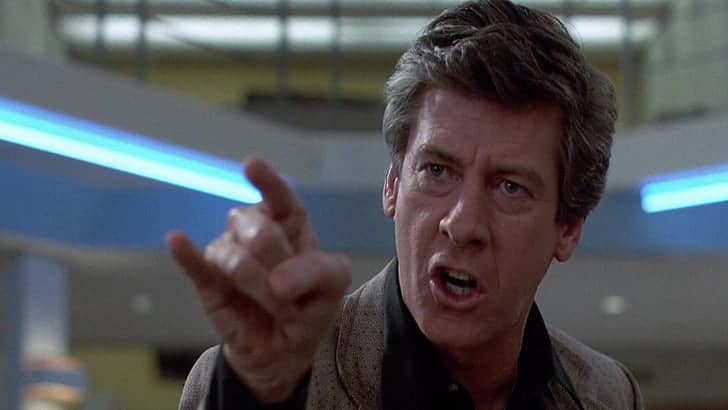 35 years ago, 5 high school students spent an entire Saturday in detention and defined a cinematic genre. "The Breakfast Club" set the standard for the melodramatic adolescent comedy and is still referred to as the quintessential 80's movie. While most people familiar with the film have no problem naming the cast of Brat-Pack regulars including Emilio Estevez, Molly Ringwald and Anthony Michael Hall, few can put a name to the guy who plays Asst. Principal Richard Vernon. The actor is Paul Gleason and his performance as "Dick" Vernon is nothing short of iconic.
The Breakfast Club features Paul's signature brusque, direct delivery and is beautifully offensive. His approach is unwavering and made him the perfect obnoxious prick in the best possible way. But Gleason was the definition of the anonymous, dynamic performer. He stole scenes as an actor throughout his prolific career while never gaining the notoriety of a leading man. Put simply,
Paul Gleason's nontraditional talent warranted more recognition than he received. But his path to acting was also not a traditional one. Paul ran away from home at the age of 16. He reportedly hitchhiked along the east coast where he played baseball and slept on benches. After graduating North Miami High School, the gifted athlete attended Florida State University where he played football. At FSU, Paul shared the field with a couple of teammates who would also pursue acting, Burt Reynolds and Robert Urich. At the age of twenty, Gleason's abilities on the diamond got him signed by the Cleveland Indians. He played two minor league seasons for the Tribe from 1959 to 1960. During a west coast road trip, Paul had a chance meeting with Ozzie Nelson and was offered a guest spot on the popular television show "The Adventures of Ozzie and Harriet".
When his pro ball career fizzled out, Gleason moved to New York. At the urging of his friend Jack Kerouac (yes, that Jack Kerouac), Paul decided to give acting a serious try. Eventually he was accepted into the prestigious Actors Studio and studied under the legendary Lee Strasberg for four years. At age 26, Gleason got his first movie role and worked consistently in film and television since 1965. He appeared in over 60 films and on over 75 television episodes including Hill Street Blues, NewsRadio, Friends and Seinfeld. In fact, Paul played the character responsible for George Costanza getting hired by the Yankees.
Paul Gleason died of cancer in 2006 at the age of 67. He will always be most remembered for his performance in The Breakfast Club but to define his career by a single role would be akin to messing with a bull. And if Dick Vernon taught us anything, it's if you mess with the bull – you'll get the horns. Here are 6 additional memorable performances of the underrated and overlooked brilliance of Paul Gleason.
Arthur (1981)
Credited simply as "Executive", Gleason is featured on screen for less than 25 seconds. However, his performance in the 1981 comedy classic, opposite screen legend John Gielgud, establishes the tone of the film. Paul's character is also the victim of one of the all time great comebacks in movie history. From the moment Gleason enters the scene, his smugness is palpable. The "Executive" bluntly states, "He gets all that money. Pays his family back by… by… by bein' a stinkin' drunk. It's enough ta make ya sick". Arthur's fatherly butler dryly retorts "I really wouldn't know, sir. I'm just a servant". The elderly gentleman butler then adds; "On the other hand, go screw yourself."
Tender Mercies (1983)
In his third big screen collaboration with friend Robert Duvall, Paul plays an unwelcomed reporter. The reporter finds Duvall's character, a one-time country music star, pumping gas in a rural east Texas town. When the reporter tells the faded star that he is doing a story on him and would like to speak with him, the fallen troubadour informs him that he has nothing to say; to him or anyone else. The reporter continues to try to coax an interview until he finally drives off into the Texas wind. Gleason's performance is a departure of sorts because it is understated in its execution. For once, Paul presents his character as reverential as opposed to gregarious and oppressive. But still he exudes a subtle derision. His role in Tender Mercies shows that Gleason could still succeed in being somewhat unlikable, even when trying to convey respect.
Trading Places (1983)
It is one of the most legendary comedies of the last 40 years and Paul Gleason may turn in the best performance. Gleason plays Clarence Beeks, chief henchmen for the commodities firm of Duke and Duke. Beeks is a sleazy, disreputable character and abrasive to the point of admiration. As pop journalist Frosty Weintraub puts it, "Beeks is, in Gleason's hands, a study in unfettered invective. He is a mean, violent and utterly joyless creature…But you couldn't help but like the guy for his unabashed cruelty". Take for example a scene of Beeks talking on a pay phone. While reporting sensitive information, a woman walks up and stands to wait for the phone. He quits talking and puts his hand over the receiver, turns to the woman and matter-of-factly snarls, "Fuck off". The woman goes on her way and Beeks returns to his business on the phone. Simple but effective and brilliant in its simplicity. The beauty of Clarence Beeks is derived from the genius of Paul's unapologetic disposition, terse delivery and rhythmic wit. It is not every actor who can be delightfully loathsome but in Trading Places, Gleason pulls it off and he does it to the tune of flawless comedic timing.
Die Hard (1988)
More than 30 years after its release, Die Hard still stacks up as one of the best action films of all time. However, in the midst of gaudy gun fights and impressive explosions, Die Hard offers a plethora of unforgettable lines and several of the best are delivered by Gleason. Paul plays Deputy Police Chief Dwayne T. Robinson. He is not only a constant source of aggravation for Bruce Willis' John McClane, but entertains with an almost unparalleled clumsy arrogance. Gleason's humor shines as his bungling character so desperately wants to be in charge and some of his finest comedic moments occur organically. Like when a terrorist is seen falling out of the skyscraper and Robinson looks up and says "I hope that's not a hostage". Or when the chopper carrying the Federal agents explodes and Gleason states, "We're gonna need some more FBI guys". Paul's derisive and cynical quips are precious material as well. Such as when Sgt. Powell (Reginald VelJohnson) asks Robinson to account for the body that fell on his car and Robinson responds, "Well, who knows? Probably some stockbroker, got depressed". Also when Powell tries to convince Robinson that McClane is a cop by knowing how to spot a phony ID and Robinson barks back, "Jesus Christ, Powell, he could be a fucking bartender for all we know!" Dwayne T. Robinson is a magnificent study in buffoonery but Gleason plays the part with a gorgeous and sincere dense fervor.
Johnny Be Good (1988)
It is a high school movie starring Anthony Michael Hall, Uma Thurman and Robert Downey Jr. and except for the performance of Paul Gleason, it's a forgettable one. Paul plays Wayne Hisler, the immoral football coach in charge of the star quarterback played by Hall. Hisler joins the long line of pompous, self serving cinema football coaches. In the tradition of Coach Johnson in North Dallas Forty and Coach Kilmer from Varsity Blues, Coach Hisler lays claim to divine providence, talks tough and likes to hear himself talk. If Dick Vernon coached the football team, this is what it would look like. As Coach Hisler, Gleason also gives one of the best pre-game football speeches ever, complete with homophobic taunts, Russia slur, patriotic enthusiasm and a nod to John Wayne. According to Hisler, "There's winners, and there's nothing else". He even crushes the water cooler on the way out of the locker room. Yet, even after a rousing speech, Paul still manages to bring out Coach Hisler's inner scumbag.
Money Talks (1997)
In this underrated late 90s comedy, Gleason stars opposite Chris Tucker and Charlie Sheen. Paul plays Detective Bobby Piickett who at first impression, appears to be a decent guy. During the course of the film however, it is revealed that Det. Pickett is a dirty cop. He even turns on his own partner. What stands out about Paul's performance is just how likeable and proper he is, until he isn't. His role in Money Talks is reminiscent of Gleason's part from the 1990 film Miami Blues. In Miami Blues, Paul plays a crooked vice cop named Sgt. Frank Lackley. With Sgt. Lackley, there is never a doubt that he is anything except a dishonest cop but Gleason plays the part with glorious hypocrisy. At one point Sgt. Lackley reprimands a shamed Sgt. (Fred Ward) telling him, "You are a disgrace to the police force". Somehow, the corrupt Sgt. Lackley actually comes off as sincere when he lectures an honest cop. The roles in Money Talks and Miami Blues are both unscrupulous cops yet Gleason provides the audience unique reasons to dislike the same character. The overall effect was that of most roles played by Paul Gleason, anonymously memorable.