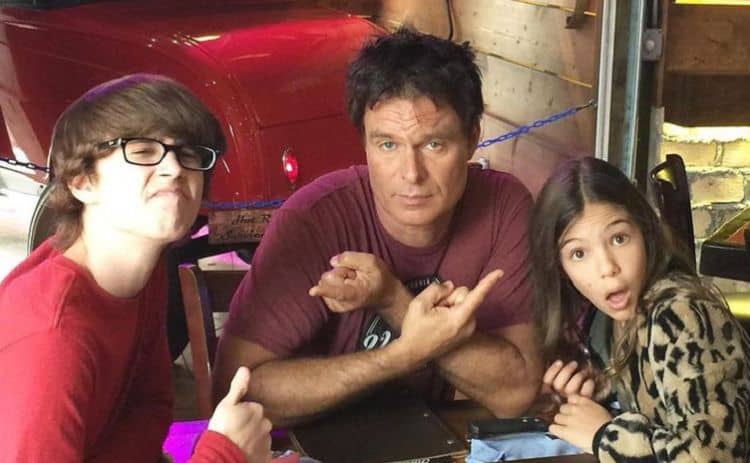 If you're a soap opera fan, then you probably have lots of memories of Patrick Muldoon. Patrick was the first actor to play Austin Reed in Days of Our Lives. He appeared in more than 500 episodes of the show, and he built a large fan base in the process. Since leaving Days of Our Lives in 2012, Patrick has continued to get plenty of acting opportunities. However, his focus has been more on movies than TV roles. Recently, however, it isn't his acting that has gotten him a lot of attention. Patrick's former co-star, Lisa Rinna, revealed that the two had a one-night stand back when they worked together. Although their fling is definitely a thing of the past, it's got a lot of people wanting to know more about Patrick. Keep reading for 10 things you didn't know about Patrick Muldoon.
1. He's A California Native
Each year, countless people from all over the world pack up and move to the Los Angeles area with hopes of starting a career in the entertainment industry. Luckily for Patrick, he never had to do that. He was born and raised in San Pedro. Although his parents didn't come from the entertainment industry, they have always been interested in the arts.
2. He Was A College Athlete
Long before Patrick ever thought about becoming an actor, sports were his main focus. He attended the University of Southern California where he was a member of the football team. During his college football career, Patrick won two Rose Bowl rings. However, it doesn't appear that he ever attempted to play in the NFL.
3. He Was In Saved By The Bell
If you grew up in the late 1980s/early 1990s, then you probably remember the popular sitcom, Saved By The Bell. Patrick appeared on three episodes of the show in 1991 as Kelly's much older boyfriend, Jeff. Even though he never had a main role, Jeff continues to be a very memorable character from the show.
4. He's A Musician
There are so many people who spend their entire lives trying to find just one thing they're good at, but Patrick has been fortunate to find a few. On top of being a great actor, Patrick is also a talented musician. He has been making music for several years, although it doesn't look like he's officially released any original songs.
5. He Likes To Keep A Low Profile
Patrick has been in the entertainment industry for more than 30 years at this point, but he has never fallen into the vicious trap of sharing every little detail about his life. Instead, he prefers to take a more private approach and keep his personal life separated from his work as an actor.
6. He's An Outdoors Kind Of Guy
Just because Patrick is from southern California doesn't mean that he likes to act all Hollywood. Instead, he actually loves the simple things. When Patrick gets free time, one of his favorite ways to spend it is by being outdoors. He enjoys doing things like going hiking and hanging out at the beach. After all, there's nothing like some nice fresh air to turn a stressful day into a peaceful one.
7. He Started His Career As A Model
Patrick is definitely a natural at being in the spotlight. Before breaking into the acting world, Patrick was getting comfortable in front of the camera as a model. He began his career by modeling for Calvin Klein and he eventually signed to Wilhelmina Models. It's unclear what inspired him to switch over into acting.
8. His Sister Is Also An Actress
Even though he doesn't come from a family of actors, Patrick isn't the only person in the Muldoon family that the acting bug decided to bite. His sister, Shana, has also done some acting over the years. She has two on-screen acting credits and her last appearance was in the 2006 film, Hollywood.
9. He Likes To Travel
Traveling is an experience that not everyone gets to have. Patrick is thankful to have gotten plenty of opportunities to see the world. Patrick always looks forward to having new experiences and visiting different places. Thanks to his career, he has been able to travel to destinations all over the world. Some of the places he's visited include Hawaii and Switzerland.
10. He's A Producer
We've already established that Patrick is a natural when it comes to being in front of the camera, but did you know that he's also very talented from the other side? Patrick made his debut as a producer in 2013 with a TV movie called Holiday Road Trip. He has gone on to produce nearly a dozen other projects since.