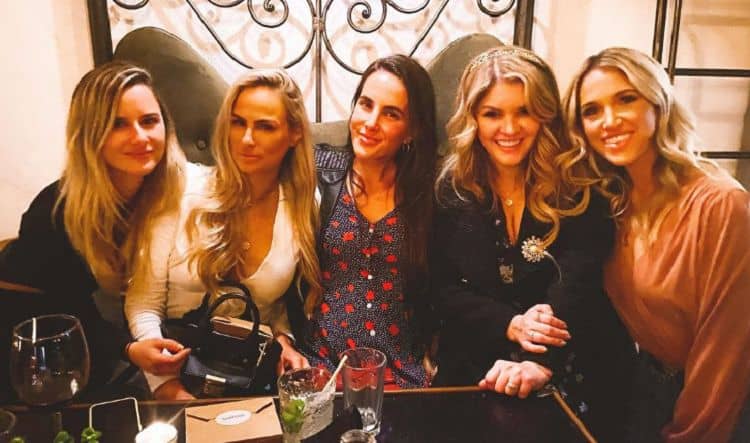 Thanks to her famous mother, Pandora Vanderpump has been in and around the spotlight for more than a decade. If you're a fan of The Real Housewives of Beverly Hills or Vanderpump Rules, you've probably seen Pandora on your screen at least a few times. While she isn't a reality star herself, her last name essentially makes her reality TV royalty. As Lisa Vanderpump's only daughter, some would say that Pandora has some pretty big shoes to fill, but she's never let that intimidate her. Although she is following in her mother's footsteps in some ways, Pandora has worked hard to create her own lane and she is currently reaping the rewards. Here are 10 thing you didn't know about Pandora Vanderpump.
1. She Was Born In England
Pandora has spent much of her life living in the United States, but like both of her parents she is originally from England. In addition to the United States and England, Pandora has also lived Monaco. She currently resides in the Los Angeles area with her husband.
2. She Is A Writer And Producer
Pandora may not be interested in spending a lot of time in front of the camera like her mom, but she's still found her way to the entertainment industry. According to her page on IMDB, Pandora made her debut as a writer and producer in 2017 when the documentary short The Road To Yulin And Beyond.
3. She Was On Master Chef
Cooking is one of Pandora's favorite things to do and she's always been very passionate about food. In 2019, she appeared as a contestant on MasterChef USA as part of a celebrity themed episode. During the episode Pandora and her mother competed against people like Snooki and J Woww from the Jersey Shore.
4. She Studied At Pepperdine
Some people may wonder why Pandora opted to go to college when she could have easily jumped into the family business. However, she decided that she wanted a more traditional college and experience like everyone else. Pandora graduated from Pepperdine University in 2008.
5. She Is A Business Woman
The apple certainly didn't fall far from the street when it comes to Pandora and her mother. Pandora is all about her money. Pandora has started her own business ventures and she has even partnered with her mom on a couple of things.
6. She Is A Dog Lover
Pandora's love for business isn't the only thing she has in common with her mom. She is also a very dedicated dog lover and she has a fur baby of her own. As you can imagine, Pandora's dog gets the royal treatment on a daily basis. Her dog has also made several appearances on her Instagram profile.
7. She Loves A Good Adventure
Pandora has never been the kind of person who could be content with just staying in the house all the time. Instead, she likes to get out and enjoy as many things as she possibly can. She's always down for a little adventure and she enjoys doing things like going skiing and boating. Pandora also loves to travel and has been to places like France and Italy.
8. She Likes Giving Back To Others
Since Pandora grew up with access to everything she needed and almost everything she could want, it would've probably been very easy for her to become a very selfish person. That isn't who she is, though. Pandora enjoys giving back to others and it's something she's made it a point to do over the years. She has worked with several charitable organizations over the years and she's even started one of her own. Pandora is the founder of The Charity Market which donates 20% of all sales to a charity of the customer's choice.
9. She Has A Large Social Media Following
Sure, she may not be as famous as her mother, but Pandora has still built a pretty solid fan base. She currently has nearly 400,000 followers on Instagram and there are probably even more people who love to check out her content. Pandora is a very active Instagram user and posts a mixture of personal and professional things.
10. She Loves Fashion
Fashion is a very big part of Pandora's self expression and she loves putting outfits together. Pandora told The Carousel, "I would describe my style as classic-feminine in the day and edgy-feminine at night. I am on-the-go 24/7 as I spend my days in the office or at meetings and go straight out from there, so I love pieces that can go from day to night with ease."