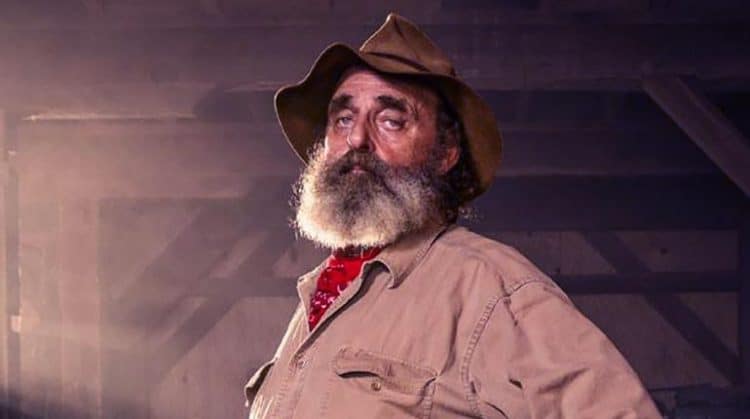 John "Trapper" Tice is the star of the reality television series "Mountain Monsters," which airs on the Destination America channel. He's an interesting character who has built up a large base of followers and fans. He leads the documentary which has captured the fascination of viewers who have either had odd experiences themselves or who just have an interest in learning more about sightings and legends of mountain monsters and things which have been seen which do not yet have a scientific explanation. Here are 10 things about John "Trapper" Tice that you probably didn't know.
1. He's an expert in his field
Tice is an expert trapper and tracker. He's been doing it all of his life and he knows what to look for when you're going on the trail of someone or something in the Appalachian Mountains. He's familiar with the terrain of the regions he and the team investigate in search of legendary mountain monsters which have been sighted by others. Tice was born and raised in West Virginia, so this is his old stomping ground, so to speak.
2. John "Trapper" Tice is a veteran
John spent happy years in his youth, learning how to track and hunt in the dark woods of the Appalachians, instructed by his father. When the Vietnam War broke out, he enlisted in the army. John stayed in the service and he served his country throughout the entirety of the conflict. He was already skilled in navigating his way through dense forests which made it easier for him to survive when fighting the Viet Cong. The time he spent in Vietnam only enhanced his tracking and survival skills.
3. He is the leader of AIMS
AIMS is the Appalachian Investigators of Mysterious Sightings. The group goes out into the woods when it's dark at night in order to investigate mysterious sighting which has been said to have taken place in the area. A few of the goals of the team are to find these legendary creatures, such as a Werewolf and Bigfoot, and to prove their existence to the rest of the world. They already believe so they don't need to be convinced that their prey is real.
4. Fans thought that he died from injuries in 2016
John "Trapper" Tice was injured while filming an episode of "Mountain Monsters." While this was an unfortunate incident in which he did receive injuries, he didn't die as many supposed. The incident did take him off the grid for a bit, and it made for a great cliffhanger for the show, as producers made the decision to leave viewers in suspense for a period of time. It's unclear whether this was actually good for the ratings or not because there were some fans that were a bit put out, but nonetheless, there are still those who were happy to hear that "Trapper" made a full recovery and he's back on the job.
5. He's doing well financially
We wanted to know more about John Tice and the success he's had in his career as an actor. As it turns out, he's paid fairly well for each episode that is filmed. He earns $20,000 per episode of Mountain Monsters. As of 2019, his estimated personal net wealth is $700,000. While he hasn't quite achieved the status of Millionaire yet, he is well on his way to doing so.
6. The AIMS team is searching for a variety of legendary monsters
We've all seen the teams who are hell-bent on proving that Bigfoot or Sasquatch really exists. The AIMS team has been looking for Bigfoot for years, but he's not the only monster on their list of things to prove. They're also in search of several other legendary monsters which are claimed to have been sighted in the Appalachians. These include Grassman Mothman, Wolfman, Chupacabra and Wampus Beast.
7. John is 72
Trapper was born John R. Tice on May 24th of 1947. This makes him 72 years of age. He was born in West Virginia and raised in the mountains. He is joined by younger team members but "Trapper" doesn't just sit back and take it easy when they're in hot pursuit. He does his part as a member of the AIM team and he seems to be fit enough for the job, thanks to an active lifestyle that has kept his body in good condition.
8. He's a private person
Tice has been interviewed because of his celebrity status, but he doesn't talk about his family. He sticks to the activities of AIM and their adventures, but he doesn't mention family, with the exception of his father, who taught him how to hunt squirrels and track game in the mountains. Wherever you look on social media, even the team's official Facebook homepage, you won't find any personal disclosures, so we don't even know if he's currently married or not.
9. He has a son
We did learn that John "Trapper" Tice has a son. He is living in Puerto Rico. It is apparent that Tice is protecting his family members from media coverage so they can live their own lives without being under the microscope.
10. He plans to keep working
Even though John is in his seventies now, he is doing what he loves. He plans to continue hunting for the elusive mountain monsters which stay hidden from view, but pop up every now and then and take a camper or hunter by surprise. He and the AIM team have been working together on the show "Mountain Monsters" for four years and although there are skeptics who doubt the credibility of their claims, they just keep watching, and this is good for the ratings.
Tell us what's wrong with this post? How could we improve it? :)
Let us improve this post!