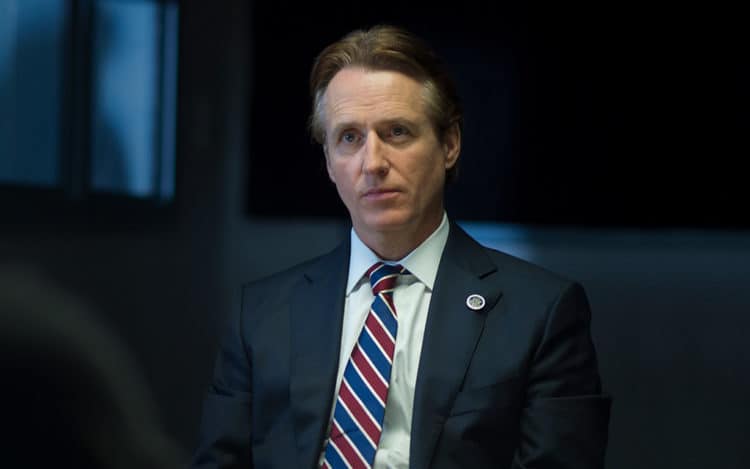 Law & Order fans are sure to remember Linus Roache's face from his time playing ADA Michael Cutter. His character appeared on both Law & Order and Law & Order: SVU for a total of three years. While that may be his most well-known role, Roache has done a lot of other things in his career. From TV to film, he's played a wide range of characters and has consistently proven that he has the talent to take on any kind of role. No matter what Linus ends up doing next, it'll more than likely be a success. Continue reading for 10 things you didn't know about Linus Roache.
1. His Parents Are Actors
Linus' father, William Roache, is one of the best-known actors in England. He is popular for playing the role of Ken Barlow on the soap opera Coronation Street. He joined the cast in 1960 and still maintains his role today. Linus' mother, Anna Cropper, was a British actress who appeared on TV shows and films in the UK from the early 60s until the early 90s. Sadly, she passed away in 2007.
2. He's Also A Writer
On top of acting, Linus is also a writer. He says that his love for writing has allowed him to tape into an even deeper level of creativity. In an interview he said, "Even as a child, the idea of being able to write your own movie— everybody wants to write deep down, I think.And I've always had a great appreciation for writers."
3. He's A Sci-Fi Fan
Lunis Roache is a big fan of science fiction and has been for most of his life. He told Vulture Hound, "I love the way science-fiction can give us warnings and tell us stories about the present day by peering into the future."
4. He Likes To Play Different Roles
Sometimes appearing in several similar roles can be a security blanket for actors. However, Linus likes to do things a bit differently. He prefers to play different types of roles and says he's actually drawn to characters that are unlike the ones he's played in the past.
5. He Likes To Donate To Charity
Even with all of the success he's had, Linus still felt like something was missing in life. He decided that he wanted to get more in touch with his spiritual side and help others. He began donating money to charitable causes.
6. He Studied At The Royal Central School of Speech and Drama
Linus studied acting at the The Royal Central School of Speech and Drama in London, which is the same school his mother attended. The school has several notable alumni including Laurence Olivier, Jason Isaacs, and James Fox.
7. He's Had To Fight To Get Out Of His Dad's Shadow
Growing up with a famous parent can come with a lot of perks, but if you're trying to work in the same field as them it can also have its downsides. This is something Linus experienced – especially in the early stages of his career. In fact, one of the reasons he wanted to relocate to the United States was so that he could escape his father's shadow.
8. He's Intimidated By Social Media
Linus has decided that he doesn't want to jump on the social media train. He said "I don't use Facebook, I don't use Instagram, I don't use any of those platforms. I'm a little intimidated by them but I don't necessarily think they're all a negative thing because they are a means of communication. It's what we communicate that matters. There are some pretty obvious downsides to what these things are propagating in terms of alienation on one hand but they're also creating stronger communities on the other."
9. He Loves Trying New Things
There are those who are afraid of change, and those who embrace it. Linus Roache is definitely the type of person who embraces it. He loves to try new things, especially when it comes to his career. This is definitely a good quality to have in an industry that is constantly changing.
10. He Was Accused Of Helping Fund A Cult
Remember when I mentioned that Linus likes giving back to charity? Unfortunately, there are many allegations that the organization he donated to is a cult. The group, EnlightenNext, and it's leader, Andrew Cohen, have been caught up in lots of controversy over the years. Former members have even said that EnlightenNext has had a negative impact on people's lives.