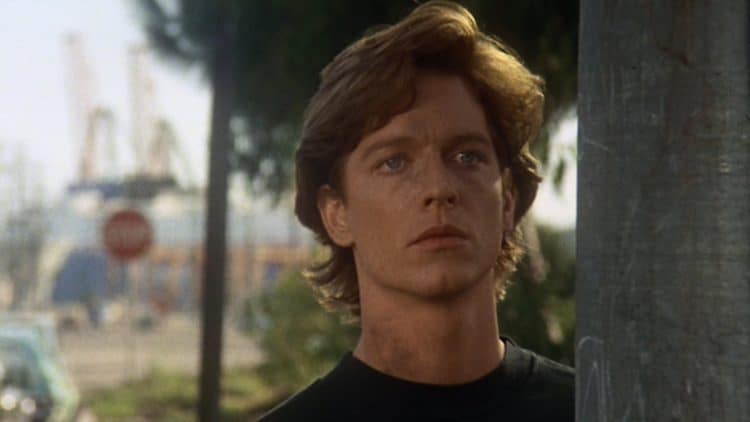 Eric Stoltz is most widely recognized for the part he played in "Mask" as Rocky Dennis. His performance was stellar and it was the quality that earned a Golden Globe Award nomination for him, although he wasn't in a lead role, he was up for a best supporting actor in motion picture award. He's also acted in several other films including "Some Kind of Wonderful," "Kicking and Screaming," "Killing Zoe" and "Pulp Fiction." Although fairly well known in the film industry, he's not a celebrity who receives a lot of press and there is a lot that fans would still like to know about him so to scratch the itch for more knowledge, here are 20 things that you probably didn't know about Eric Stoltz.
1. He was chosen for the lead in "Back to the Future"
Stoltz was chosen to play the lead in the 1985 hit blockbuster film "Back to the Future" as the lead character Marty McFly, but he didn't make it for more than five weeks through the filming process before he was fired. The director felt that he was a bit to intense for the role and Stoltz wasn't a good match for the intended persona of the character. Several of the scenes were re-filmed with Michael J. Fox as the replacement.
2. Eric Stoltz is a vegetarian
Here is another interesting thing about Eric Stoltz that isn't apparent unless you're around when he takes his meals. He isn't a meat eater. In fact, he eats a healthy diet and is a vegetarian. He does seem to have a healthy glow about him, and he's been a vegetarian since the 1980s.
3. He was involved with "Madam Secretary"
The CBS television series "Madam Secretary" was a big hit for the network. In 2014, Eric Stoltz directed the series. He was not only the director, but his official title was producing director, letting us all know that he produced and directed the popular series. He's a talented guy.
4. He's had an interesting love life
Eric Stoltz has been linked to several actresses romantically in his past. According to the whosdatidwho.com site, he dated Ally Sheedy from for three years in the 1980s, follwed by Jennifer Jason Leigh for two years, Alexandra Paul briefly, Bridget Fonda for eight years in the 1990s, adn Helen Hunt in 1992, Rachel Griffiths in 1999 and Laura Linney for three years between 1999 and 2001. He was married to Bernadette Moley.
5. He was the object of a sick internet hoax
Fans briefly went into mourning when they read on the internet that Eric Stoltz had died. It turned out to be a sick hoax that many of his fans believed. They even began to send their condolences and prayers. It didn't take long before the truth was revealed and the world was informed that he was in fact alive and well and that Eric, along with all of his fans had become the victims of an internet hoax as many other fake celebrity death stories which seemed to be a trending thing.
6. He is a family man
Eric and his wife, singer Bernadette Moley have been married since 2005. The couple had dated for several years prior to their decision to tie the knot together. The couple has two children together, but they choose to keep their family out of the spotlight, so little is known about them, which is probably a very good thing.
7. He really is into Buddhism
In a recent interview with Tricycle magazine, Eric Stoltz shared that he has a lot in common with the Doctor character that he plays on the television series "Chicago Hope." He really is into the practice of Buddhism." He further shared that he was exposed to it during the filming of a work called "Little Buddha" and he came into contact with texts on the subject and what he was reading seemed to resonate with him. He's incorporated many of the principles of yoga, meditation and detachment into his own life and it's not only helped him in his professional life, but also in his personal life.
8. Some on the "Back to the Future" set were unhappy with Stoltz
There is a book that was written about the situation that occurred with the re-casting of the lead role of the "Back to the Future" film. The book contends that some of the cast and crew felt that Eric was difficult to work with. Some referred to him as a "pain in the ass" while others remarked that he was too rough with actor Thomas F. Wilson and even gave him bruises during the cafeteria scene. He is reported to have experienced difficulties adapting to the necessary acting style and preferred to remain with his method acting which didn't allow him to deliver the humor that the role required.
9. He attended the University of Southern California
Many successful professionals are alumni of the prestigious University of Southern California, also referred to more commonly as simply USC. It's not that easy to make it past the application process to gain admission but he did so. He attended until his junior year at the University and then made the decision not to complete his bachelor's with the school and dis-enrolled so he could relocate to New York where he actively pursued his career as an actor. From what we see now, he's done quite well in spite of the fact that he didn't get the degree.
10. He's still acting, but not in big roles
There are a lot of people who were wondering why Eric Stoltz wasn't appearing in any major films. The truth of the matter is that he didn't stop acting, he was just doing things that were not making it to the top of the box office and there are a few films that are a bit on the obscure side and people simply don't even know that they exist. He has been doing films like "Larry Gaye: Renegade Male Flight Attendant, " and "Fort McCoy," His most popular recent role has not been in film, but rather in the television series "Chicago Hope."
11. He had to prove his identity to get on the set of "Mask"
We learned that Eric Stoltz spent so much time in makeup for his role as Dennis in "Mask" that neither the crew nor the cast recognized him when he wasn't walking around in heavy makeup. He even had to submit his identification just to gain entrance to the set because nobody recognized him when he wasn't in his makeup. This must mean that they didn't get to know him as a person when they weren't working together.
12. He directed "Glee"
Here is another fact about Erik Stoltz that many of his fans are not aware of, or have forgotten. He was a director on a popular television series called "Glee." It was a fairly regular thing for him to guide the actors in the hit musical teen series that drew a large audience of tweens and teenagers.
13. He is both a film and stage actor
Eric spent a lot of time during the 1990s era of his career moving back and forth between film acting and the stage. This was a great strategy for building an amazing resume and portfolio. He appeared in the film "Pulp Fiction" in 1994 as well as "Mr. Jealousy" in 1997. He appeared in the Broadway play "Two Shakespearean Actors" as well as "Three Sisters," and the off Broadway "The Glass Menagerie" and others .
14. He was on the receiving end of broken promises
Eric Stoltz appeared in Director Cameron Crowe's "Jerry Maguire" fim. Crowe had made a grand gesture and promise to Eric that he would make sure that he was cast in some type of role, even if only a minor one in all of the films that he would make from that point on. It was a promise that would not even come close to being fulfilled. Crowe didn't cast him in a single part after "Jerry Maguire."
15. He's earned a fortune in Hollywood
Eric Stoltz may not be the most famous actor, producer or director but he's done well enough for himself. While the average director makes about $125,552 for an annual salary, and the median actor's salary ranges between $45,000 per year to $66,000, he's done a lot better than most. It's reported that he has managed to accumulate a fantastic net worth of an estimated $5 million. Yep, he's not only got good looks, charm and talent, he's also a multi-millionaire and he's done very well for himself and his family.
16. He's had his share of ups and downs
Eric Stoltz may have had a successful career that he's made a fortune at, but it hasn't all been a walk in the park for him. According to Looper, he's had a run of bad luck with some of the television series he's starred in, for example the series "Caprica," was cancelled and the pilot that he did called "Modern Love" was something that the network decided against going with for a regular series. At the time the former was on the table, he was going through marital problems and his personal life was not as stable as it could have been according to sources.
17. Eric's parents were educators
Eric was born to Evelyn B. Vawter, and Jack Stoltz. His mom was a school teacher as well as a musician. She was a violinist. His father, Jack, taught elementary school. This gave Eric and his siblings a very good start in life, at least as far as being raised in a home that valued education and learning. His sister Catherine is an opera singer and his sister Susan is a writer.
18. He lived in American Samoa when he was a kid
Eric shared that his mom and dad moved out of the country for employment. His father accepted a high school principal position in American Samoa when he was between the ages of three or four, and the family lived there for several years. They lived on an island until Stoltz was eight, and then they moved back to the United States and settled in California.
19. Jennifer Jason Leigh got him into vegetarianism
Eric shared that he has been a vegetarian for over 25 years now and although he doesn't talk about it much publicly, it's something that he does because of the immense benefits he experiences from his diet. He did it at first to tick off his parents, but after giving it a try, he realized that it made him feel better and the more that he read about the meat industry, the more he was convinced that it was the right choice to make for himself.
20. He was stoner Bud
Eric Stoltz played the part of Stoner Bud in the 1982 film "Fast Times at Ridgemont High." When you contrast this with some of his other roles, it may be unfair to say that he's not a funny guy. While he caught a lot of flack over the situation that went down on the scene of "Back to the Future" for being too serious, we saw him acting serious and making it side splitting hilarious when he told Travolta and Jackson that he couldn't have a dead body in his house when his wife returned home. Was he intense? definitely, but it was still remarkably funny and he has a wide acting range that he deserves credit for.
Tell us what's wrong with this post? How could we improve it? :)
Let us improve this post!